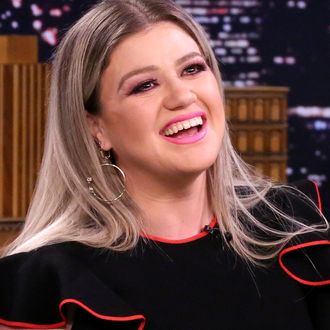 Kelly Clarkson.
Photo: NBC/NBCU Photo Bank via Getty Images
Kelly Clarkson may be headlining the iHeartRadio Music Festival this weekend in Las Vegas, but that didn't stop her from spilling tea all over them. On Thursday afternoon, the singer retweeted iHeartRadio's coverage of her new talk show and decided she just was not having any of it. iHeartRadio's post read: "#iHeartFestival performer? Check. Talk show host? Check. @kelly_clarkson is doing it all." To which Clarkson retorted, "….except for getting my songs played on your stations. I guess I'm cool enough to invite but not cool enough to play my record. #truth #check #seeyasaturday HAHAHAHAHAHA #MeaningOfLife." She then, we hope, broke into an a cappella rendition of "Since U Been Gone," because that would be awesome.
As yet, there's been no public response from the internet radio platform, so we don't know if this is the start of a genuine feud, or if Kelly was just letting them know: I don't think about you.