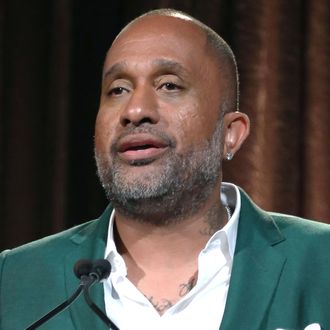 Kenya Barris.
Photo: Jerritt Clark/Getty Images for Culture Creator
Last month it was reported that Black-ish creator Kenya Barris was leaving ABC for a new multimillion-dollar deal with Netflix. This came not long after the news that ABC scrapped a completed Black-ish episode titled "Please, Baby, Please." Though the decision was rumored to be about a scene where Dre (Anthony Anderson) and Junior (Marcus Scribner) argue over the NFL kneeling protests during the national anthem, ABC and Barris later summed it up as "creative differences," with ABC saying the kneeling was "not really the issue" and Barris saying, "We've moved past it. We just had a difference of an opinion. I don't think it's the first time an episode hasn't aired. It probably won't be the last."
Now, in a new interview with The Hollywood Reporter, Barris has opened up about the process that led to the episode getting cut and how the decision to scrap it ultimately inspired his move to Netflix, where there are fewer constraints than network television. "I know there was some concern about partisanship, and the way the episode was angled and the balance in terms of the stories," he said. "On network TV, one of the things I've learned is that you have to talk about things from both sides."
Barris didn't get into too many specifics regarding the so-called "creative differences" between him and ABC, but he said he doesn't know "that I would have been as useful to them as they'd need me to be after that." And while he still considers many ABC/Disney execs "family," he singled out Disney's Ben Sherwood when looking back on the scrapped episode: "The way that [Ben] chose to deal with me in this particular episode, I felt a way about it and I still do," he said. "He'd make it seem like it was an open environment but really it wasn't, and those are things I see very clearly. Everyone wants to say it's open arms, but just tell me it's not and I'll respect you more."
While Barris did make some of ABC's suggested cuts to the episode, THR notes that "it wasn't as easy as a nip here or a tuck there, and the sheer tonnage of anti-Trump material rippling through the episode ultimately made the exercise futile." The episode was edited down to the point of becoming something Barris felt was "not a true representation of what we intended to do. Because if it was, we would've shown it." Cast member Anthony Anderson told THR he hopes the episode gets out someday, but Barris feels a little differently: "I hope it doesn't because I'll be looked at as the blame for it and I'll fucking get sued."
Read the rest over at THR.