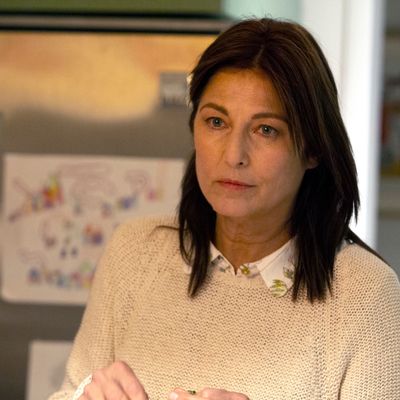 Photo: Paul Sarkis/Showtime
This week, the Pickles Boys are getting girlfriends, and once again it seems like Will is handling adult feelings more maturely than his dad. Both, however, are in better shape than Seb, who is getting creepier and creepier every episode.
We start with another scene of Mr. Pickles lashing out at his dad on set. I can only imagine what a nightmare working on Mr. Pickles's Puppet Time must be for anyone not related to the Pickles clan — though maybe it's worse for those who are. Mr. Pickles more or less rips out his own heart/puppet to give it a listen. When Seb suggests that seeing a man rip out his own heart might be traumatic for child viewers, Mr. Pickles pulls out the same old story about how actually what he's doing will help children, so get off my case, dad. Just like a really healthy workplace.
And of course it immediately gets worse when Seb pulls Mr. Pickles — his son — into his office and demands that he hook up with a (grown-up) fan. Apparently, when viewers send Mr. Pickles dirty mail, Seb keeps it in his desk, ready to be pulled out when he gets tired enough of Jeff's whining. When Jeff gets uncomfortable about the idea of being seen in public with a woman who isn't his (estranged) wife, Seb insists that no one will give it a second thought because no one sees Mr. Pickles as a sexual being. Jeff takes offense, declaring, "I am a man. I am. Just a different kind." Which, like, what kind of man, Mr. Pickles? It's still a little hard to believe that Mr. Pickles had sex the one time it took to produce twins who share his haircut.
We catch up with Deirdre's family drama, and her cheatin' husband Scott gets stood up by his boyfriend; Scott doesn't know that Deirdre let Rex know that she knows. That's all secondary, though, to Maddy's reaction to all this. She's regressing hard, throwing her arms up and screaming like — her pediatrician explains — an infant afraid of falling. It remains to be seen whether depriving her of a bath will solve this one, but Seb's pretty smug when Deirdre sort of takes his advice and tries hugging her kid. Again: What the hell happened in the Piccirillo household when Jeff and Deirdre were growing up? Why is Deirdre alternately cruel and desperate, like her dad, while Jeff is passive aggressive and obsessive?
Yet again, Mr. Pickles drops by the hospital where his wife works, ostensibly to cheer up cancer patients but, oh, by the way, what's my wife up to? He gets some details from a cranky patient, Vivian (Ginger Gonzaga, who's really great), and also of course admonishes her, an adult cancer patient, for using the f-word. (Different kind of man, indeed.) On his way out he tries to bust into the employee lounge to catch his ex hooking up with Justin Kirk, which is, like, so gross. Mr. Pickles is really leaning in to these patterns of obsessive stalking that are not very flattering.
Worried about his son falling in with a bad crowd, Mr. Pickles buys Will a magic kit, something every teenager needs to make friends. He trashes Will's friends, insisting, "You're too young to have friends that are lost," as if his own son isn't feeling lost himself. He also talks extensively about his admiration for Nancy Reagan's (ineffective and wrongheaded) anti-drug campaign. Apparently Will's late brother, Phil, once pranked Nancy Reagan on an escalator. Way to go, Phil. Mr. Pickles, unsurprisingly, cannot last an entire conversation with his son without trying to pump him for info on Jill and Peter.
Finally, Mr. Pickles goes on a date with the woman who wrote to him — played by Riki Lindhome! — who says that his show helped her turn her life around. The date goes pretty well and they seem to have a nice time together, until she makes it clear that she credits him with helping her change her life. He does more or less the right thing and declines to go further than one friendly date with a woman who clearly worships him. He later encounters his drunk neighbor, who also propositions him: again, he politely declines.
Elsewhere in Ohio, Seb lets Deirdre in on his long-term plans for Mr. Pickles. He sees the way Jeff is falling apart, and wants to make sure the brand has longevity beyond Mr. Pickles… quitting? Dying? It's not clear what Seb sees coming, but it's an upsetting thing for a father to be quite so cavalier about. He believes Mr. Pickles can become animated, his voice done by an expert mimic, and by the way, how about Mr. Pickles on Ice? Deirdre balks at the idea, but it's not clear she has any say in what happens to the Mr. Pickles brand.
Since nearly every scene that Mr. Pickles doesn't appear in must include people discussing Mr. Pickles, Will is hanging out with his "lost" friends (including the girl he's crushing on), and they demand to know if it's true that Mr. Pickles used to be a government assassin. This is also based on a persistent rumor about Fred Rogers, and it's really just a variation on the Paul-from-The-Wonder-Years-grew-up-to-be-Marilyn-Manson rumor: the idea that one's public persona could be comically far removed from their background. For what it's worth, Bob Ross really was a mean Air Force sergeant who decided when he left the military that he'd never scream at anyone again.
Will and his lost friends are getting into the most suburban kind of trouble — walking from neighborhood to neighborhood, moving garbage bins under streetlights. Will doesn't understand why they're doing this until the end of the episode, when the girl shows him a bit of magic. Sitting on a hill above the suburbs, she points his magic wand at a neighborhood and there's a flash of lights and noise. The prank, it becomes clear, was to make the garbage truck lift the bins under the streetlights, thereby smashing the lights. This is a pretty good prank, honestly, and I'd gladly try it myself if I ever got 17 Again-ed or 13 Going On 30-ed. The two of them share a kiss and I start to wish Mr. Pickles was going to his son for life advice instead of thinking his son needs advice from him.
Mr. Pickles does get to hook up with a woman, though, when he returns to Vivian, whom he met in the hospital; she appears to be the only person not entirely in his thrall. She's also not long for this world, as she's dying of cancer, so that morbidity might offset whatever positives a healthy adult relationship would add to Mr. Pickles's life. It might just be a one-time hookup, but Jeff really doesn't seem like a one-time guy, particularly if the woman is in the hospital he's always skulking around.
Notes for Nancy Reagan's Eulogy
• Will is so good at articulating his issues! He explains the unique challenges of losing an identical twin brother well, apart from the regular grief.
• Mr. Pickles is completely right: Saying the word "neuroplasticity" does turn one's mouth "into a bouncy castle." Try it.
• Deirdre and Seb have very similar wardrobes, and they both wear those warm-looking sweaters at work and at home.
• I don't think anything will help Maddy until Deirdre confronts her husband and acknowledges that their family isn't functioning.
• How often does that woman play Edward Fortyhands? Do her roommates just tape up her hands every time they're getting laid?
• "Don't you ever get tired of doing the right thing?" Don't worry, he's usually a jerk.
• What was the deal with that phone call Seb made last week? No new details on it this week that I could see.