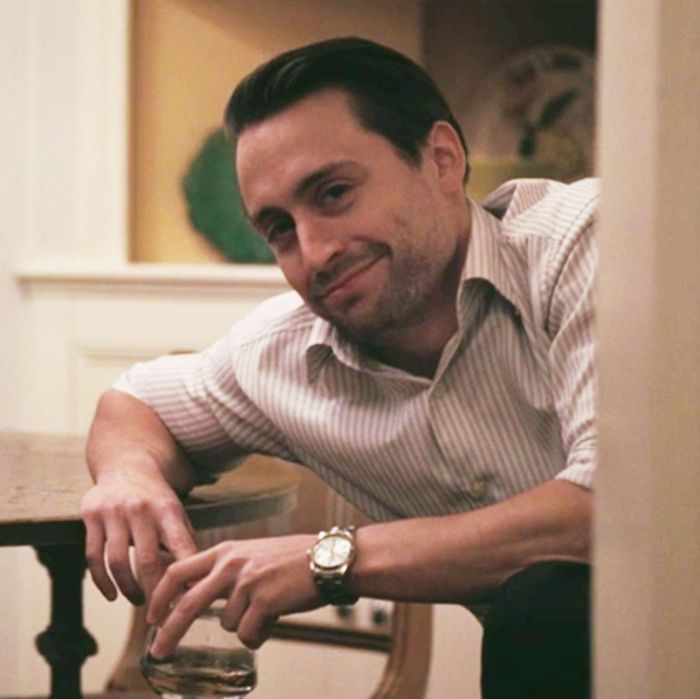 Kieran Culkin in one of his signature quirky sits on
Succession.
Photo: HBO
It's been about a month since Succession wrapped up its debut season on HBO, which seems like more than enough time to cover every angle about the new drama that also happens to be very funny. Admittedly, I was a little late to the show, having only finished last week, but while there are plenty of critical reviews, interviews with cast members, and general reactions to the show out there, the one aspect of Succession that interested me the most appears to have received absolutely no coverage. That injustice ends today.
I'm talking, of course, about Roman's quirky sits.
In case you didn't pick up on it while Succession aired, Roman — the likable (debatable, maybe) asshole and baby boy of the Roy family played by Kieran Culkin — has a tendency to almost never sit in a normal way. Occasionally, Roman will sit straight in a chair meant for sitting like a regular person, but that's the exception to the rule. More often than not, he either sits weirdly, sits in a weird place not intended for sitting, or both. To illustrate this fact and to give Roman's quirky sits the coverage they so richly deserve, I decided to compile the 16 most notable ones into a handy list. So sit down — weirdly, if you are able — and enjoy.
A mostly normal sit, but a bit slouchy. Just enough to be not normal.
Again, a fairly normal sit, but slumped forward this time.
Another slump, and given a nice dose of quirky thanks to his peeking in sideways through the doorway. This is very bad for Roman's posture!
A second slouch with one arm up and his girlfriend's legs over his lap. Maybe this balances out the slumps and solves the posture issue?
This is barely a sit, which is what qualifies it as a quirky sit.
A very slight slouch, this time on a terrace while smoking weed. Definitely more quirky than those other two slouches.
Similar to the terrace, here Roman chooses to sit on some kind of cabinet or bookshelf. Cabinets and bookshelves are not meant for sitting.
Despite there being an empty row of hospital waiting room chairs right behind him, Roman chooses to sit on the floor. Quirky!
Is this a sit? Is it a stand? Is it a lean? It's a Roman Roy quirky sit, that's what it is.
To be fair, Shiv also has a quirky sit here, but it's not as quirky as Roman sitting like a little boy on the ottoman.
More slumps and slouches, but these ones are extra quirky because they take place during a very important board meeting.
Here's another instance where there are multiple seating options, but Roman sits on the floor instead. It's very quirky. Oh, and spoiler alert: He jerks off in front of the windows right after this.
Even when Roman does choose to sit on things designed for sitting, he often does so in an unexpected way. Like this.
Why sit on a chair when you can sit on top of the chair very awkwardly? That's the Roman Roy way.
This is the Roman Roy quirky sit ideal, and as you can clearly see, he's loving it. And so am I!