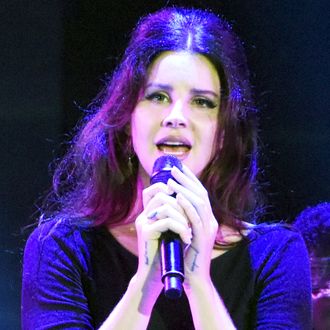 Oh, Lana.
Photo: Tim Mosenfelder/Getty Images
Whatever you were going to title your next project, just delete it. Go home. Lana Del Rey's got everyone beat. She announced in an interview with Zane Lowe on Tuesday that her new Jack Antonoff-produced album, out next year, is named after all the pretentious, artsy dudes you love to hate, singling out one in particular: Norman Fucking Rockwell. It doesn't sound like Lana has specific beef with Rockwell, just the male ego that he represents. "So the title track is called 'Norman Fucking Rockwell' and it's kind of about this guy who is such a genius artist but he thinks he's the shit and he knows it and he like won't shut up talking about it," she says. "So often I ended up with these creative types or not or whatever and you know they just go on and on about themselves and I'm like yeah, yeah. But there's a little bit of merit to it also. They are so good. I just like the title track so much that I was like OK, I definitely want the record to also be called that." She liked it so much that she settled on the title back in March.
But because Lana is herself a genius creative type (fight me), she's also about to become a multi-hyphenate artiste and might self-publish a poetry book with another winning (tentative) title: Violet Bent Backwards Over the Grass, a line from one of the poems. "Yeah, 'seven years old with dandelions grasped tightly in her hand,'" she recites in the interview. And when she's not busy creating, she's recently taken up another trade in her spare time – getting her pilot's license. Except even that's become like art, too, after she came to the cathartic epiphany (thanks to her instructor, who was merely talking about her flight skills) that she doesn't trust herself enough. "He looked at me like, get it together. That's when I realized, I'm not a pilot, I'm a writer. I mean but I could be. It's funny, even with his instruction, my head still went to how am I turning this into a rhyming stanza."
Update: Watch the video for Lana's 10-minute (!) new song, "Venice Bitch," whose length and title her team wasn't happy about. "I played it for my managers and I was like, 'Yeah I think this is the single I want to put out.' And they were like, 'It's 10 minutes long. Are you kidding me? It's called 'Venice Bitch.' Like why do you do this to us? Can you make a three minute normal pop song?'," she says. "I was like 'Well, end of summer, some people just wanna drive around for 10 minutes get lost in some electric guitar.'" Moral of the story: Never question Lana, just go with it.