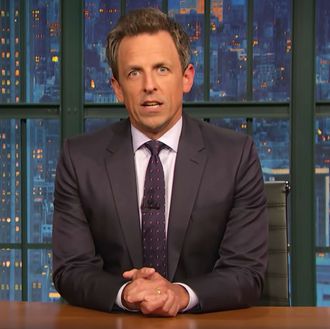 Seth Meyers on
Late Night.
Photo: NBC
Yesterday's congressional hearings for Dr. Christine Blasey Ford and Brett Kavanaugh forced all the late-night hosts to get serious. They offered their takes in hopes of shedding a little light and adding a little levity to an otherwise bleak situation. Here's how they handled topics like Kavanaugh's taste for beer, Ford's powerful opening statement, and the way Donald Trump handled the situation.
In his segment A Closer Look, Seth Meyers took a deep dive into Trump's press conference, saying Trump taking hold of the situation is like "if your computer froze and your grandpa was like 'Lemme see that thing!'" Meyers also dedicated some time to highlight Ford's educated explanation for how memory works: "She gave a detailed anatomy of the hippocampus and the memory setters in the brain to a room full of guys who look like they eat brains."
The Daily Show's Trevor Noah called the hearings a "sad Super Bowl." He slowed it down to address how Ford has sacrificed a lot to speak out on this, only to be called a political pawn. "Which is unfair to her and also to pawns," he pivoted. "People always act like pawns are the only pieces that get moved around the board, but you realize that's every piece."
"Today was the most divisive day in America since Laurel and Yanny," began Stephen Colbert. After noting Ford's grace and strength, Colbert went in on Orrin Hatch, Lindsay Graham, and other Republicans' responses. He fired off the second part of his monologue by responding to Kavanaugh's remark that he fears for the future. Staring directly into the camera, Colbert solemnly said, "#MeToo."
Later in the episode, Colbert noted how the all-male Republican panel hired a female prosecutor in a skit where the men of the GOP Senate Judiciary Committee put on wigs and try to relate to Ford. After Senator Roger Keeler (played by writer Brian Stack) speaks, Scott Adsit as Senator John Whitemore begs, "Is there any chance you might have … the lady crazies?"
Jimmy Fallon kicked off by listing off a few judges we should be throwing into the ring: "Let's get Judge Judy in there! Judge Joe Brown. Simon Cowell!" After touching on Donald Trump's press conference and Robert Mueller's trip to the Apple Store, Fallon switched to lighter news in a little segment called "In Lighter News." Set to soft music and told in a "roses are red…" scheme, the comedian listed off headlines like "Gay penguins 'kidnap' chick from straight parents at Denmark zoo." It's hard-hitting stuff.
Jimmy Kimmel compared yesterday's depressing scene to NBC's This Is Us, saying that with the way people were crying in front of their TVs "you would've thought Milo Ventimiglia got killed by a Crock-Pot." Like a few of the other hosts, Kimmel just couldn't get past Kavanaugh's love for beer. He played a super-cut of every time the judge said the word "beer," ending with a dubbed-in burp.
"I was so inspired and humbled by Dr. Ford's testimony today," began James Corden. "I felt that her bravery in the face of intimidation and abuse and bullying was truly remarkable." Corden was one of the many hosts to comment on Chairman Grassley's conduct during the hearing. "The only speaking role he should have is doing the voice-over in a Werther's candy commercial," Corden said. "Moving on."