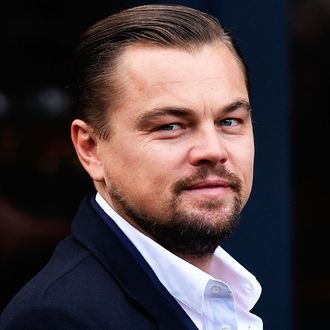 DiCaprio.
Photo: Jeff J Mitchell/Getty Images
At the Leonardo DiCaprio Foundation's 20th anniversary gala fundraiser, Coldplay front man Chris Martin took an opportunity to poke fun at the night's host. During his set for the event's glitzy 300-guest (were 299 of them models?) soirée Saturday night, Martin praised Leo DiCaprio's documented love for not movies, not blondes, not the environment, not even Rihanna — but his cargo shorts. "I studied him very closely," Martin began, "Personally, and on the Daily Mail website … for about five or six years. What became clear to me was his unbelievable service, his commitment to the business of cargo shorts. This is a guy who said 'I'm going to save these shorts from extinction, they should've gone out about 25 years ago.'"
"Hello, I'm Leo, how do you do? There's a sad side of me I want to show to you," Martin sang to a laughing crowd. "All my movies I'm the star I swear, but they won't let me wear what I want to wear! You see I have an outfit that I think is fine, so much that I wear it nearly all the time. Find 100 pairs on my wardrobe shelf, so tell the director I'll be dressing myself: In my cargo shorts, my cargo shorts!"
Leo's work in Romeo + Juliet, Titanic, and The Aviator all earn a mention in Martin's song, as does Leo's other documented love: for his newsboy caps.
According to The Hollywood Reporter, the event raised about $8 million in ticket sales, and $7.5 million from the live auction. Long live Leo DiCaprio and his cargo shorts, which have found love in a hopeless place!