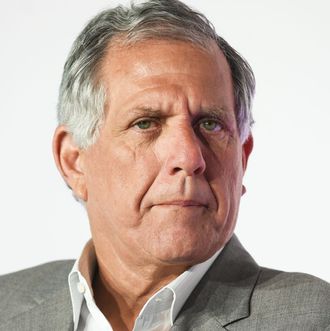 Photo: Antoine Antoniol/Getty Images
In their statement announcing the resignation of long-time network head Les Moonves, Moonves and CBS pledged to donate $20 million to "one or more organizations that support the #MeToo movement and equality for women in the workplace," presumably in acknowledgement of the dozen women who have accused the now-former CBS chairman of alleged sexual harassment and assault. However, in his own statement issued Sunday night, Moonves calls the claims made against him "untrue allegations."
"For the past 24 years it has been an incredible privilege to lead CBS's renaissance and transformation into a leading global media company. The best part of this journey has been working alongside the dedicated and talented people in this company," he says in part. "Untrue allegations from decades ago are now being made against me that are not consistent with who I am."
On Sunday morning, journalist Ronan Farrow published a New Yorker exposé revealing new allegations made by six women against Moonves, accusing him sexual harassment, sexual assault, coercion, physical violence, and professional retribution. Moonves denied the new claims, as well as those made in an earlier investigative piece published in July. "In my 40 years of work, I have never before heard of such disturbing accusations," he told The New Yorker. "I can only surmise they are surfacing now for the first time, decades later, as part of a concerted effort by others to destroy my name, my reputation, and my career." You can read the entirety of his new statement made Sunday below.
For the past 24 years it has been an incredible privilege to lead CBS's renaissance and transformation into a leading global media company. The best part of this journey has been working alongside the dedicated and talented people in this company. Together, we built CBS into a destination where the best in the business come to work and succeed.




Untrue allegations from decades ago are now being made against me that are not consistent with who I am. Effective immediately I will no longer be Chairman and Chief Executive Officer of CBS.




I am deeply saddened to be leaving the company. I wish nothing but the best for the organization, the newly comprised board of directors and all of its employees.