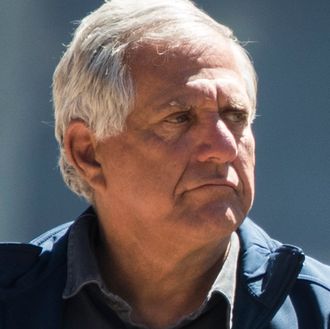 Les Moonves.
Photo: Drew Angerer/Getty Images
CNN is reporting that CBS chief executive Les Moonves is expected to step down from the company by Monday morning. According to two executives appraised on Moonves's exit, the company's board of directors will likely "announce the deal" after his "global" settlement is finalized, an exit package that might be upward of $100 million. This news comes after a New Yorker report from Ronan Farrow was published on Sunday afternoon, which brought forth six more women who claimed Moonves sexually harassed and abused them throughout the course of three decades. In total, 12 women have now publicly lodged allegations of misconduct against Moonves. "I recognize that there were times decades ago when I may have made some women uncomfortable by making advances," he said when the first reports of his misconduct were published. "Those were mistakes, and I regret them immensely. But I always understood and respected — and abided by the principle — that 'no' means 'no.' "
In response to Moonves's exit negotiations from CBS, Time's Up released a statement to criticize the network and support the six new women who have come forward with claims. "These allegations speak to a culture of toxic complicity at CBS, where the safety of women was continuously ignored to protect the careers of powerful men and the corporation. The CBS Board of Directors has an obligation to move swiftly and decisively to create a safe work environment for all and rid the company of this toxic culture," the statement read, in part. "CBS, as you sit in a room debating next steps to rectify the damage done, remember that the world is watching."
Update, September 9: The New Yorker now reports Moonves will not, in fact, be receiving that potential $100 million exit package — because he likely won't receive any exit package at all. (Or, a significantly "clawed back" package instead.) This is pending the results of the network's internal investigation, and if they find Moonves indeed committed misconduct.