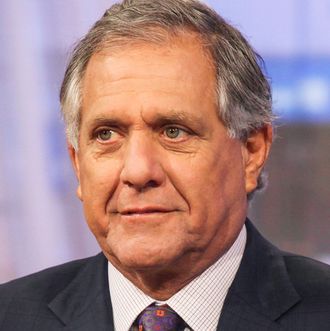 Moonves.
Photo: Chris Goodney/Bloomberg via Getty Images
Six weeks after a New Yorker exposé outlined a half-dozen sexual harassment and assault charges against TV industry titan Leslie Moonves, and after six more women came forward this weekend in a new New Yorker story with allegations of sexual harassment and assault, the CBS chairman has stepped down — in a stunning blow to his lengthy, storied career.
Moonves, 68, who has run CBS since 1995 and has been the chief executive of CBS Corp. for the last 12 years, was reportedly working out a hefty $100 million exit package this week. But after the second New Yorker story was published, public pressure for him not to receive any financial compensation mounted. According to a statement released Sunday evening by the company, Moonves will not receive any payout for the time being. "Moonves and CBS will donate $20 million to one or more organizations that support the #MeToo movement and equality for women in the workplace," it writes. "Moonves will not receive any severance benefits at this time (other than certain fully accrued and vested compensation and benefits); any payments to be made in the future will depend upon the results of the independent investigation and subsequent Board evaluation."
Moonves's resignation is effective immediately and marks an unfathomable reversal of fortune for the former actor and Broadway producer who transformed CBS into the nation's most-watched broadcast network, a ranking it has held for more than a decade. Moonves's contract, which was renegotiated last year, was due to expire in June 2021. Chief Operating Officer Joseph Ianniello will serve as president and acting CEO until the board finds a permanent replacement.
Moonves's resignation is part of a settlement that also ends a lawsuit filed in May by CBS's independent board members seeking to strip the Redstone family — who are majority voting shareholders of CBS Corporation and Viacom — of its voting control. Board members filed the lawsuit due to concerns that vice-chairwoman Shari Redstone aimed to replace several of them in an effort to merge CBS and Viacom Inc. The contentious lawsuit, spearheaded by Moonves, was headed for an October trial. The statement sent out today confirms that there are no plans to merge CBS and Viacom for at least two years after the date of the settlement.
Like the first set of allegations lobbied against Moonves in Ronan Farrow's July article, the six women who came forward in Sunday's story described incidents that took place between the 1980s and early 2000s, and all six claimed they received professional retribution if they rebuffed his advances. The encounters included sexual coercion, forcible kissing and touching, lewd comments, and physical violence. "He absolutely ruined my career," television executive Phyllis Golden-Gottlieb told Farrow, recounting a day in the '80s when she denied Moonves oral sex in his car, prompting him to throw her "hard" against a wall a few days later. "He was the head of CBS," she said. "No one was going to take me."
In a statement to The New Yorker, Moonves acknowledged three of the encounters (before he began working at CBS) as "consensual" but would not say which three encounters he meant. "I have never used my position to hinder the advancement or careers of women," Moonves said in a statement. "In my 40 years of work, I have never before heard of such disturbing accusations. I can only surmise they are surfacing now for the first time, decades later, as part of a concerted effort by others to destroy my name, my reputation, and my career. Anyone who knows me knows that the person described in this article is not me."
The first story in The New Yorker contained allegations made by six women, including graphic claims by actor Illeana Douglas that Moonves sexually assaulted her in his office. Other women alleged he forcibly kissed and touched them in the workplace and, in some cases, retaliated against them professionally for rejecting his advances. In a statement to The New Yorker, Moonves admitted to behaving badly with women but denied assaulting them or hurting their careers.
The CBS board of directors announced last month that they had retained an independent investigator to look into the allegations against Moonves, as well as "cultural issues at all levels of CBS." They also announced the formation of a "special committee of board members" to aid the investigation. In the statement sent out today, Bruce Gordon, who led the investigation, said, "We thank Les for his 24 years of service. Among his achievements, he established a strong management team, giving us great confidence as we accelerate our succession plans and provide continuity of leadership. This agreement maintains an independent Board that is charged with determining the best course for the future of CBS on behalf of all shareholders."