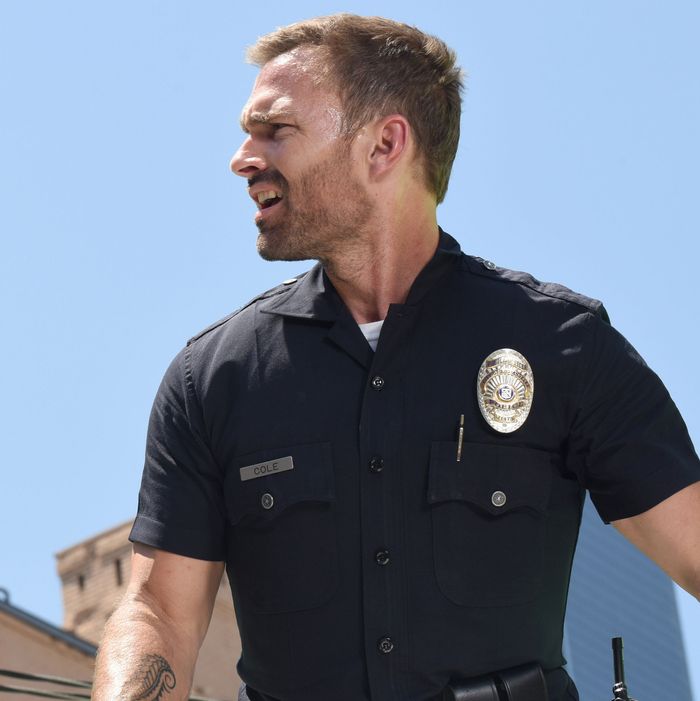 Damon Wayans and Seann William Scott.
Photo: Ray Mickshaw/FOX
Obvious spoilers to follow.
For those of you who thought Clayne Crawford's Lethal Weapon character, Martin Riggs, would dust off his leather boots and get some sort of saccharine farewell after getting fatally shot by his half-brother — we have some terrible, no good, very bad news for you. (Side note: The Riggs family is messed up!) In Tuesday's third-season premiere, Riggs is pronounced dead within the first few minutes due to anaphylactic shock from the bullet wound. It's a short scene, but enough for an intense gurney-through-the-ER moment and a doctor expressing his sympathies to Damon Wayans's Roger Murtaugh, Riggs's partner at the LAPD for more than two years. Make no mistake, all you Fox conspiracy theorists out there: Riggs is definitely dead, and they rip off that "hey, maybe he's still alive" band-aid quickly and painfully.
As for how Riggs's death affects Lethal Weapon's plot, a six-month time jump is implemented to show a grieving, depressed Murtaugh having not returned to work at the LAPD following the shooting. He's still hanging on to the idea that a bigger conspiracy, potentially involving some Chechnian fellas, are at the heart of the murder, but thanks to his new, ex-CIA partner Wesley Cole (played by Seann William Scott), he's able to complete his five stages of grief and return to the department full time. (Oh yeah, and they stop the Chechnians from robbing a bank!) "I heard I have some very big shoes to fill. I can never replace him, so I won't even try," Cole says during their end-of-episode bonding session. "But I want to make this work."
For viewers shocked or caught off guard by Crawford's departure, he was fired by Fox in May due to repeated instances of toxic on-set behavior with fellow actors and crew members. (He even got into a heated spat with his co-star Wayans, which was likely the final straw with the network.) Crawford admitted at the time that these reports were indeed true, and that Fox formally reprimanded him on two separate occasions prior to his firing. However, last month he changed his tune a bit, saying some claims were a "blatant fucking lie" and that the studio president pressured him to make a public apology to Wayans, which he refused to do.
Regardless of where your loyalties lie, give a 21-gun salute to our dearly departed Riggs. He was able to solve 40 episodes worth of cases, after all.