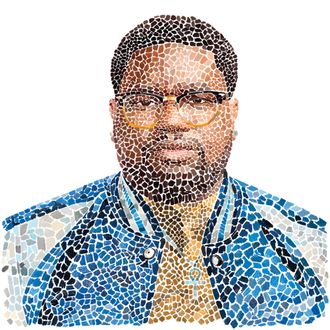 Illustration: Carolyn Figel
Lil Rel Howery hasn't had just one breakout moment. He's had several. There were his first national-TV appearances about a decade ago on stand-up comedy shows like Last Comic Standing, then his co-starring role on NBC's The Carmichael Show, and finally the really big one: his turn in last year's Get Out as the astutely paranoid Rod Williams, now officially the most beloved TSA agent on earth.
This year brings another milestone: the first sitcom with Howery's name on it. Rel, co-created by Howery and several of his Carmichael Show colleagues (Jerrod Carmichael, Josh Rabinowitz, Kevin Barnett), will join Fox's Sunday-night lineup and give him the opportunity to infuse the show with the semiautobiographical material that characterizes his stand-up work. Howery plays a newly divorced dad in the series, and, talking to the self-described TV-and-movie nerd, it's clear that this is a moment he's been preparing for his whole life.
The Carmichael Show was known for dealing with social and political issues. It sounds like you're not going into Rel with that intention, but — 
It's going to happen organically. The setting is Chicago, so it's a lot of Chicago things. Gun violence — I'm not going to say, This ain't happening in my world.
Even though we're a multi-cam sitcom, we're not going to run away from dramatic moments. They may think this is going to be a funny scene, but nah, this is going to be an honest-conversation scene, and we'll find a way to loop back in the comedy. Some of my favorite sitcoms did that: Fresh Prince, Family Ties — one of my favorite shows of all time. Michael J. Fox made me want to be an actor.
I love Family Ties.
Aw, the episode when his friend gets hit by a drunk driver: [Michael J. Fox] carried that in a way that was so emotional and beautiful and honest. It was dope. You may see me do something like that. Everything I've ever liked in every sitcom I've ever loved, I'm trying to do in my show.
In addition to the main character, you play another role in the Rel pilot, a pastor.
In every episode so far, I'm playing a different person. I want the audience to kind of let me know who they like. When Martin came on, he introduced us to Jerome and his mom and Sheneneh and all these different characters. It's almost like he let us figure out who we liked.
When did the idea of becoming a comedian and an actor enter your mind?
Because I looked up to Eddie Murphy and the Wayans brothers and Robin Williams, I thought you had to do all of it. I didn't know it was separate until I started and they were like, "Man, you act, too?" And I was like, "Yeah! I thought we all did." But I knew at a very early age.
I did a play in high school; the director let me write all my jokes, and it was killin'. I went to a hood school, so they'd heckle anybody. You can come in and try to speak positive to them, and they'd go, "Get off the stage." So for them to be so entertained — that first big laugh I got was one of the most addictive things I've ever experienced. I told myself in the auditorium right after the last show — this is the honest-to-God truth — I looked up and said, "God, this is what I want to do. I know I don't know nobody, I don't know where I'm going to start, but this has to be it."
Honestly, I still pinch myself. With Get Out, when I saw myself in a trailer in a theater, I was like, That's crazy. I've had those moments, but the moment when I was at the up-fronts and saw the Sunday Fox lineup — The Simpsons, Bob's Burgers, Family Guy, Rel — I was like, If I could tell little-kid me this was happening, he'd think I was a liar and call the police.
That's got to be a cool feeling.
It feels surreal in a way, which is why I like working, because I don't have to emotionally take it in. I'm from the West Side of Chicago. I don't know anybody in this business from here, so to get to do this — I don't take for granted that a lot of very talented people are not alive. Every day I drive into that Fox lot, I can't wait to pull out my ID. I love driving through the fake city to get to my parking space. I love that I've got a parking space! I really worked hard to get here. I didn't take any other routes. I went the route where you learn the most, and that took time. Now I'm in that moment, and with all the knowledge I have, I'm able to make a run with it.
*This article appears in the September 3, 2018, issue of New York Magazine. Subscribe Now!