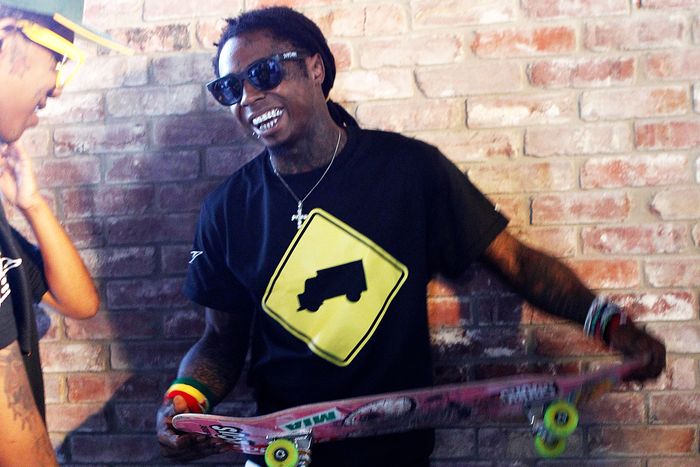 Photo: Gerald Herbert/AP/REX/Shutterstock
It's hard to remember a time when skateboarding wasn't at the forefront of popular culture. This year alone, Jonah Hill's Mid90s is already receiving early critical acclaim, and this summer's revelatory Skate Kitchen became a sleeper hit. In hip-hop, too, skateboarding seems to have become inescapable. 300 Entertainment, home to Migos and Young Thug, among others, even has its own skate team.
But it was not always this way. When Lil Wayne took a liking to the sport in 2010 — following a stint on Rikers Island — he was met with befuddled jeers from the rap world, jeers that were only confounded by the rapper's dabbling in rock music (remember 2010's Rebirth?) But today, Wayne's detractors no doubt seem foolish. Rappers from Travis Scott to A$AP Rocky have recently tried dipping their feet into the world of skateboarding, in often transparent attempts at co-opting the culture's "cool" factor. Meanwhile, Wayne never left.
Before his official album announcement earlier this week — a video in which he walks fans through his private skatepark among other amenities of his customized palace — Wayne released "Sorry For The SK8," a seven-minute skate video featuring footage of him and his SQVAD UP Skate team, and included an unreleased track called "Hercules." In the video, Wayne skates with the enthusiasm of a truly passionate teenager (who also happens to have unfettered access to their own private skatepark). My favorite clip is of him skating a manual pad that rises off the ground as soon as he rolls onto it (I imagine that Weezy's late entry into the sport has somewhat impinged his ability to ollie very high).
In a 2012 interview with DJ Drama, Wayne assured fans that he was, in fact, very serious about skating. "In order to be fully committed, you have to live that lifestyle," he said. "With these young kids now, you have to be about that life. It's kind of putting rap on the back burner. Rap's taken a backseat to skating." In a 2017 interview with ESPN, he expressed how creatively freeing skateboarding was for him. "Skateboarding is very therapeutic to me because I don't have to think about anything else, period," he says.
It does make sense that Wayne would seek out a creative outlet other than music. The past decade of the rapper's career has been mired in legal battles with his label, Cash Money Records, and its founders, Bryan "Birdman" a.k.a. "Baby" Williams and his brother Robert "Slim" Williams. The bitter legal disputes are what allegedly inspired a shooting of Wayne's tour bus in 2015. But even beyond his legal battles, Wayne has veered since his pre-Rikers days, an era when he was the undisputed "best rapper alive," known for out-of-this-world witticisms and metaphors. He's been chased by expectations that he may simply be not very interested in meeting, and his predilection for exploration hasn't always been met with open arms from fans (remember 2010's Rebirth?)
"What I can get from skateboarding that I can't get from music is natural satisfaction," he continues in the ESPN interview. Wayne says that the feeling of landing a trick is on par with holding a Grammy, and it isn't at all surprising. If his run of legendary mixtapes and collaborations says anything, it's that Lil Wayne is an artist fixated on evolution, on finding new ways to challenge and push himself. Having conquered hip-hop, he found a new challenge in skateboarding.
Lil Wayne has always likened himself to a Martian, an otherworldly figure merely observing the rest of us. His flow has been morphed and mimicked dozens of times over and his oddball aesthetic has become more or less the norm within the rap world. The fact that skateboarding, too, has become a dominant feature in rap likely speaks to Wayne's uncanny ability to be miles ahead of his peers. Whatever Tha Carter V brings, it'll probably be several years before the rest of the rap world catches up — by that time, Weezy will probably be skating mega ramps or something.