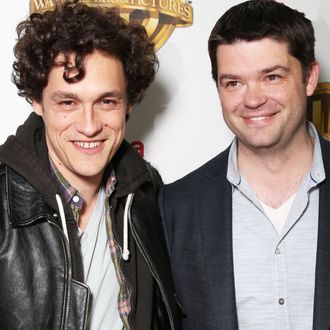 Phil Lord and Chris Miller.
Photo: Todd Williamson/Getty Images for CinemaCon
A sign of our late capitalism, or something: The workplace comedy is evolving into the failing workplace comedy. Per Variety, the writing and directing team of Phil Lord and Chris Miller (The Lego Movie, some of Solo: A Star Wars Story) are developing an NBC comedy about low-level employees at a company in crisis. Executive-produced by Lord and Miller, and written and executive-produced by Hayes Davenport (Great News), Business As Usual is a single-camera comedy about the people who are "trying to keep their jobs and maintain their relationships as their workplace goes insane." NBC gave a script commitment to the project, which Twentieth Century Fox TV is producing. As Variety points out, this makes the show feel all the more meta, as Disney is currently absorbing Fox's TV production into its company as part of a larger Disney-Fox merger. Fox's TV heads Gary Newman and Dana Walden had previously referred to life at Fox as "business as usual" in the midst of merger talks.