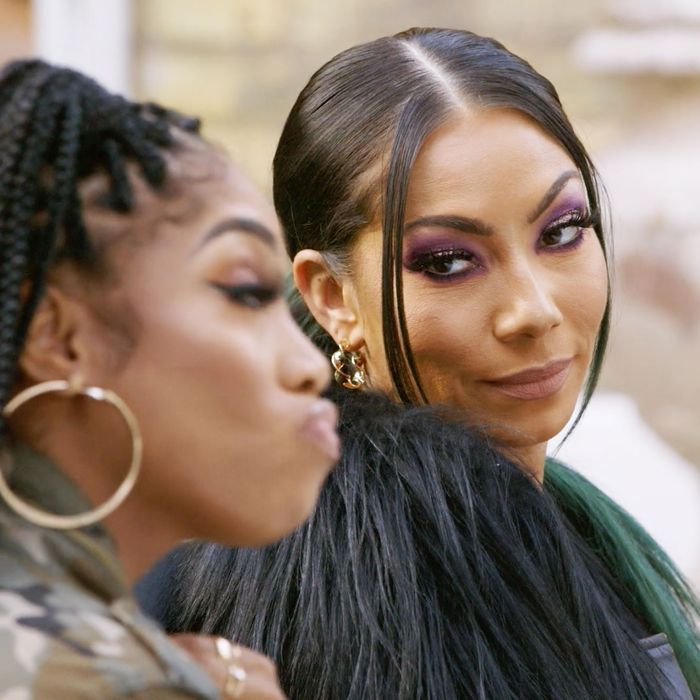 Let's talk about Donatella, the woman too busy to attend the London girls' trip that she organized in the first place. This doesn't make any sense. If she organized the trip, shouldn't she have planned it around her "busy" work schedule? I find Donatella's entire contribution to the Love & Hip Hop: Hollywood franchise confusing. I'll be the first to admit that I didn't think her British accent was real. This would explain why she was avoiding the London trip, because locals would confront her about her accent and she would have to own up to being from Michigan much like Madonna and her fake drawl. But my conspiracy theory is wrong. After a cursory Google, I've learned that Donatella is from the U.K. and got into music via the grime scene there. Fine. I'll leave Donatella alone. But something tells me she is actually an android created by the producers of Love and Hip Hop: Hollywood to sow dissent. Someone prove me wrong.
Next, we go to A1 and Lyrica. For people who live in Los Angeles, they sure do walk a lot. I lived in L.A. for six months and I never saw anyone walk from one building to another. Lyrica walks and talks with her mother, Lyrica G, as Floyd walks and talks with his brother Lloyd. Or is A1 named Lloyd and his brother is called Floyd? I don't know and I don't particularly care. Point is, these scenes are intercut to accentuate the tension in Lyrica and A1's marriage. Fun fact: this was an editing device first used in D.W. Griffith's racist movie, The Birth of a Nation. Is this detail important? No. But much like this conversation about Lyrica's unborn child that we've had several times before, I'm sharing this because I'm actively trying to waste your time.
The ladies get to London and Teairra Mari looks fabulous in her matching yellow dress and fur jacket. Bridget wants them to walk through the city with their luggage and Nikki rightfully orders a car service. You can tell an episode is low on drama when public transportation vs. taxi is a major point of contention. In the car, the ladies talk about how London is like New York in a different country. This observation is neither astute nor correct. If London is the New York of a different country, then Hollywood is the Lagos of a different country. See, how this comparison breaks down when I try to apply it? That because it's very bad. But I digress … Somehow, the conversation meanders to the beef between Moniece and LaBrittney. This beef tastes must be a tofu substitute because it lacks substance or flavor. From what I understand, Moniece and LaBritney are fighting over rumors that Moniece spreads but refuses to own. LaBrittney has every right to be upset about what's being said behind her back, but it's apparent she (and Moniece) are reaching for a plotline.
The most interesting aspect of this car ride is that when Teairra attempts to empower herself Paris knocks her down. Paris believes that their girls' trip is not a "sympathy trip" and thus it's time for Teairra to get over the revenge porn. What a no-good rotten bad friend. Telling someone to just get over a national sex scandal is like asking someone who has been stabbed to stop bleeding. People heal in their own time and good friends understand that. To add insult to stab wound, later on, Paris cries about K. Michelle accusing her of being a credit card thief and the ramifications that that rumor had on her career and her family. It's so unbelievably hypocritical how Paris becomes so defensive about her scandal but feels entitled to joke about Teairra's more recent humiliation. Clearly, Paris is not over her public shaming. And she doesn't have to be. The problem is she should have the same respect for Teairra. Teairra Mari deserves better friends #JusticeforTeairra.
Okay so, the ladies get to their rental and there are a few house rules. Teairra doesn't want people to touch her stuff, LaBrittney wants Moniece to stop spreading rumors about her, and Brooke wants everyone to get along. Brooke must be on the wrong show because this is not America's Next Top Best Friend. If the women get along, there is no show, and if there is no show, there is no recap, and if there is no recap, then we'd all have to pay attention to the news that is currently ripping our country apart. Nay, let's stick together and pay close attention to the third spinoff of a reality franchise, suppressing any existential crisis creeping into our psyche. We are the Resistance.
The women head to a pub crawl and get too turnt for a country known for its excessive binge drinking. Paris takes this opportunity to encourage Teairra, a recovering alcoholic who just recently left rehab, to drink. Again, this is not what a good friend does to someone struggling with sobriety. What exactly does Teairra gain from this friendship? Teairra refrains from drinking because she knows if she has one drink, she'll have two, then three, then four. It's great that she knows herself well enough to remove herself from the toxic environment. And I appreciate that Moniece is there to be a good friend and go home with Teairra so she doesn't backslide into temptation. For the record, Moniece has been pretty demure this season. We've gotten a chance to see her work on her relationships and be the friend and confidante that her castmates deserve. If she hadn't thrown a chair at a princess, I would say that she's come along way. Unfortunately, Moniece did throw a chair, so for all her good deeds, this still puts Moniece at -1000 on the good-person scale.
On a side note, I find it so annoying that Paris asks every man she meets whether they are circumcised. Leave these men and their genitals alone. I personally don't want to know whether the man who is serving you bangers and mash has had his banger mashed. No, thank you for that visual.
Back in America, Shun Love and Honey Crisp Apple Watts argue at the strip club. Apple missed an appointment with Shun Love's lawyer to sign what is probably a horrible contract. And Shun Love wants Apple to stop stripping. Apple shouldn't waste people's time. Shun Love needs to respect boundaries. That's pretty much it. I'm bored with this story line.
Okay we are now at the final scene of the episode and all I can say is: Brooke … Brooke … Brooke. I do not like this woman. I do not like her in a house, I do not like her with a mouse. I do not like here or there. I especially don't like her in London. Always the pot-stirrer, Brooke decides to interrupt Bridget's press junket because she thinks it's too boring. Who cares what Brooke thinks? This press junket is for Bridget's fans to hear her sell her album. If she wants to make it static and redundant, that's her literal business. Brooke doesn't care because she is a bad terrible not good very bad friend. And shame on LaBrittney for seeing this opening and seizing on her opportunity to promote her single. (But also props to LaBrittney for seeing this opening and seizing her opportunity. It is at this time that I'd like to promote my single "Ponderosa with Omarosa" available on SoundCloud.) Friends that steal your spotlight aren't your real friends but I guess the cast members of Love & Hip Hop aren't real friends anyway. This is a relief, because as soon as the cast starts treating each other with dignity and respect, we have to go back to our lives and the soul-crushing weight of our political climate.
Not surprisingly, the interview goes to hell in a handbasket when Teairra pokes her head out to tell the ladies that dinner is almost ready. The reporter seizes his opportunity and invites Teairra to the interview to blindside her with questions about her revenge porn scandal. His associate asks where he can see the porn, which is offensive, and Teairra bolts. The reporter then follows up about K.Michelle and Akbar's online budding friendship which prompts Bridget to end the interview without really promoting her album. Everyone feels bad except Brooke and LaBrittney. It is a total mess and exactly the drama we needed on what was a overwhelmingly dry episode. In honor of Bridget Kelly trying to be a good friend to Teairra Mari, here is a link to her album Reality Bites which I never had any intention of listening to but feel a moral obligation to support because she seems to be the only person with some sense on this show. I have since heard "In the Grey" and it is good. Until next time on Love & Hip Hop: Hollywood.