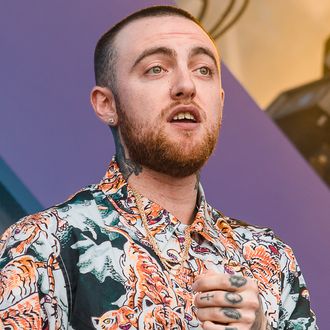 Mac Miller.
Photo: Mauricio Santana/Getty Images
Mac Miller has died of an apparent drug overdose at the age of 26, TMZ reports. The rapper was reportedly found unconscious at his San Fernando Valley residence on Friday afternoon and pronounced dead on the scene. Miller has publicly battled substance abuse for years, and was arrested for a DUI in May. "I used to rap super openly about really dark shit," he told Vulture in a lengthy profile published on Thursday. "That's what I was experiencing at the time. That's fine, that's good, that's life. It should be all the emotions."
Update: Miller's family has released a statement confirming his death. It was reported by Rolling Stone: "Malcolm McCormick, known and adored by fans as Mac Miller, has tragically passed away at the age of 26," reads the statement. "He was a bright light in this world for his family, friends and fans. Thank you for your prayers. Please respect our privacy. There are no further details as to the cause of his death at this time."
Update, November 5: According to TMZ, toxicology reports have determined that Miller died of an accidental overdose from a lethal mixture of fentanyl, cocaine, and alcohol. Last week, a tribute concert was held in Los Angeles to celebrate Miller's life and raise money for the foundation established posthumously in his honor, featuring performances from several of his friends and peers.
This post has been updated throughout.