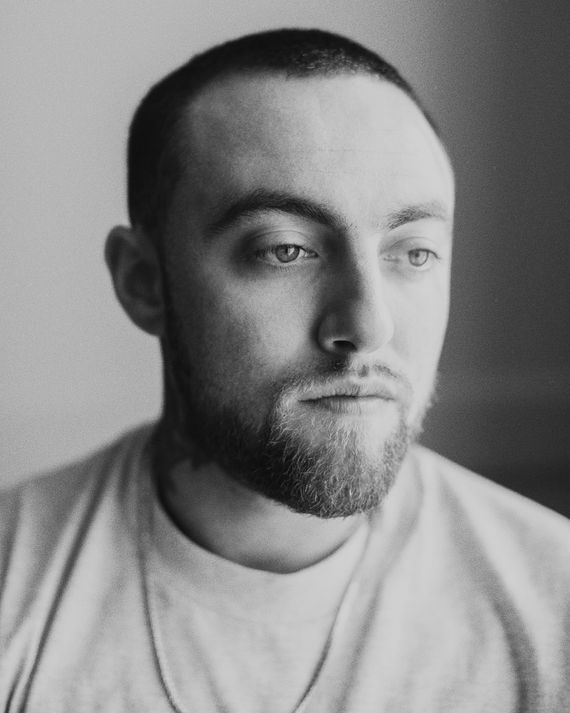 Photo: Christaan Felber for Vulture
Mac Miller is nervous. He's pacing, running scales and planning outfits in the Late Night With Stephen Colbert green room during a Monday taping where he's the musical guest. It's a windowless white space with two extraneous doors that don't appear to move or lead anywhere; like a Scooby-Doo trap room. Wardrobe deliberations go on longer than you'd expect; and the room is making everyone loopy. The Pittsburgh rapper — normally relaxed and easy-going — is growing wiry from anticipation. After trying several crisp shirt and pant combos, Miller ends up onstage in his publicist's sunset-hued Stussy sweatshirt, where he runs through an airtight performance of his new album Swimming's funk-rap highlight "Ladders," backed by the stellar house band, Jon Batiste and Stay Human. Inside the room, a sea of shiny, bald heads suggests that the crowd is considerably older than the late-stage teens and 20-somethings that comprise Mac Miller's fan base. Colbert tickets sell out well ahead of the guest announcements; it's possible that no one in the audience knew they were seeing Mac, or the episode's flamboyant first guest Nicki Minaj, until days before, if at all. It becomes clear that Mac isn't anxious about playing the room. He's anxious about winning it.
I met up with Mac Miller in the lobby of the Bowery Hotel the day after Colbert with a plan to wander around and talk shop in lower Manhattan. Out back, there's a cozy patio with a vaulted glass ceiling made doubly breathtaking by the onset of a fast-moving afternoon thunderstorm, the worst in a two-week stretch of late summer rain. The storm complicated our plan to cruise the streetwear shops up Mercer but offered a scenic backdrop for indoor reflection. Mac was still pondering the performance from the day before and wondering what he could have done better, even though the general consensus among the chorus of internet rap diehards who watched the video was that he did a great job. "I have a tendency to kinda brood about stuff and cook in it," he says. "I'll wake up and just sit here and think about it for hours."
This is partly because Mac hears sounds even a keen ear might miss, and while this causes a potentially unhealthy level of self-reflection it also keeps him in a close orbit of jazz fusion guys like Thundercat, the funk apostle Dam Funk, and rap technicians Vince Staples and Kendrick Lamar. Listening to the playback of "Ladders" on site in the mixing room at Colbert, Miller caught an almost imperceptible rhyming misquote in a backing vocal and asked staff to adjust the levels subtly so it blended in better. It's not preciousness so much as a studio rat's high bar for professionalism.
That attention to detail isn't limited to the studio. Having a smoke on a bench on Bowery, Mac glanced up the street and then quickly popped back inside the hotel. He'd worked out that a gentleman peering at him from behind a bush was communicating with another in a vehicle across the street. Paparazzi were waiting for him outside Colbert the night before, and this looked to be more of the same. Photographers show up to Mac Miller's scheduled appearances all the time, but hiding behind shrubbery outside his hotel feels cartoonishly weird. When the weather cleared, and the gentlemen watching from outside disappeared, we strolled up Great Jones and stumbled on the building where Jean-Michel Basquiat worked and lived. Mac looks for pointers on how to live and work as an artist in the work of performers of every stripe, from within rap and well beyond it; back at the hotel he gushed about HBO's new documentary The Zen Diaries of Garry Shandling: "He was always writing the words, 'Just be Garry.' 'Just be Garry.' And that shit struck a chord with me because that's the goal, to get better and to try to make this shit the most of a reflection of who I am."
As we walked, elderly gentlemen from a local men's shelter recognized the rapper from reruns of his MTV show Mac Miller and the Most Dope Family. A steady trickle of excited rap fans stop him to say hello. The few that linger to talk longer all seem to want something; one wanted a feature for his mixtape, and another asked the rapper to check out his SoundCloud page, graciously sparing us the spectacle of a street cipher. Mac is cordial and patient with people even when he appears to smell a pitch coming. The most striking fan interaction happened when two deaf girls asked for autographs outside the hotel. Mac was quietly floored by this. He rejects the notion that he's all that famous, but the truth is that he earned respect among hip-hop fans through years of sweat and hard work. Most rap careers open big and crumble over time, but this one is a long game.
That stormy middle-August stretch marked the eighth anniversary of Mac Miller's K.I.D.S. (Kickin' Incredibly Dope Shit) mixtape, an hour of capable flows and peppy if pedestrian lyrics he wrote when he was 18. By 20, he'd scored a platinum single and topped the Billboard 200 chart with his debut studio album Blue Slide Park. "When I first started, I thought I was going to be the biggest thing in the world," he says. "There was this time when I was the most Googled thing on the internet. It was like 'diet, carrots, and Mac Miller.'" With attention came withering criticism. He's relaxed about it now — he called Blue Slide's rare 1.0 Pitchfork score "legendary" in retrospect — but he has admitted to being profoundly affected by the early pans, and he has tried a little harder to express himself more clearly with every project since.
Mac Miller grew up playing music, and he listens to more than he lets on. In 2015, a lengthy Billy Joel kick led to the release of a cover of The Stranger's "Vienna"; on the walk in lower Manhattan, he broke unexpectedly into sections of ELO's "Mr. Blue Sky" and the Carpenters' "We've Only Just Begun." He thinks the best Beatle is Lennon, but he's begun to to appreciate McCartney's softness as he gets older. His earliest experience playing an instrument came from piano lessons at 6. Later, he picked up guitar, bass, and drums. He's bashful about his talents because of the company he keeps; it's easy to feel like an amateur on bass when you've got Thundercat on speed dial. (At the Swimming listening party in July, he noted that he wrote horn parts for "Ladders" when I asked about the beat, but he isn't listed as an arranger in the album credits.) Mac's voice is the instrument he's most keen on improving. In the falsetto counter-melodies of "Self Care" and the tender, Auto-Tuned outro of "Jet Fuel," Swimming builds on the gains as a vocalist that coalesced on The Divine Feminine. He's still thinking about a vocal coach.
The chief drawback of blowing up young is the lack of room for error. Because Miller's music is frank about his struggles, and because those struggles periodically involve drug use, he lives in the constant shadow of questions about his well-being. There are people who think he's a round-the-clock reckless, depressive party animal. Really, he spends his days relatively upbeat and preoccupied with music, and also with working out and balancing his diet. He's not above mistakes and indulgences: Last May, Miller caught a DUI after crashing his Mercedes-Benz G-Class in Southern California and summarily went silent on social media. Your mind works through the worst with the guy who made Faces, the 2014 mixtape full of ominous lyrics about hard drugs and musings on premature death. "I used to rap super openly about really dark shit," he says of that time in his life and artistry and the mark it has left on the way audiences connect the facts of his life with the themes of his music, "because that's what I was experiencing at the time. That's fine, that's good, that's life. It should be all the emotions." As a result, he knows what everyone thinks about him, and now he has to  teach himself not to care.
You grow up in the public eye when you become famous in your teens. Your mistakes get more scrutiny than the normal person's. You slip up, and it could end up in a newspaper. Is that unnerving?
There's pressure. A lot of times in my life I've put this pressure to hold myself to the standard of whatever I thought I was supposed to be, or how I was supposed to be perceived. And that creates pressure … It's annoying to be out and have someone come up to me and think they know. They're like "Yo, man, are you okay?" I'm like "Yeah, I'm fucking at the grocery store." You know? It's the job. This is what I signed up for. So, you just have to not. You have to have your own reality and that has to be the driving force of your life. Do I wish that every single thing I did when I was 19 wasn't a discussion? Sure.
I feel like the public sense of who you are differs from the reality. What does that do to your thinking?
You know what's funny? I feel like the public perception of me varies on who you ask. But there's a bit of a freedom in knowing that people are going to think all types of shit, no matter what. It actually makes me less stressed about how my actions are perceived. It's out of my control. I mean, to a degree … I could control it. I could live this squeaky clean life and everything. I could try to control the media. But I've been finding freedom in just living and letting people say whatever the fuck they want. Like, do I really care what Hollywood Life is saying? If I read a headline, and I'm like, "Wow, that's completely untrue …" I'm like, "That's as far as it goes. Okay, cool. So a bunch of kids now think that." Fine. As long as I have people that are hearing my music, and there's still that relationship … all that [other] shit lasts a day.
That's interesting. There are artists who absolutely do try to exert control over their image, not necessarily by changing their lives but by getting out front and trying to shift perceptions and kill stories. Is it not worth it to do that?
Maybe I'm wrong. Maybe that's just a game that I haven't gotten into playing. But it just seems exhausting to always be battling something … to always be battling for what you think your image is supposed to be. You're never going to be able to get anything across. It's never gonna be the real … No one's gonna ever really know me. You know what I mean? That's okay. The people that have the best chance of knowing me, that would like to, would just be by listening to my music. Even friends that I've lost touch with, if they ask how I've been, I'm like, "That's the best way to know how I'm doing."
But people reading too much into your music can also create its own misconceptions. If people hear sad songs, they think, "This guy's fucked up." And it leads to "Are you okay?" on the street.
I have noticed that, as far as headlines and people listening to the music and taking them into account, and applying them to the music. But … I've also not talked about what songs mean, what's this or what's that. I've just kind of left it up to interpretation. I don't know if it's the right or the wrong way or if it helps people digest my music properly or if it doesn't. I just feel like I worked so hard to make something, and then when I take the kids to college, I have to let them kind of … Whatever happens.
You don't have control over them once you release them.
Yeah. But here's the thing: I probably do. I probably do more than I realize. I probably could do more to control the perception of me.
What would that look like?
I have no idea.
Would you have to be a more literal songwriter?
I think that — I've seen a lot of different takes on what the music is. And that's what I like. I like different responses. You know? Everyone's not being like, "This song is obviously about this …"
That mentality is out there.
For sure. There's different takes … I guess I'm just not as concerned with that as I am with having a relationship with music in general.
Hearing Swimming in the shadow of Mac Miller's recent press gave some listeners and critics the impression that the music was fallout from crashing his car and breaking up with the singer Ariana Grande, in the same way that people assumed that The Divine Feminine was about the same relationship, when the concept and a chunk of the music actually predated it. "It's not that I mind," he says of the popular misgivings about the meanings of his songs. "What can I do? Stand on a mountaintop and say, 'I wrote these songs at this point in my life'?" Really, the birth of Swimming happened two years ago with the creation of the album opener "Come Back to Earth." As Mac began toying with the song — he worked through ten different versions before settling on the first — he got restless about his process, which, historically, involves booking several weeks at the nearest recording facility and camping out there until an album is completed. This time around, he worked in Southern California, both at home and at Los Angeles's famed Conway Recording Studios, and in different locales around the Pacific Ocean: "I did two songs in Hawaii. 'Hurt Feelings' was done in Hawaii, and 'Wings' was done in Hawaii. 'Perfecto' was in Chile." The change in geography gives the record a warmth and a depth that feels like a new direction. Mac albums are rarely as contented in quietude as this one is. The songs lure listeners in with slow, delicate grooves and drop them off with a word about perseverance.
Swimming also gets its character from its collaborators. Mac is the main voice throughout the album, but if you comb the credits, you catch J. Cole, Flying Lotus, Dam Funk, and Thundercat in the list of players and co-producers, and Snoop Dogg, Dev Hynes, and Syd from the Internet as guest vocalists. In the past, the range of outside producers who pitched in work on Mac Miller albums sometimes gave the sequencing of the record a bit of a jolty feeling. GO:OD AM and Watching Movies both ping-pong between reflective songs and rowdier rap tracks, but Swimming feels both cohesive and expansive. (A great group of guests is as much a feat of magnetism as luck; Hynes told me he ended up on "Self Care" thanks to a habit of dropping in on friends' studio sessions whenever he's in their city.) Some of this is surely thanks to co-producer Jon Brion, a mainstay in pop, indie rock, hip-hop, and film scores with collaborations with Fiona Apple, Aimee Mann, and director Paul Thomas Anderson in the '90s.
Mac Miller sought Jon Brion's assistance as a fan of the producer's score for screenwriter Charlie Kaufman and director Michel Gondry's futuristic rom-com Eternal Sunshine of the Spotless Mind. A chance encounter in a jam session led to a deeper musical connection, and, as sessions for Swimming drew to a close, Mac asked Brion to come work his magic. "I called him, and I was like, 'Yo, we're down to the final week. This is kinda where the album ended up going. Just come to the studio.' He brought a semi-truck of instruments and filled all of Conway up. We went through the record, and he started playing things on every song." Miller remains awestruck by watching Brion work: "He taught me a lot about putting together stereo sound, using all of the space in the speakers and what that does to texture." The album title came from a running gag between the two. Brion would tease the rapper for constantly asking for "water sounds." On his last birthday, Miller woke up and resolved to call his "water" album Swimming.
The new music nestles in a sweet spot every Mac Miller project since 2013's Watching Movies With the Sound Off touches but rarely dwells on. Miller's best records are songs of grizzled perseverance. The doleful Watching Movies tracks "Objects in the Mirror" and "REMember" talk about weathering loss and adversity. GO:OD AM's "Weekend" and "Rush Hour" find solace in rest and strength in pure ambition. Divine Feminine's "Stay" powers through a tight spot in a relationship. From the wounded repose of "Come Back to Earth" ("I just need a way out of my head") to the tranquil, therapeutic "Self Care," Swimming seems most concerned with quieting stress and seeking out lasting peace. It's not specifically about localized, reactionary depression, but instead about heeding quiet epiphanies and training his brain to weather natural lows. "I really wouldn't want just happiness," he says when I ask about how he manages hurt feelings and negativity. "And I don't want just sadness either. I don't want to be depressed. I want to be able to have good days and bad days … I can't imagine not waking up sometimes and being like, 'I don't feel like doing shit.' And then having days where you wake up and you feel on top of the world."
May might've looked like a low, but Mac Miller's August was a peak. Swimming's hushed, unfussy musicality paid off as the album landed at a strong No. 3 on the Billboard 200 in a week stacked with quality rap releases. (It might've been No. 2 if not for the surprise drop of Travis Scott's Astroworld, which surged past Swimming and Drake's Scorpion to No. 1.) Mac is happy with the outcome: "I'm less concerned with being king of the hill than being able to put shit out." His teenage dream of being top dog has settled into a steady drive to stick around the rap business as long as it'll have him. The patient evolution of his art will keep him in the conversation as long as he's careful. "Now I'm in the clouds, come down when I run out of jet fuel," he raps on Swimming's "Jet Fuel," "but I never run out of jet fuel."