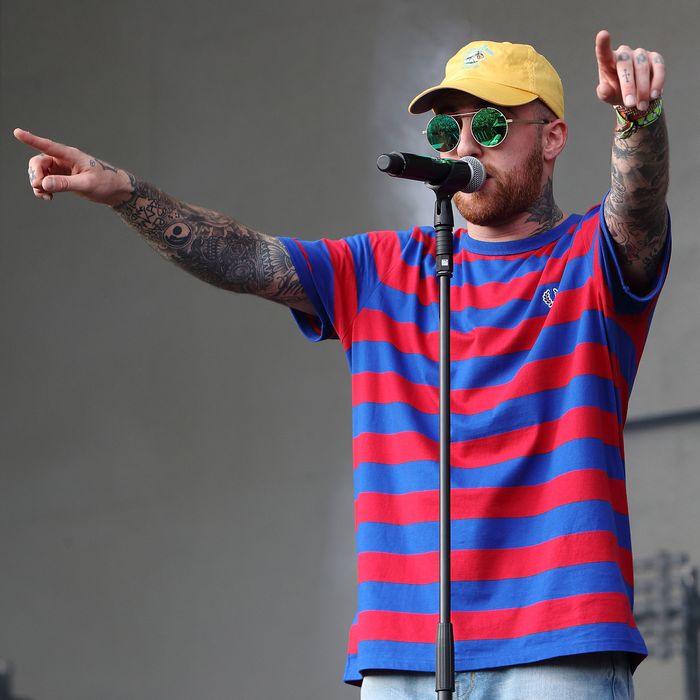 Mac Miller.
Photo: Burak Cingi/Redferns
There was always a new Mac Miller song. The Pittsburgh rapper, who died Friday at the age of 26, amassed a voluminous catalogue in his tragically brief career, releasing five studio albums, eleven mixtapes, and contributing scores of verses — and beats — to the songs of his peers.
The credits of his projects read like a Who's Who of pop and hip-hop in the '10s: radio stalwarts including Pharrell, Diplo, and Ariana Grande; rap tastemakers like Kendrick Lamar, Vince Staples, and Earl Sweatshirt; and members of L.A.'s burgeoning jazz-funk scene Flying Lotus and Thundercat.
While his musical aesthetic expanded and his rhymes deepened following his commercial breakthrough, 2011's Blue Slide Park, Miller remained slyly consistent, churning out dense, referential verses that leavened dark introspection with humor and earnestness.
Below, some of his catalogue's essentials.
"Kool Aid and Frozen Pizza" (2010)
Cheap munchies, getting so stoned he's "laughing like a damn hyena," boasting that he's "about to be in music stores everywhere … but not yet": Miller's first great track brimmed with relatable, puckish charm. (Though it still ruffled the feathers of Lord Finesse, who slammed Miller with a $10 million lawsuit for liberally sampling the 1995 song "Hip 2 Da Game"; the two ultimately settled out of court.) The key cut from Miller's 2010 mixtape K.I.D.S. (that's Kickin' Incredibly Dope Shit) proved influential: In the wake of Miller's death, Chance the Rapper — who Miller took on tour as an opener in 2013 — tweeted that the beat played a key role in the development of "Brain Cells," one of the Chicago MC's own early highlights.
"Donald Trump" (2011)
Miller adroitly sampled "Vesuvius," from Sufjan Steven's far-out 2010 LP Age of Adz, for this ode to the future president's lavish lifestyle, sparking a streak of indie homages that included samples of the xx and Tune-Yards. But, perhaps inevitably, the track took on a life of its own. Trump initially appreciated the nod — he tritely called Miller "the next Eminem" — but soon soured, taking to Twitter to demand royalties, threaten legal action, and call Miller "an ungrateful dog." During the businessman's 2016 campaign, Miller cleared up any ambiguity the track might've left regarding his opinion of the candidate: "I think you're just such an egomaniacal, attention-thirsty, psychopathic, power-hungry, delusional waste of skin and bones that you'll do, say, or allow anything if it means you'll just get one more minute in the limelight," he said on The Nightly Show With Larry Wilmore.
"One Last Thing" (2011)
Though Miller's studio debut went No. 1 and yielded three Hot 100 singles, critics maligned it. But Blue Slide Park's poor reputation isn't entirely earned, and promising moments lurk among the project's glut of juvenile frat-rap. For closer "One Last Thing," Miller matched Clams Casino's spacey instrumental — a beat selection that hinted at the rapper's willingness to venture outside the sonic box — with lyrics that oozed hometown pride without falling back on stories of shots and keg stands.
"The Question" (2012)
"What am I doing here?" Miller asks this question throughout the centerpiece of 2012's Macadelic — and it embodies where he was creatively when the mixtape dropped, straddling the buzzy frat rap of his early work and the more sophisticated direction he envisioned. Moreover, Miller's verses dig into the existential dread that accompanied young fame and fortune: "I've done so much in my short lifetime, but I haven't done shit / I done flew around the whole world," he raps. "First I shook a million hands and I took a million pictures / But I'm a hostage in my own world." Lil Wayne stops by with a similarly blue verse.
Ariana Grande's "The Way" (2013)
They eventually became romantically involved, but first they collaborated: The lead single from Grande's 2013 debut Yours Truly featured Miller and marked the first time that either artist cracked the Top 10 on Billboard's Hot 100. Miller's voice paired surprisingly well with pop fare — he stole the show on a remix of Justin Bieber's "Boyfriend" with 2 Chainz and Asher Roth — and his appearance adds another dimension the exultant pop of "The Way."
Earl Sweatshirt's "Guild" (2013)
Miller's 2012 relocation to Los Angeles yielded a bevy of fresh creative friendships. A marquee example was Earl Sweatshirt, who contributed verses and production to Miller's critical breakthrough, 2013's Watching Movies With the Sound Off. But Sweatshirt's album from the same year, Doris, contains their best collaboration. With unnerving synths and woozy drums, Sweatshirt's beat is one of the weirdest Miller ever hopped on, and his pitch-shifted vocals heighten the unsettling vibe. Miller's verse also ranks among his best: "In Myrtle Beach with a purple fleece / Hotel lobbies playing 'Für Elise' / I'm Ron Burgundy mixed with Hercules."
"S.D.S" (2013)
"We're here to reinvent music, it's time for the revolution," Miller raps on the standout track of his 2013 album Watching Movies With the Sound Off. Hyperbole? Sure. But considering the album's roster of contributors (Pharrell, Tyler, the Creator, the reclusive Jay Electronica) and Miller's own evolution on the mic, his boast didn't seem so far-fetched. This song's cartoonish electro-jazz is unmistakably a Flying Lotus production — down to a sampled snippet of Dragon Ball Z dialogue — and Miller keeps pace, offering musings that are simultaneously stoned and socially aware: "People selling drugs cause they can't find no job / Wonder if Christ made a million off selling the cross."
"Avian" (2013)
Achieving the literal opposite of Watching Movies With the Sound Off's title, Miller flipped an elegiac piano tune from the soundtrack to Pixar's Up on this nostalgic cut that he called the album's "heart and soul." More descriptive than narrative — "Make a collage and look at it through a kaleidoscope," goes one evocative line — the song represents a step forward for Miller, who produced it and three other Watching Movies' tracks under his Larry Fisherman moniker.
"Rain" feat. Vince Staples (2014)
Before Vince Staples achieved major fame, Miller was his booster — in fact, he produced an entire Staples tape in 2013, just as the rapper's star was beginning to rise. ("That was the only way to get him to fucking rap," Miller once explained.) Staples brings poignant bars for the plaintive, 9th Wonder-produced "Rain," but Miller's lyrics have even greater lasting power. Like much of Faces, his sprawling, bleak 2014 mixtape, Miller's "Rain" verse viscerally depicts challenges with substance abuse and mental health; the imagery of "this pain, mixed up with this rain" lingers well after the track ends.
"Weekend" feat. Miguel (2015)
When Miller scored his first platinum single with "Donald Trump," few would've guessed his second would arrive four years later in the form of a Miguel-assisted R&B jam. But the stylistic about-face on the single from 2015's richly textured GO:OD AM represents the rapper's broader career shift. Like so many of his best songs, Miller coaxes a stellar performance from a talented guest on "Weekend" while delivering the emotional freight himself. Here, he chronicles the ubiquitous struggle of when to exorcise demons and when to tamp them down.
"Dang!" feat. Anderson .Paak (2016)
Lyrics like "I just eat pussy, other people need food" prove that even if Miller had come a long way since his early tapes, he still had plenty of room for improvement. Even so, his breezy team-up with .Paak, from 2016's The Divine Feminine, stands as one of his very best, all brassy bluster as the two beacons of charisma attempt to reconcile their romantic missteps with good intentions. Try stifling a smile as Miller earnestly quips, "Know my shit get old when I act so young."
"What's the Use?" (2018)
Bass virtuoso and frequent collaborator Thundercat lays down an indelible line on this key track from what would turn out to be Miller's final album, Swimming. But Miller, notorious for his ethic in the studio, didn't stop there, recruiting Snoop Dogg, Syd, and Dâm-Funk to help the song reach funk nirvana. (For particularly moving renditions of "What's the Use?" and fellow Swimming cuts "Small Worlds" and "2009," revisit Miller's Tiny Desk Concert from last month.)
"Ladders" (2018)
Horns blare as Miller takes stock of life and the world around him, urging listeners to "see the big picture when it's beneficial." With its soulful zeal, the soaring instrumental — featuring wide-lens finesse from producer and film composer Jon Brion — pairs perfectly with the ambition and brimming emotion Miller brought to Swimming. The dancefloor gold doubles as a call to arms: "We don't have a lot of time to waste," Miller exhorts. "Somehow we gotta find a way."