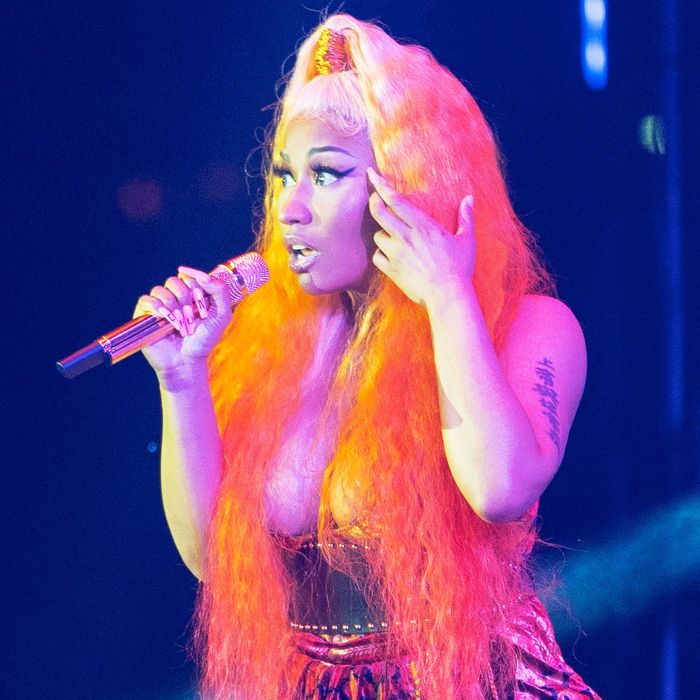 Nicki Minaj.
Photo: Rancel Lopez
This year's Made in America Festival was embroiled in controversy before it even began: Its creator Jay-Z had a public war of words with Philadelphia's mayor over whether or not the festival could remain at its usual location, the Benjamin Franklin Parkway (just beyond the Rocky steps), for another year or get run out of the city altogether. Ultimately, Jay won and the festival took over Philly for its sixth consecutive Labor Day Weekend. Vulture was on hand to see what the ruckus was all about, stopping by all five stages (Rocky and Liberty being the main venues; Tidal, Freedom, and Skate all more intimate.) Didn't catch the livestream? Here's what you missed, from Nicki Minaj's wardrobe malfunction, to the Tekashi 6ix9ine problem, to Meek Mill's homecoming, and more.
Nicki Minaj.
Though the big news out of her set was an unfortunate wardrobe malfunction that led to some nip slips ("they saw my nipples at least 50 times," she later half-joked), don't let it distract from the real news: Nicki's Queen tour, whenever it happens in North America, will probably slap (though she might want to work out those costume kinks). Naturally, Nicki's stage involves a throne — as did Janelle Monáe's — but what solidifies her reign is her body of work: She can choose to reach as far back as mixtape track "Itty Bitty Piggy" or as recently as her shit-talking "Barbie Dreams" (asking the crowd beforehand which rapper we think has the biggest dick) with the confidence that all will be equally known and met with the same commotion. She can nix her heels, hand her stage over to her collaborators A$AP Ferg, Lil Uzi Vert, and Tekashi 6ix9ine (more on him below), host a dance contest to "Good Form" to give out a cash prize to a woman from the crowd, then resume the show at any point without really missing much of a beat. (And when she does, she can merely smirk, bat her falsies, and it'll look like it was part of the show.) Nicki is preparing to take a victory lap, losses be damned.
The Tekashi 6ix9ine problem.
Most of hip-hop still doesn't know what to do with the problematic rappers of the SoundCloud generation, particularly as their popularity increases at an alarming rate. On Saturday, Tekashi 6ix9ine, the Brooklyn rapper who has plead guilty to use of a child in a sexual performance and is awaiting sentencing, was set to make his first festival appearance. He was a late addition to the lineup (booked for the main stage) and on the day of his performance he missed his scheduled set time entirely and with no reason given. Most of the crowd waited it out for 45-plus minutes before moving on, testament to the hunger his young fans have (and we mean very young; a group of girls who looked 10 years old stood excitedly in front of us). The show stalled by bringing on other barely known rappers and a cameo from Meek Mill, but it wasn't enough to keep the majority of the crowd from finally leaving.
Eventually, Tekashi arrived two hours after his start time and the rapper once described as a "life-size Skittle" made his festival debut with the rowdiest crowd reaction of the entire weekend. He said Made in America was the first festival to invite him without ever mentioning why that may be, then stripped down to his underwear (which he proudly claimed were still not name brand, despite his new money), and paid tribute to his roots by draping himself in the Mexican flag. Perhaps the most difficult to stomach, though, he also honored fellow controversial rapper XXXTentacion, who was killed in June and had been awaiting trial on domestic-violence charges at the time of his death. Tekashi spoke of his last conversation with X, about how they were each going to do and be better, then led the crowd in a "We love X" chant multiple times. The moment became the biggest crowd-pleaser of the whole festival, and the most uncomfortable to witness firsthand.
#Millidelphia.
Though Meek Mill performed first at New York's Hot 97 Summer Jam after his release from prison, Made in America marked his official homecoming. The problem with headlining a major musical festival, though, is even if it's in your hometown, your set still has to be accessible to the masses, not just those homegrown. Mill performed mostly from 2017's Wins & Losses, but saved the moment that's bigger than him for last, with his now infamous, career-defining "Dreams & Nightmares" intro. The crowd was so deafening from the instant it started to the second the beat switch kicks in that he played it back again.
The love for Philly's new class of female rappers.
Both Meek Mill and Kendrick Lamar gave part of their sets to up-and-coming local talent, bringing out Philly rapper Tierra Whack and Bri Steves, respectively, for a couple songs, putting both artists in front of millions of new eyes. (Mill also brought out Philly's PnB Rock.)
Dancing to Zedd and Diplo in the makeshift forest.
EDM had its own separate stage away from all the main action — where Tokimonsta, Snakehips, and Cashmere Cat all killed — but its biggest stars got headlining billing over on the Liberty stage, the next-biggest to the main. It's a better fit: Situated among a path of trees, both Zedd and Diplo's sets felt like a rave hosted in the middle of a forest (mosh pits included). Between his many hits, Zedd played everything from Daft Punk to Cardi B. In a rare-ish solo set from Diplo (he's usually joined by Major Lazer, Skrillex, or now with Mark Ronson as their new duo Silk City), he used the opportunity to play less of his own work and act more as a traditional DJ than producer, dropping what he's been into lately (which includes a lot of trap — specifically Travis Scott — and Shek Wes).
Juice Wrld's emo rival.
There might not be a bigger hero to the teens right now that Chicago rapper Juice Wrld — a hero not because he provides any longterm saving, but because he offers what all kids hurting desperately crave: catharsis. Juice Wrld's brand is emo-rap and the currency he lives off of is tears and hard drugs, excessive amounts of each. His show saw the largest crowd at the Tidal stage for new artists and easily its most affected. One kid climbed a traffic light to get a better vantage from which to take it all in, then proceeded to accidentally break it. Other kids climbed trees. Everyone screamed "Lucid Dreams" and "Wasted" like the words were tattooed on their cerebrums. Now that Warped Tour is dead, Juice Wrld might be the next best thing to keep its emo spirit alive, for better or worse.
Discovering Shoreline Mafia.
For an East Coast festival created by a New York City legend, Made in America's Tidal stage hosted a helluva lot of West Coast talent, starting with L.A.'s Shoreline Mafia on Saturday. Admittedly, the group was new to this Vulture (or anyone else above 21, we'd imagine) but they've since shot up our ones to watch list. Don't come to Shoreline expecting nuance — they specialize in typical drug rap and sexual innuendoes no better than the ones your average 15-year-old comments on Instagram models's photos — but rather appreciate their immediate comfort on stage, despite being new to this, and infectious energy. They possess the necessary charm and star power to build a loyal fan base, so much so that they already had a crowd of about 200 people on the opposite coast rapping their every word. They even got a more frenzied reception during fellow bigger Cali group SOB x RBE's own set when they were brought back out as guests for "Da Move."
Lil B leading us all in the "Y.M.C.A."
It is a travesty that Lil B will never quite be as famous for his music as rap blogs wanted him to be, but he's never any less amused by his own caricature. The BasedGod headlined the smaller Tidal stage on Sunday … to a crowd of about 150 people. And, you know what, he had a ball doing so. Comedy is what you come for in a Lil B show, and laughs are what he delivered, opening his set with, of all things, a very rare performance to the "Y.M.C.A," a song we want so badly to believe he only just discovered this past February.
Jay Park causing pandemonium.
Park is one of Roc Nation's most recent signees and for good reason: The Seattle rapper treated performing on the Tidal stage like it was the main, bringing backup dancers and star presence. Park got his start in K-pop and the astronomical fame that comes with that world hasn't left him despite his transitioning to a focus on the American rap game. When he exited the stage with his dancers, he did so by entering into the crowd, legions of which chased Park as he made his way into the festival and over to see other performers as if her were just a regular.