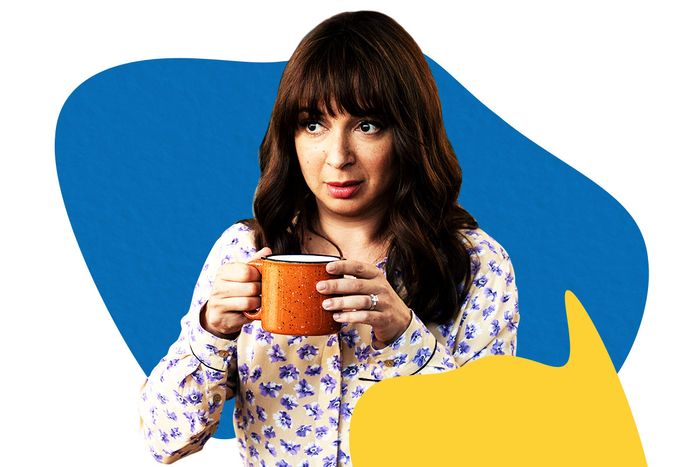 Photo-Illustration: Maya Robinson and Photo by Amazon Studios
Maya Rudolph is a revelation on Amazon's new series, Forever, which premiered last Friday. I hate to break out this hoary cliché, but it fits. While Rudolph has always been an incandescent presence onscreen — bringing humor and sincerity through her seven-year tenure on Saturday Night Live, animated series like Big Mouth, a trippy guest turn on The Good Place, and the charming comedy Away We Go — her performance on Forever is such a layered and evocative rendering of a woman burdened by prosaic marriage difficulties and a fantastical upheaval of her entire existence, it left me in utter awe. How has it taken this long for Rudolph to have a dramatic role that allows her to show the breadth of her considerable abilities? How has such a moving, transcendent dramatic actress been hiding in plain sight for this long?
Forever provides Rudolph the opportunity to bring her considerable talents as a comedian — her physical bravura, her quicksilver moods, her elastic facial expressions, which shift and turn to reveal hidden dimensions to her character — into a dramatic space. The result is a thoroughly wounding performance that treats life's small joys and overwhelming tragedies with equal humanity.
Forever begins by charting the arc of the relationship between Oscar (Fred Armisen) and June (Rudolph). In place of dialogue, "It Never Entered My Mind" by Miles Davis plays during a brief montage that charts the hallmarks of what soon becomes a 12-year marriage: hikes encased in honeyed sunlight, bowling games, a heated argument, and the formation of in-jokes all aglow with the early joys of a relationship — until their dynamic curdles into tedium. While Oscar finds comfort in the routine, June feels trapped by it. This is all communicated through Rudolph's wordless performance as Oscar prepares the same dinner, makes the same gestures, takes her to the same lake house for vacation. Soon, her expression tightens, her smile dims. In its closing moments, she looks at his face a beat or two too long, as if wondering, "Does he struggle with this routine? Is this all there is to life?"
But then Oscar dies during a trip to a skiing lodge, leaving a void in June's life. Rudolph clearly relishes the scenes in the second episode that see her character navigating the fraught waves of grief. Episode two, simply titled "June," looks at how deeply she is adrift even a year after Oscar's loss. The episode opens with its titular character shopping for a modem in a Best Buy–like store. Under the harsh fluorescent lights, June is already near tears. But the longer she explains to an employee, Karly (Jee Young Han), what she needs, the more she unravels. Her watery eyes bubble over with tears. Rudolph hits a perfect tone — balancing the ridiculousness of the scenario with a raw-nerved sincerity. There's something touchingly hilarious as Karly tries to navigate this customer-service nightmare with chipper resilience in the face of June's overrunning well of emotions. Rudolph never makes June a punch line, even as she demonstrates how crying, much like her grief, doesn't always come in a neat, easily handled package. Sometimes you're an ugly, red-faced mess in the middle of a store trying to figure out how a simple errand upended you. And throughout the episode, Rudolph hones in on how June's grief doesn't always take the same form. At home, she's cocooned herself in midday naps and single-serving wine containers. When her friend Sharon (played with hilarious zeal by Kym Whitley) drops by unannounced, she's huddled in pajamas, sluggish, her hair a mess. In essence, she gives depression a physicality.
Forever could have been a simple story about how a woman builds a new life in the wake of loss. But in the second episode, June herself dies on a business trip flight after choking on a macadamia nut. She wakes up in a strange suburban afterlife, with Oscar's face hovering over her. This opens up the series, and Rudolph's performance, to a deeper consideration of love, marriage and how we define our own identities separate from those we love.
Film and television is in a fascinating state of flux right now. We're witnessing actresses relishing layered roles that allow them to push themselves to extremes. There are superheroes (Captain Marvel, Wonder Woman), Russian spies (The Americans), badasses of various ilks. But lately, I have been yearning to see the internal machinations of the kind of women I pass on the street, that remind me of the quiet determination of my mother and grandmother. This is what Rudolph provides with such beauty — a normal, even unextraordinary woman who is thrust into extraordinary circumstances and must evolve dramatically in order to navigate them properly. While Oscar provides the narrative center for much of June's story, this comes across most powerfully in her dynamic with a new tenant of the strange afterlife they're a part of, Kase (a deliciously acerbic Catherine Keener). Alongside Keener, Rudolph's performance is the most potent.
Rudolph and Armisen have a comfortable rapport, reflecting how long they've known each other as performers. But it's evident June is once again uncomfortable with the routine they've settled into. Kase's presence as their new neighbor unsurprisingly pings her interest. Kase is secretive, effortlessly cool in her nonchalance. She has a spiky presence, meant to repel Oscar and June's efforts to get to know her, but it only makes them (especially June) more curious. June takes things a step further by breaking into her home one afternoon, which Kase eventually confronts her about. After this confrontation, their beguiling relationship starts to bloom when Kase, cloaked in shadows, entices June into her home for help.
Kase and June drag a hulking cabinet out into her yard, where Kase sets it aflame, only to see it manifest again in the home. As the flames lick the wood, Rudolph communicates with a subtle knitting of her expression that a fuse in her has been lit, the promise of which is fulfilled moments later when they talk over a beer. "Do you really want to relive the same life before you got here? Is that why we're here?" Kase asks. Rudolph wears a polite façade throughout their conversation, but threads a blend of fear and hunger behind it that only grows more evident as the conversation continues.
This moment exemplifies a surprising strength Rudolph has an actress that I only noticed watching Forever. She plays June's subtlety not as a void or a blank slate that allows easy audience projection (a form of acting very popular with younger performers like Kristen Stewart and Rooney Mara). Instead, her subtlety in scenes like this is heavy with the sense that she's working through her own thoughts and emotions in real time. There is an existential panic swimming through her, which Rudolph makes evident in minute gestures — smiles that fade too quickly, pauses that last too long.
An even more startling aspect of Rudolph's performance became apparent to me later, when June decides to push herself beyond the antiseptic quietude of her afterlife by venturing outside the suburb with Kase. Forever presents the afterlife as a strange purgatory, in which the dead reside in a suburb uninhabited by the living, but they're still on Earth, able to witness the comings and goings of the world they left behind. And for those strong enough, like June, they're able to affect the material world they left behind as well.
After walking for what seems like hours in the desert terrain, Kase leads June to a gas station with a gross — living — cashier who takes pictures of women's asses when they aren't looking and urges them to smile on their way out. Kase knows he's good for something: energy. She places her hand against the side of his head, touching his pulse and stealing his energy. Initially hesitant, June finally decides to push beyond the boundaries she has felt so suffocated by and follows Kase's lead. When she fails, Kase slips behind her, guiding her hand in an intimate gesture. June gets angry when the man makes a gruff phone call to what sounds like an ex-wife and saps so much energy from him, he collapses into slumber. What follows is a sprightly scene as June and Kase act like two college girls who believe their possibilities are endless and find humor in the mundane. What struck me as I watched the shifting emotions in Rudolph's face here — disgust, curiosity, bliss — is that she shares a transfixing quality few actors outside of Marilyn Monroe carry: flesh impact. As the iconic director Billy Wilder once said about Monroe, whom he directed in Seven Year Itch and most memorably, Some Like It Hot, "Flesh impact is rare. Such girls have flesh which photographs like flesh. You feel you can reach out and touch it."
The Alan Yang and Matt Hubbard–helmed series ends on a sweet, hopeful note about Oscar and June's future. But the moments that truly got under my skin are the barbed moments she shares with Kase that are shot through with a sexual heat and romantic promise that is only implied. It's in these moments that Rudolph's flesh impact is most evident and affecting. Rudolph feels full-bodied. A woman of flesh, blood, and sinew who makes the emotional terrain of her character tangible enough to leave viewers bruised.