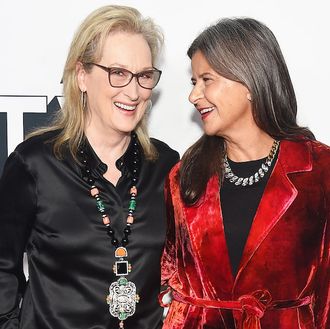 Meryl Streep and Tracey Ullman.
Photo: Jamie McCarthy/Getty Images for Tribeca TV
The Friday premiere of HBO's Tracey Ullman's Show season three, at the Tribeca TV Festival, was followed by what can only be described as a bona fide lovefest between the show's creator/star and her equally divine interlocutor, the one and only Meryl Streep. When Tribeca co-founder Jane Rosenthal introduced Streep as Ullman's "very best, dearest friend," she apparently wasn't spouting phony showbiz platitudes: From the moment they stepped onstage, Streep in black and Ullman in a floor-length red suede trench coat, the decades-long BFFs exuded a sense of intimacy that would make Abbi and Ilana blush.
Ullman and Streep strolled onstage holding hands. Settling into a pair of director's chairs, they warbled a few lines of the Tracey Ullman's Show theme song. They lavished praise on each other ("You absorb people," Streep remarked of Ullman's chameleonic skill at characters). They spoke of their mutual love of accents. Streep dropped a few casual f-bombs, and frequently gestured toward Ullman's grown daughter, Mabel, who was in the audience — and whom Streep has known all her life. Ullman confessed that had she known Streep when she got married in the early 1980s — before they met on the 1985 film Plenty — Streep would surely have been her maid of honor. An astonished Streep read a Wikipedia entry that named Ullman the richest British actress, and third-richest British comedian. ("And I'm taking you to dinner!" Streep protested. Ba-dum-ching!) They literally professed their love for each other.
The evening wasn't all puppies and Sunny D, though: At one point, Streep dropped her wireless microphone transmitter and Ullman was all but forced to reveal that — at her own premiere, no less! — her friend was given microphone No. 1, while Ullman was bumped to No. 2. "It's always gotta be that way, guys," Ullman sighed, standing up and preparing to leave the stage in mock protest. Still, Streep soon confessed that she and Ullman are "so close, you're family to me."
Toward the end of the interview, Streep claimed they'd both still be acting even if they hadn't reached such stratospheric levels of success. "Where would we be doing it?" Ullman asked. Streep didn't miss a beat: "At your house." Don't forget to bring popcorn and a copy of Beaches!