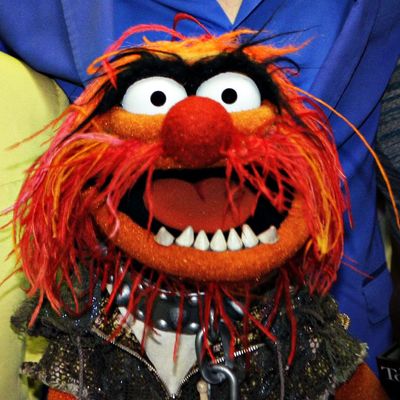 This guy fucks.
Photo: Paul Drinkwater/NBC via Getty Images
Scandal rocked the internet this week after former Sesame Street writer Mark Saltzman confirmed longtime speculation: Yes, Muppet roommates Bert and Ernie are indeed in a committed, loving relationship.
"I always felt that without a huge agenda, when I was writing Bert & Ernie, they were [a gay couple]," Saltzman, who wrote for Sesame Street from 1985 to 1998, told Queerty. "I didn't have any other way to contextualize them."
Saltzman's answer seems like as clear a conclusion as you could hope for, that is, until Sesame Workshop weighed in: "As we have always said, Bert and Ernie are best friends. They were created to teach preschoolers that people can be good friends with those who are very different from themselves." So far, so good. But here comes the sticky bit: "Even though they are identified as male characters and possess many human traits and characteristics (as most Sesame Street Muppets™ do), they remain puppets, and do not have a sexual orientation."
This is poppycock. Setting aside other Muppet-adjacent works, most notably the puppet musical Avenue Q, which features a song called "You Can Be As Loud As the Hell You Want (When You're Makin' Love)," the Muppets belonging to the shared Henson universe are absolutely sexual, and it's absurd of Sesame Workshop to deny them this element of their humanity. (Muppet…anity? Whatever.)
Of course not all Muppets are sexual. Many of them are children, and like human children, they should not be considered as belonging anywhere on an adult spectrum of sexuality. (Gender identity is of course a separate issue, and far be it from me to make any assumptions in that arena.) Elmo is 3 years old, Big Bird is about 6, and Snuffleupagus was "created to represent the psychological age of a 4-year-old," so not yet having a self-defined sexual orientation seems reasonable for them. But Sesame Workshop's statement pins the question of orientation not on age, but rather on their puppet-ness ("they remain puppets"), and it's here I must interject.
Sesame Street Muppets share a universe with Muppet Show Muppets: Kermit has appeared on Sesame Street, Big Bird makes a cameo in The Muppet Movie, and Rowlf appeared in the pilot pitch reel for the Sesame Street series. This makes their shared universe canon. And if the Muppets of Sesame Street cannot have a sexual orientation because they're puppets, that same argument would have to go for the Muppets of The Muppet Show.
Postulating that puppet-ness prevents beings like Elmo or Cookie Monster from having a sexual orientation is one thing. It feels nonthreatening. They're so sweet and cuddly! But extending that same puppet-ness as a foundational argument for the absent sexuality of characters like Sam the Eagle? Miss Piggy? Pepe the King Prawn? Rowlf?! That borders on insanity. Rowlf absolutely fucks. The same could be said for Gonzo, noted chicken enthusiast, and for Janice, the lead guitarist for Doctor Teeth and the Electric Mayhem. The Count is 1,832,652 years old, but sure, there's no way he's had sex. If Animal doesn't have BDE, then what are we even talking about here?!
Surely it would make more sense to sketch out the Muppets on the same spectrum we humans recognize. Child Muppets are not-yet sexual beings (e.g., Abby Caddaby, Grover, etc.), and adult Muppets fall on the same messy, confusing, fraught, and delightful panorama of sexual identities and orientations the rest of us do. It's impolite of me to just guess, but it seems likely that Dr. Bunsen Honeydew is not wholly heterosexual. Kermit has had many love interests over the years. It's not entirely clear whether those relationships were sexual, or whether Kermit would self-identify as a romance-available asexual Muppet, but that's also a sexual orientation. Obviously, speculation about Fozzie Bear is intense, and better minds than mine will have to figure out a way to nail down the answer. But regardless, the fundamental question at hand as answered by Sesame Workshop feels wildly uninformed and under-considered.
Plus, there's this:
Muppets. Have. Sex. Still don't believe me? I present one final case: Mama, Papa, Baby, and Curly Bear. They're so cute! They're on Sesame Street, and they're a lovely family! But if Muppets don't have sex, then how does reproduction work? Where would Baby and Curly Bear even come from? The only possible answer that would still fit with Sesame Workshop's statement is that they have sex without having a sexual orientation. And to that, I'd like to submit one final piece of evidence, a song by Papa Bear about how great it is to give hugs.
I rest my case.