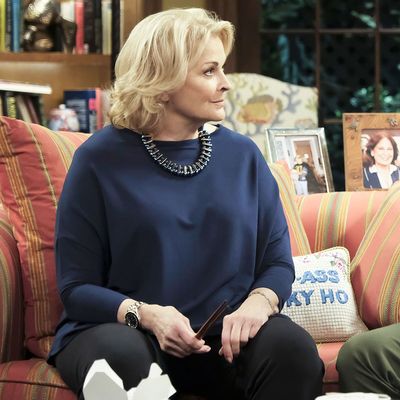 Does this mean Murphy Brown has a great Instagram, too?
Photo: Jojo Whilden/CBS
If you came into the Murphy Brown revival not expecting to talk about fabulous cross-stitching work, well, you have nobody to blame but yourself.
In the CBS sitcom's season premiere, eagle-eyed viewers might have noticed a humorous throw pillow sitting on Murphy's couch, especially because of its unique sentiment: "Tired-Ass Honky Ho." Don't just chalk that up to a set designer having some fun with Murphy's D.C. townhouse, though: There's a larger story behind those four words that make it even more amusing.
You see, leading lady Candice Bergen has been using that phrase as her Instagram bio for about a year now — she's also incredible at Instagram, trust us, follow her immediately at @bergenbags — after a troll dropped the line in the comments section after Bergen and her Book Club star-pals Jane Fonda, Mary Steenburgen, and Diane Keaton 'grammed themselves enjoying a solar eclipse. Bergen was so chuffed by the insult that she switched out her previous bio for it almost immediately.
"I got creepy followers, and one of them called me a tired-ass honky ho, so I changed my bio on my Instagram," she explained on Harry Connick Jr.'s daytime talk show soon after it happened. "It used to be 'old white woman,' and then I just upgraded it."