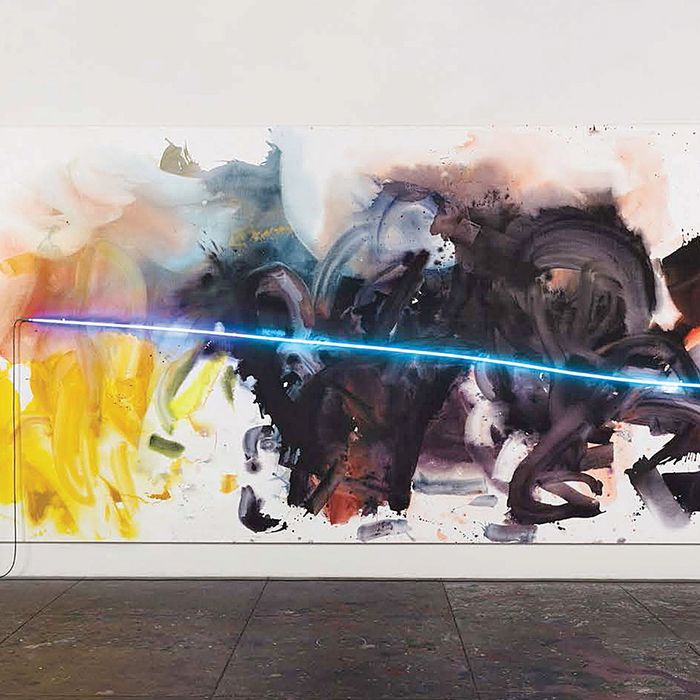 Mary Weatherford,
The Sun, the Moon, and the Stars (Take the A Train),
2018.
Photo: Fredrik Nilsen Studio/Courtesy of Gagosian/© Mary Weatherford
Here, we highlight the 49 gallery shows (from a 20th-century mystic and abstract painter to a Facebook diarist–painter–photographer) and museum exhibitions (including disruptive surveys, post-war artist retrospectives, and a massive show featuring more than 60 black artists) we're most excited to see this fall, and how long they're on view.
September
9/6
James Hayward, through 10/6 at Miles McEnery
Hayward has been making heavily layered, mainly monochromatic paintings defined by thick brushwork since the 1980s. The exhibition features his early-2000s "Abstract Diptychs" and "Chromachords" series, which mark his mastering of impastos.
"NeoRealismo: The New Image in Italy, 1932–1960," through 12/8 at Grey Art Gallery at NYU
With photographs from more than 60 Italian artists, this exhibition portrays life in Italy before, during, and after World War II. The photographs are shown with the original publications that featured them — magazines, photo books, and catalogues — and convey a transitional period from the Fascist era under Mussolini to the search for a postwar national identity.
Toyin Ojih Odutola: "When Legends Die," through 10/27 at Jack Shainman
In 2016, the Nigerian-born Odutola began her visual trilogy of two fictionalized Nigerian aristocratic families, the UmuEze Amara, an ancient noble clan, and the Obafemi, a family of newly enriched traders. The third and final installment arrives at Jack Shainman with life-size portraits of the characters rendered in charcoal, pastel, and pencil.
Red Grooms: "Handiwork, 1955–2018," through 10/27 at Marlborough Contemporary
Grooms's 60 years of multimedia work can feel like hanging out with your raunchiest, most eccentric friend. You can take a tour of The Deuce–era NYC with the 1975 Porno Bookstore, an immersive two-room sculpture environment that you enter and peruse along with the patrons Grooms has dreamed up.
Maia Ruth Lee: "Access to Tools," through 10/7 at Jack Hanley
Instagram loves Lee. Expect symbolic charts playing with language, as well as "Bondage Baggage" sculptures, a series of works inspired by luggage Lee observed at the Kathmandu airport.
Marlene McCarty: "The Enormity of Time," through 10/13 at Sikkema Jenkins & Co.
McCarty's large-scale drawings etched using everyday materials such as graphite, ballpoint pen, and colored pencil evoke innocent textbook doodles.
The show also swerves into the darkest reaches of human behavior: True stories of female murderers inspired two multipart pieces, Patty Columbo — May 4, 1976 and Hearth 2.
9/7
"Pontormo: Miraculous Encounters," through 1/6 at the Morgan Library & Museum
Mannerist painter Jacopo da Pontormo (1494–1557) was an apprentice to Leonardo da Vinci; his recently restored masterpiece Visitation travels for the first time from Carmignano (near Florence) to the U.S.
Zhang Xiaogang: "Recent Works," through 10/20 at Pace on W. 24th St.
To create some of these new oil-on-paper works, Zhang dips into childhood memories of his parents being sent to a "study camp" during the Cultural Revolution in China.
"Sharon Butler: New Paintings," through 10/7 at Theodore:Art
After a productive summer spent at the Yaddo artists' community upstate, Butler presents works with ideas developed from her "#sbgoodmorningdrawings," which populate her Instagram feed daily with peaceful tones and disjointed geometric shapes.
9/8
Daniel Arsham: "3018," through 10/21 at Perrotin
This studious and savvy crowd-pleaser (and architect) converts the ground floor of Perrotin into a garage housing decaying totems of nostalgia — a 1981 DeLorean (featured in 1985's Back to the Future) and a 1961 Ferrari 250GT California (featured in 1986's Ferris Bueller's Day Off) — to heavy-handed yet admittedly entertaining dystopian ends.
Caroline Cloutier: "In-Between," through 10/13 at the Invisible Dog Art Center
The Montreal-based artist arranges mirrors and large-scale photographic prints in eclectic collages.
Mark Mulroney: "The Dangers of Eden," through 11/3 at Mrs.
Mulroney's nostalgic work is reminiscent of Saturday-morning cartoons and comic books. New paintings pop with elements of gore, eroticism, and plain silliness.
"Blanket Statements: Gina Adams, Maria Hupfield & Marie Watt," through 10/27 at Minus Space
An exhibition of abstract art by three women artists of indigenous ancestry, organized in collaboration with Accola Griefen Fine Art. Their work is united by the use of fabrics such as quilts and felt.
9/13
"Irving Penn: Paintings," through 10/13 at Pace on E. 57th St.
The first-ever exhibition of Penn's paintings. Thirty or so collagelike works from the '80s through the aughts reveal a stylistic evolution from a platinum-palladium printing technique to more gestural interpretations of his subjects.
Mark Wallinger: "Study for Self Reflection," through 10/27 at Hauser & Wirth on W. 22nd St.
The exhibition's central work, Self Reflection, a mirror spanning the entire ceiling, was first installed in Sigmund Freud's book-filled study in London. At Hauser & Wirth, it'll be at the exact height and orientation as in Freud's space.
Petah Coyne: "Having Gone I Will Return," through 10/27 at Galerie Lelong & Co.
With her first solo exhibition in ten years, Coyne continues her legacy of massive hanging sculptures and floor installations made of repurposed materials. There will be a viewing platform to observe her sprawling The Doctor's Wife, composed of hand-sewn Venetian velvet in shades of indigo and silk flowers dipped in wax, inspired by the 1966 Japanese novel by Sawako Ariyoshi.
Wolfgang Tillmans: "How likely is it that only I am right in this matter?" through 10/20 at David Zwirner on W. 19th St.
Tillmans, who has been playing with themes of subjectivity and perception since the early '90s, brings new introspective photographs, spoken word, and a video-and-sound installation to Zwirner. In the sound piece I want to make a film (2018), a male voice spews an unscripted monologue about plans for a film about smartphones into a near-empty dark room.
Mary Weatherford: "I've Seen Gray Whales Go By," through 10/15 at Gagosian on W. 24th St.
Weatherford, known for her expressive use of color and neon tubes, opens her first solo show since joining Gagosian. These large linen canvases buzz with industrial light.
Pope.L: "One Thing After Another (Part Two)," through 10/27 at Mitchell-Innes & Nash
If you like Pope.L's High Line neon sculpture that reads rigt turn for reparations, this exhibition goes further into the interventionist artist's impressive range. Anchored by a black-box video installation titled Syllogism, which explores the fantasy life behind reasoning, and a dozen new "re-photo collages," manipulated images mostly of body parts combined unexpectedly, "One Thing After Another (Part Two)" is unconventional in the best possible way.
Carmen Herrera: "Estructuras," through 10/27 at Lisson
The 103-year-old Cuban-American Minimalist didn't sell her first painting until she was 89, and the Whitney finally gave her a show in 2016.
After a career making paintings that are "really crying out to be sculpture," she's finally showing actual sculptures.
9/14
"The Progressive Revolution: Modern Art for a New India," through 1/20 at Asia Society
In conjunction with Asia Society's "Season of India," this exhibition centers on work by the Progressive Artists' Group, formed in Bombay following India's independence in 1947 and including people from all walks of life: rich, poor, Muslim, Brahman, and Roman Catholic. Featuring oil paintings depicting moments of political and social upheaval, the show is one of the largest-ever presentations of modern Indian painting in the U.S.
Grace Weaver: "Best Life," through 10/28 at James Cohan on Grand St.
The Brooklyn-based painter whimsically depicts women engaged in millennial fads like ten-step skin care and avocado toast.
"Soul of a Nation: Art in the Age of Black Power," through 2/3 at the Brooklyn Museum
Organized by the Tate Modern in collaboration with the Brooklyn Museum and Crystal Bridges Museum of American Art, this monumental exhibition features over 150 works by more than 60 black artists from 1963 to 1983, including little-seen work from New York–based painters the Spiral Collective, assemblage and sculpture inspired by the aftermath of the Watts rebellion in 1965, black feminist figures such as Kay Brown and Betye Saar, and much, much more. A number of pieces have been added to the New York presentation, including Suzanne Jackson's figurative Triplical Communications (1969), a large-scale draped painting by Sam Gilliam titled Carousel Merge (1971), an untitled work by Ed Clark, and more.
9/15
"Punch," curated by Nina Chanel Abney, through 10/27 at Jeffrey Deitch on Wooster St.
How does growing up in the digital age, receiving a constant flood of information, affect one's consciousness? Abney pulled 19 young artists from her circle to create works that grapple with this question, with historical references to Abstract Expressionism, Pop Art, and street art.
Blinky Palermo: "To the People of New York City," through 2/16 at Dia:Chelsea
This 15-part "Metal Picture" series, composed of 40 aluminum panels, returns to New York after 30 years, having been last shown at Dia in 1987. To the People of New York City was discovered in Palermo's studio in New York after his death in 1977, and its dynamic combinations of color (lifted from the German flag) and format evoke the jazz performances enjoyed by this pupil of Joseph Beuys during his time in the city.
9/16
Rirkrit Tiravanija, through mid-October at Gavin Brown
The Thai artist known for blending performance, installation, and socially conscious Conceptual works takes a stylistic turn with a new series of ultrafigurative paintings that address border politics.
9/17
"Delacroix," through 1/6 at the Met Fifth Avenue
The 19th-century French painter's 40-year career is chronicled with more than 150 works, including graphic art alongside epochal paintings such as the operatic Medea About to Kill Her Children (1838) and the Orientalist Women of Algiers in Their Apartment (1834). A joint venture with the Louvre.
9/22
Donald Judd: "Paintings 1960–1961," through 12/8 at the Judd Foundation
Before he was a Minimalist! A show of his rarely seen illusionistic paintings, made while he was an art critic, that reveal his evolution from 2-D to sculpture.
9/26
MOTHA and Chris E. Vargas: "Consciousness Razing — the Stonewall Re-Memorialization Project," through 2/3 at the New Museum
Just ahead of the 50th anniversary of Stonewall, Vargas makes hirstory by inviting 12 interdisciplinary and intergenerational artists, such as Chris Bogia and Martine Gutierrez, to propose new monuments to the 1969 Stonewall riots. With the reenvisioned memorial, the founder of the semi-fictional Museum of Transgender Hirstory & Art (MOTHA) continues his project "Transgender Hirstory in 99 Objects" (ongoing since 2015), an exploration of the history of the transgender community in the form of exhibitions, performances, and publications.
Jorge Palacios, through 2/20 at the Noguchi Museum
Palacios's site-specific sculptures have taken root in galleries, gardens, and urban landscapes internationally, and this fall, nine sculptures will be installed in the Noguchi's galleries and garden. Meanwhile, his monumental Accoya-wood sculpture Link will be on display at Flatiron Plaza North (near Madison Square Park).
Sarah Lucas: "Au Naturel," through 1/20 at the New Museum
A survey of the mischievous Lucas's objects–cum–social art, which disrupt fixed notions of sexuality, gender, and social normativity, such as her subversive stuffed-stocking "Bunnies" and "Nuds" and the "Penetralia" series.
October
10/3
Sterling Ruby: "Ceramics," through 3/17 at the Museum of Arts and Design
In his ceramic works, Ruby punches, drags, drips, and rolls what he's dubbed his "monument material," creating vessel-like containers and organic shapes.
10/4
"Franz Marc and August Macke: 1909–1914," through 1/21 at the Neue Galerie
Exploring the friendship between two German artists who contributed to the rise of Expressionism.
10/7
Queens International 2018: "Volumes," through 2/24 at the Queens Museum
In this year's edition, the eighth of its kind, the Queens Museum partners with the Queens Library to present work from 43 Queens-based artists and collectives, representing 15 neighborhoods and multiple generations, in public-library branches, as well as the museum.
"Charles White: A Retrospective," through 1/13 at MoMA
Over 100 works spanning White's entire career, from the 1930s through his death in 1979: Drawings, paintings, prints, photographs, illustrated books, record covers, and archival materials give a sense of the artist as thinker, teacher, draftsman, and activist.
10/12
Jennifer Wynne Reeves: "All Right for Now," through 2/3 at the Drawing Center
The late Facebook diarist–painter–photographer composed an abstract yet touching body of work.
"Hilma af Klint: Paintings for the Future," through 2/3 at the Guggenheim
The 20th-century mystic and pioneering abstract painter Hilma af Klint finally gets taken seriously at the Guggenheim in an exhibition that makes an airtight case for Klint's being the first modernist artist to paint entirely abstract.
10/16
"Metaphysical Masterpieces 1916–1920: Morandi, Sironi, and Carrà From Milanese Collections," through 6/15 at the Center for Italian Modern Art
A show centering on Italian artists working between 1916 and 1920, just as Cubism and Futurism were running aground.
10/17
"Intimate Immensity: Alberto Giacometti Sculptures, 1935–1945," through 12/15 at Luxembourg & Dayan New York
As a follow-up to the Guggenheim's Giacometti retrospective, this exhibit focuses on the thin, three-inch-tall human figures the artist created in Switzerland during World War II, including a never-before-shown matchbox casket with one of his tiny figures inside.
"Devotion and Decadence: The Berthouville Treasure and Roman Luxury," through 1/6 at the Institute for the Study of the Ancient World
The largest and best-preserved hoard of silver dating from the first or second century CE, the 90-piece Berthouville treasure was discovered by a rural farmer in Normandy in 1930. The cache, which was previously on view at the Getty Villa, includes pieces illustrating scenes from the Trojan War and opulent representations of the god Mercury.
10/21
Bruce Nauman: "Disappearing Acts," through 2/25 at MoMA and MoMA PS1
A retrospective of the Conceptual artist's sculpture, photography, printmaking, neon works, and more since the start of his career in the 1960s.
10/24
"Posing Modernity: The Black Model From Manet and Matisse to Today," through 2/10 at the Wallach Art Gallery at Columbia University
Curator Denise Murrell explores the changing modes of representation of the black figure in modern art, from Laure, the model who posed as the maid for Manet's Olympia in the 1860s, to the portraits that galvanized Faith Ringgold.
10/31
Luigi Valadier: "Splendor in Eighteenth-Century Rome," through 1/20 at the Frick Collection
The versatile 18th-century Roman silversmith, who produced everything from fine jewelry to grand altarpieces, inspired European popes and aristocrats with works such as a 1778 centerpiece with miniaturized representations of ancient Roman monuments.
November
11/2
Martha Rosler: "Irrespective," through 3/3 at the Jewish Museum
Our favorite anti–Julia Child is back. Since 1975's Semiotics of the Kitchen, Rosler has been humorously and deftly commenting on the folly of our societal constructions. The Jewish Museum presents a vast survey, from older works in video, photomontage, and installations to newer ones such as the "Off the Shelf" series (2008–18), digitally composed photographs of books from Rosler's library.
11/3
Jason Benson, through 12/16 at Bodega
Benson can create art out of anything: dollhouse drawers, artificial plants, loose tea, snail shells … This show features paintings with ceramic mosaics.
11/8
Dike Blair, through 12/21 at Karma
Blair, known for his photo-realistic depictions of quintessential consumer items such as hot dogs, Coca-Cola cans, and Dunkin' Donuts to-go cups, has moved on to oil painting.
11/9
Calder/Kelly, through 1/12 at Lévy Gorvy
This exhibition celebrates the decades-long friendship between the American artists, both of whom spent time living in Paris. Thirty-five paintings and sculptures made over a 50-year period will be on display, including notable pieces such as Calder's mobile Black Lace (1947) and Kelly's Three Gray Panels (1987).
11/12
Andy Warhol: "From A to B and Back Again," through 3/31 at the Whitney Museum of American Art
The Whitney gives Warhol his full 15 minutes and more, from his beginnings as a commercial illustrator in the 1950s through his intense period of work after surviving an assassination attempt in 1968, and lands on a reappraisal of his lesser-known later works from the '70s and '80s. The survey includes some never-before-shown experimental pieces and takes its title from Warhol's 1975 book, The Philosophy of Andy Warhol (From A to B and Back Again), in which the artist ponders the grand themes of fame, love, beauty, class, and money.
December
12/13
Manfred Pernice, through 1/26 at Anton Kern
The Berlin-based artist is always thinking about space — the ways in which we categorize and organize it. In his last show, six years ago, Pernice referenced and explored the places he'd traveled to. Here he continues this theme with new sculptures.
*This article appears in the September 3, 2018, issue of New York Magazine. Subscribe Now!