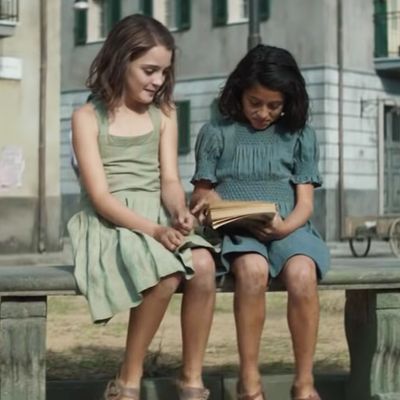 The first two episodes of My Brilliant Friend, the highly anticipated HBO adaptation of Elena Ferrante's globally adored Neapolitan Novels, just premiered at the Venice Film Festival. To say the advance press screening was a muted affair would be generous: I witnessed more walkouts throughout the two hours than I did during Luca Guadagnino's bloody, polarizing Suspiria.
It's hard to pinpoint exactly how director Saverio Costanzo's adaptation fails through the language barrier (the series is entirely in Italian and Neapolitan dialect, and it was screened with both English and Italian subtitles). But I could sense the strain of putting the weight of the drama on two first-time child actors, Elisa Del Genio and Ludovica Nasti, who certainly look their parts but don't quite have the unguardedness suggested by Ferrante's deeply relatable account of their childhood. Del Genio and Nasti are later replaced by older actors for subsequent episodes, which did not screen at the Venice Film Festival, but Costanzo's direction is so ponderous and slow that I have to wonder how much of a difference it would make. There's a mechanical quality to these early episodes, which is certainly not a word you want associated with an adaptation of Ferrante.
The screening, and the general sighing and walking out for what was supposedly an eager audience — I heard a few gleeful claps for Ferrante's name in the opening credits — made me wonder if HBO has a huge, expensive, foreign-language dud on their hands. Is it simply too tall an order to adapt a novel of the kind of interiority and hair-trigger emotional swings as the first of the Neapolitan Novels? I'd like to think no. My Brilliant Friend comes from a long tradition of girlhood bildungsromans that have been successfully adapted, including Lila and Lenú's beloved Little Women, and Anne of Green Gables. You'll never get all those little head-monologues and observations on the screen, but it's possible to capture the sometimes scary, sometimes wonderful fluctuations of growing up, especially with the time and development a TV series allows.
While My Brilliant Friend may already be in the can, it's not too late to switch things up for The Story of a New Name. Make it an anime.
I'm kidding? No, not really. There is perhaps no contemporary format better at documenting the hyperemotions of adolescence than mainstream Japanese animated TV series. It's an entire genre, called shojo, which means "young girls" and can include superhero stories, but more often are non-supernatural emotional sagas of childhood hardships, crushes, school rivalries, and friendship. (Long-running manga series Fruits Basket and Marmalade Boy are considered classics, with gobs of anime series and movies and light novels and even dating sim game spinoffs.) When I read Elena describe her alternating elation and frustration with her childhood friend Lila, I realized the emotional tone I had created in my head was pulled directly from the wild oscillations of an anime soap opera, all glistening eyes and red faces and outbursts of tears.
But it also reminded me of some more understated work, too: First, Yoshifumi Kondo's forever underrated Studio Ghibli gem Whisper of the Heart, which was written by Hayao Miyazaki. While this tale of growing up in the humdrum suburbs of 1990s Tokyo doesn't document the same kind of poverty and violence that shapes Lenú and Lila, makes us care deeply for the mundane events in the life of a prickly young girl who wants to write a novel. (In the realm of fictional heroines with dreams of writing fiction, Whisper's Shizuku rivals Jo March for depth and heart.) Then, Isao Takahata's fabulous, quietly beautiful Only Yesterday, in which a woman living in Tokyo takes a trip to the countryside, and begins to be preoccupied with memories of growing up in 1960s Japan. Both films are able to capture volatile adolescent emotions and the foggy, heartstring-tugging nostalgia of trying to understand the world you grew up in not despite but because they are animated. Maybe it's sacrilegious to say so, but I truly believe that a good animation director can, more often than not, create a better on-screen child protagonist than a child actor and a live action director. Go rewatch the exuberant wanderings and sudden tantrums of Mei in Miyazaki's My Neighbor Totoro if you have doubts.
Both Takahata and Kondo are no longer with us: Takahata died earlier this year, and Kondo died in 1998 of an aneurysm (the context of which, according to recent statements by Ghibli chief producer Toshio Suzuki, is considerably darker than previously reported, and doesn't reflect at all well on Takahata). But Miyazaki is still kicking, and what's more, working on an adaptation of 1937 coming of age novel How Do You Live?, assumed to be his final film. (He's serious this time!) Has Miyazaki read Ferrante? There is a good chance — never was there a more ardent Italophile in all of Japan. He's clearly in the mood for evocative nostalgia pieces, given his current project, and some of his earliest work was on a 1970s Japanese Anne of Green Gables anime series (so, so funky, an absolute must-Google). So, HBO, consider this not-so modest proposal: Cut your losses on My Brilliant Friend, and give all your money to Miyazaki. You won't get the final product til approximately 2035 and/or never, but it will still have better odds at being the masterpiece Ferrante deserves.