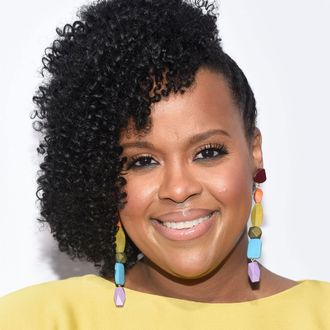 Natasha Rothwell.
Photo: Michael Tullberg/Getty Images
Prior to landing a breakout role on HBO's Insecure, comedian Natasha Rothwell was one of a handful of black women who auditioned for Saturday Night Live back in 2013 following an online backlash against the show's lack of diversity, especially when it came to black women in the cast. While Rothwell did not land a spot in the SNL cast at the time, she worked as a writer during the show's 40th season, and she opened up about the experience during a new episode of the NPR podcast It's Been a Minute today.
"I don't think it's meant to be easy. I also think that being in a 40-year-old institution that is predominantly white, as a woman of color, it's a different journey," Rothwell said. "I was working alongside amazing, smart, funny people in an environment that wasn't for me. Like, some people thrive there. You know, so it's like no shade, but it just wasn't for me. But at the time I wanted — it's like you want the glass shoe to fit so badly. And you're bending your foot and you're trying to figure out how to fit in, because you want it to be you. You want them to want you as much as you want them."
As for her thoughts on what SNL needs in its approach to diversity, Rothwell said, "It's graduating from tokenism to inclusion to understanding diversity in the true meaning of it, which is not 'We got one!'" Still, Rothwell said she views her time at SNL as a learning experience for being confident in her own comedic voice: "My first couple of months there I was desperately trying to be what I thought they wanted, and then I realized me being myself in that audition at the Peoples Improv Theater where I just gave zero fucks — that's what they wanted." (Fun fact she shared during the interview: During her audition, she did an impersonation of Kenan Thompson … in front of Kenan Thompson.)
Given last week's news that SNL had hired Ego Nwodim, a black woman, to the cast as well as comedian Bowen Yang to the writing staff, Rothwell was asked how she'd grade the show's progress when it comes to diversity. "I feel like grading them means that they've turned in a complete assignment, and I feel like it's a constantly moving, growing machine," she said. "I do think that they are aware; they are very hyperaware … Twitter has made them aware … I think that they're answering the call, but I think that the true evidence of diversity on that show will be longevity of marginalized groups behind the camera and in front of the camera."
Listen to the full interview over at NPR.