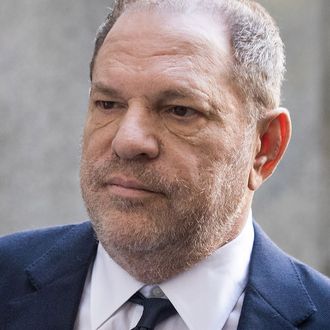 Weinstein.
Photo: Drew Angerer/Getty Images
Last week, former NBC News producer Rich McHugh told the New York Times that he and Ronan Farrow had allegedly been cautioned by the network last August to "stand down on the story" rather than pursue what they believed to be a credible rape allegation against Harvey Weinstein. The network refuted his claim, saying in a statement, "The assertion that NBC News tried to kill the Weinstein story while Ronan Farrow was at NBC News, or even more ludicrously, after he left NBC News, is an outright lie." NBC News chairman Andy Lack has now responded to this claim and others in a detailed memo released Monday, doubling down on NBC's decision not to publish Farrow's findings as they existed last summer. "If some believe that decision a failure of our competitive instincts, so be it," Lack says. "But it was a decision undertaken honorably and with good intentions toward Farrow and his work."
Lack reiterates that Farrow's subsequent New Yorker reports about the disgraced producer contained the names and statements of alleged Weinstein victims who were willing to be identified, details Lack says Farrow did not have on the record while working at NBC News. He says when Farrow disagreed with the network's decision not to publish his story, NBC News convened "an independent group of the most experienced investigative journalists in our organization" to review Farrow's findings, but the group came to the same conclusion: "This story is not ready for air." "Further, they found several elements in Farrow's draft script which did not hold up to scrutiny," says Lack. "It was Farrow's decision, in the midst of this process, to pursue the story elsewhere."
Lack does admit that the network declined to send a camera crew to conduct an anonymous interview of an alleged victim. "Farrow conducted the interview but we declined the request for a crew because we believed filming another anonymous interview would not get us any closer to clearing the threshold to broadcast, and because he had already informed us he was pursuing the story for another outlet," says Lack.
Above all, Lack pushes back on the "baseless speculation" that Weinstein himself, rather than what NBC News felt was insufficient reporting, had any role in killing the story. While Weinstein's legal team did try to contact NBC News, Lack says, they were reportedly met with a "boilerplate commitment to allow them to comment." Lack insists, "None of this was kept secret from Farrow. None of it was any different from the calls we receive on every other difficult story our investigative unit regularly breaks. And none of it played any role in our decision-making." You can read the full memo here.
Update: On Monday night, Ronan Farrow issued a statement disputing several key points in Lack's memo, and NBC News' account of his Weinstein reporting in general. "I've avoided commenting on the specifics of NBC's role in the Weinstein story to keep the focus on the women and their allegations," he tweeted. "But executives there have now produced a memo that contains numerous false or misleading statement, so I'll say briefly: their list of sources is incomplete and omits women who were either identified in the NBC story or offered to be. The suggestion to take the story to another outlet was first raised by NBC, not me, and I took them up on it only after it became clear I was being blocked from further reporting."
"The story was twice cleared and deemed 'reportable' by legal standards only to be blocked by executives who refused to allow us to seek comment from Harvey Weinstein," continues Farrow's statement, which you can read in full below. "There'll be more to say at the right time."
Rich McHugh also issued a statement, echoing Farrow's critique of NBC News' claims. "When you have an exclusive audio recording of Harvey Weinstein admitting to sexual assault, in addition to a rape survivor scheduled for an interview in three days, what journalistic 'ethic' would cause a news outlet to cancel that interview, not air the audio tape, and let one of the most defining stories of this decade walk out the door?" he says in part.
Update: Weinstein accuser Emily Nestor also released a statement Monday night, taking issue with the assertions made in Lack's memo. She says she had been "tentatively" willing to be identified and filmed in a reshot interview about the disgraced producer's alleged attempt to proposition her in exchange for career advancement, but NBC News was ultimately "not interested in this interview." You can read her full statement below.
I am immensely disappointed in, but not surprised, to read NBC's recent comments about Ronan Farrow's work on the Weinstein story. Notably absent in the list of seven women (Asia Argento, Mira Sorvino, Rosanna Arquette, Lucia Evans, Emma de Caunes, Jessica Barth, and Sophie Dix) they claim were unwilling to be identified from The New Yorker story are two women who had been involved in Farrow's reporting while at NBC, Ambra Gutierrez and myself. Ambra had always been willing to allow Farrow to identify her by name and use the recording of her, and I had filmed an interview in silhouette. After Rose McGowan pulled out of the story, realizing that the story was in peril of not being made public at all, Farrow and I discussed and I had tentatively offered either to attach my name to the interview in silhouette or potentially even reshoot the interview with my face visible. However, they were not interested in this interview.




NBC further claims, "…We wondered then, and still wonder now, whether the brave women who spoke to him in print would have also sat before TV cameras and lights." The condescension dripping from this phrase is despicable. The implication that these "brave women" were just not "brave" enough to go in front of a TV crew undermines all of the dangers, uncertainties, and obstacles we faced in coming forward in The New Yorker piece. Beyond which, I actually did film a spot for NBC, albeit in silhouette, and had tentatively agreed with Farrow to reshoot the interview in full-face or attach my name to the already filmed interview in silhouette.




I feel forever indebted to Farrow for finding a platform from which my voice and the voices of other victims could be heard. Beyond which, I am even more grateful that he handled himself throughout with integrity, professionalism, strength, kindness, and honesty. To attempt to impugn his character or his conduct in his tireless work to publish this story is shameful.  
Weinstein has previously denied all allegations of sexual harassment, sexual assault and rape made against him.
Update: On Tuesday morning, an NBC News spokesperson released a statement about Nestor's involvement in Farrow's reporting. The statement reads, "Nestor is the anonymous victim of harassment referred to in the NBC News document and was contacted during the editorial review process by an investigative producer with two decades of experience. She took contemporaneous notes of their conversation and at no time then or since did Nestor tell NBC News she was willing to be named."