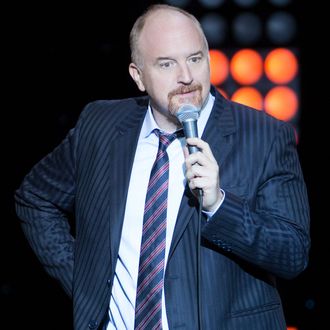 Louis C.K. in his Netflix special
2017.
Photo: Cara Howe/Netflix
Several of Louis C.K.'s projects fell apart last year following the New York Times report detailing multiple sexual-misconduct allegations against the comedian that he later admitted were true. One of those projects was the second special from his two-special deal at Netflix, which was canceled by the streaming network. But in light of a new report, C.K.'s fate at Netflix doesn't seem so set in stone. In a recent interview with the Times, Netflix comedy bosses Lisa Nishimura (vice-president of original documentary and comedy programming) and Robbie Praw (director of original stand-up comedy), who are described as "the most powerful gatekeepers in stand-up," were asked if Netflix would have C.K. back despite his canceled special. Nishimura and Praw reportedly took a long pause after Times reporter Jason Zinoman asked the question before being cut off by their publicist:
Then there's the inevitable question of Louis C. K. Netflix canceled a deal with him after he admitted to sexual misconduct. But would the service have him back? After I posed the question — weeks before he returned to do a club set — Ms. Nishimura and Mr. Praw paused to reflect. This extended into a minute before a publicist interrupted, saying they wouldn't be able to answer.
Elsewhere in the piece, Nishimura and Praw were asked about the streaming network's lack of hour-long stand-up specials starring black women since last year, following Mo'Nique's call for fans to boycott Netflix over pay equity and Wanda Sykes also speaking out about being "offended" by what Netflix offered her for a special. After explaining that Netflix bases its offers on data such as touring and social metrics, he said, "There just wasn't a deal to be made. We were disappointed, but the door is always open." Praw later conceded that the lack of stand-up deals given to black women is a "failure" on Netflix's part; after the interview, two hour-long stand-up specials starring black women have been added:
Netflix had not produced any new hourlong stand-up shows by black women in 2017 or 2018 — although several have appeared in the service's half-hour and 15-minute collections. When asked if Netflix has a responsibility to do better, Mr. Praw said: "I think we have a responsibility, but it's also what our members want."

 

The next day, Mr. Praw emailed to clarify his comments and in a follow-up conversation conceded that programming so few black women has been a failure. Since our discussion, Netflix has announced that Tiffany Haddish and Ms. Sykes will release specials through the service next year.
Head over to the New York Times to read the rest of the piece, which includes some rare insider Netflix data like how many subscribers have watched a stand-up special and the surprising overlap between Nanette and Wild Wild Country fans.