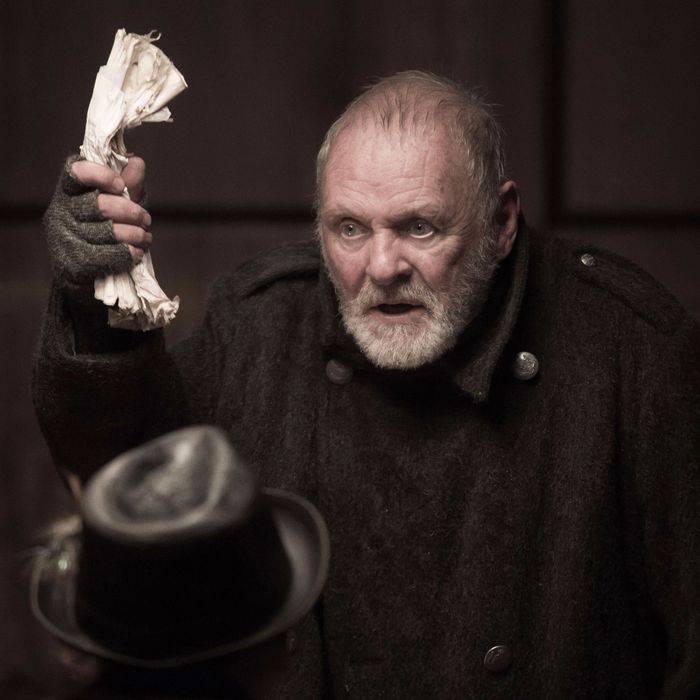 Photo: Ed Miller/Amazon Prime Video
This Month's Highlights
King Lear (2018), Amazon
What's lost in cutting King Lear down to two hours to adapt it for television is made negligible by just how tremendous Anthony Hopkins's performance is as Shakespeare's mad king. With Emma Thompson, Emily Watson, and Florence Pugh as his daughters, as well as Jim Broadbent, Tobias Menzies, and Christopher Eccleston, among others, filling out the rest of the cast, King Lear is a marvel. It has also been updated to a more contemporary setting, and has the according political allusions to boot.
The Hurricane Heist (2018), Netflix
The Hurricane Heist has one of those titles that's both too descriptive, and not descriptive enough. There's a hurricane, and there's a heist. Is the heist of a hurricane? Is the hurricane doing the heist? Or would that be The Hurricane's Heist? No matter what, it's going to be a ridiculous time, so why not settle in and enjoy the ride? (If you really need to know: Toby Kebbell and his cohorts plan to stage a heist during a hurricane so as to cover their tracks. Hurricane hijinks ensue.)
Pirates of the Caribbean: Curse of the Black Pearl (2003), Netflix
The strangeness of revisiting early 2000s Johnny Depp aside, the first Pirates of the Caribbean movie is still a genuine thrill ride. Gore Verbinski, bizarro king, brings his signature flourishes to a film that has no right to be as good as it is, for being based off of a Disney ride. Though the tone overall may be lighthearted, there are plenty of moments that veer into genuine horror and Eldritch tragedy. I promise it's just as good as you remember it.
Starry Eyes (2014), Shudder
If you like the kind of horror that A24 has been putting out recently, you may get a kick out of Starry Eyes, which has a similar kind of starkness to it. As Sarah Walker (Alexandra Essoe) pursues a career in Hollywood, things take a turn for the sinister and strange, begging the question of the price of fame. Walker's journey plumbs the depths of body horror akin to Natalie Portman's deterioration in Black Swan, but make no mistake — Walker's demons aren't just in her head.
The Girl With the Dragon Tattoo (2009), Filmstruck
As the marketing for The Girl in the Spider's Web revs up, why not revisit its predecessors in adaptation? The Swedish The Girl With the Dragon Tattoo, The Girl Who Played With Fire, and The Girl Who Kicked the Hornet's Nest are all available on Filmstruck. Starring Noomi Rapace as hacker (and crusader for justice — well, revenge — for women against the men who would abuse them) Lisbeth Salander and the late Michael Nyqvist as journalist Mikael Blomkvist, the series is the filmic equivalent of jumping into ice-cold water.
Loveless (2018), Starz
For something a little more dour, try Loveless. Directed by Andrey Zvyagintsev, whose last film, Leviathan (2014), got him into hot water for its less-than-rosy portrayal of modern Russia, Loveless deals with some of the same themes about contemporary Russian culture. The film centers on a (you guessed it) loveless marriage that further deteriorates when their son goes missing, and Zvyagintsev doesn't cut any corners when it comes to depicting the emotional fallout.
Jane Fonda in Five Acts (2018), HBO
Documentaries about public figures are naturally tricky — doubly so when the subject has led as varied a life as Jane Fonda. The tendency is to lean into anodyne anecdotes or worship; Jane Fonda in Five Acts is a stunning exception to the rule. Fonda is almost painfully honest throughout, as the documentary covers the entirety of her life, and it feels cathartic when the piece reaches the last of its five acts. The preceding four are named after the important men in Fonda's life; the last is simply named "Jane."