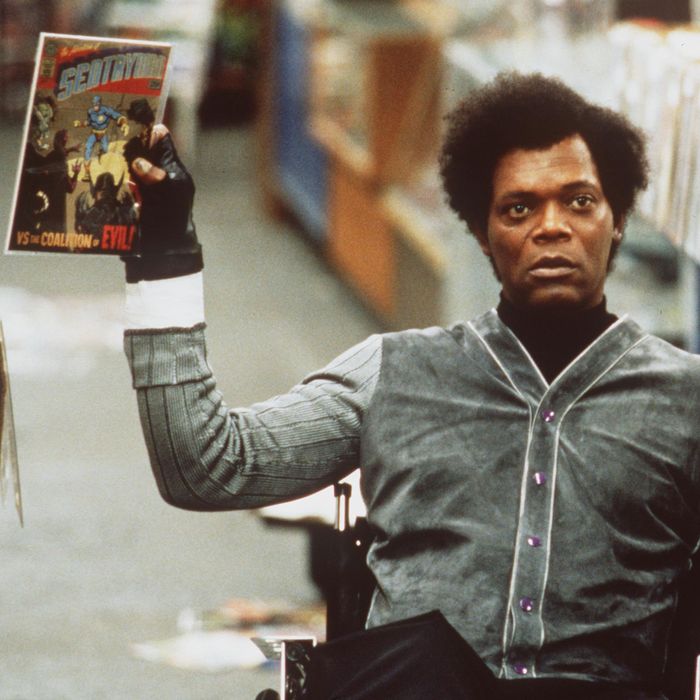 Photo: Getty Images/Getty Images
This Week's Streaming Highlights
Black Panther (2018), Netflix
If you somehow missed Black Panther when it was in theaters, or if you've been itching for a rewatch, you're in luck: The jewel in the Marvel cinematic universe's crown has landed at Netflix. Directed by Ryan Coogler, the film follows Prince T'Challa (Chadwick Boseman) as ripples run through his home country of Wakanda following his father's death. Packed with potent social commentary along with the requisite dazzling heroics — not to mention a powerhouse turn from Michael B. Jordan as the film's villain, abetted by a non-CGI Andy Serkis — Black Panther is a blast. Netflix, September 4.
Unbreakable (2000), Hulu
For a different flavor of superhero movie, try M. Night Shyamalan's Unbreakable. Starring Bruce Willis and Samuel L. Jackson, Unbreakable was arguably ahead of its time, stripping the superhero genre down to its bare bones instead of reveling in its conventions. After emerging as the sole survivor of a train crash, David Dunn (Willis) struggles with whether or not he might possess supernatural powers and, on top of that, what to do with them if he does. Along for the journey is Elijah Price (Jackson), who suffers from brittle-bone disease and developed a fascination with comic books and superheroes during his stays in the hospital as a child. Hulu, September 1.
Happy-Go-Lucky (2008), Hulu
Though it might seem like an exaggeration to call Happy-Go-Lucky a little miracle, Mike Leigh's film is still one of the most graceful gems to grace the screen in recent memory. Sally Hawkins's performance as schoolteacher Poppy Cross (who is indeed happy-go-lucky) proves her a force to be reckoned with, and is easily worth revisiting in the wake of her Oscar win for The Shape of Water. Depending on your own outlook on life, you may find Poppy delightful or infuriating — the people around her certainly vacillate between the two — but there's a surety and assertiveness to her that's admirable, especially as she offers nothing but kindness to the people who'd try to keep her down, including an aggressive driving instructor played by Eddie Marsan. Hulu, September 6.
A Field in England (2013), Amazon Prime
There's a mix of brutality and strangeness to Ben Wheatley's work that's best illustrated by the black-and-white A Field in England, which infuses the English Civil War with an element of the supernatural — or is it just the psychedelic? The film, which takes place exactly where the title suggests, follows a group of men (including, among others, Reece Shearsmith, Michael Smiley, and Julian Barratt) as they break off from battle, searching alternately for safety, for treasure, and for blood. As the events of the film unfold, the methods by which Wheatley chooses to frame them grow stranger, remaining neatly in step with the introduction of alchemy into the story. Amazon Prime, September 1.
Jerry Maguire (1996), Amazon Prime
In recent years, Tom Cruise has made "death-defying stunts" his calling card, to the point that it may surprise those who haven't dipped into his back catalog that one of his best performances involved no stunts at all. Rather, it doubles down on the notion that he's fallible. The first thing that happens in Jerry Maguire is Maguire's downfall, and it's up to Cruise to keep us invested in and sympathetic to his flailing sports agent as his life undergoes some seismic shifts. His manic energy has perhaps never been as expertly showcased as it is here, matched only by Cuba Gooding Jr.'s Best Supporting Actor–winning performance as his sole remaining client. Amazon Prime, September 1.
Miss Sherlock, Season One (2018), HBO
HBO's first Japanese original, Miss Sherlock, is the kind of reinterpretation of Sir Arthur Conan Doyle's work that you've likely only dreamed of: Yuko Takeuchi and Shihori Kanjiya star as female versions of the iconic detective and her partner, solving crimes in modern-day Tokyo. Though the first episode is a bit flimsy, the series is quick to improve, offering up a fresh take on old material that somehow still feels truer to its source than some of its contemporaries. It also provides a new lens through which to view other modern adaptations, comparing and contrasting interpretations of the detective — from purposefully prickly to oblivious — as Miss Sherlock takes a decidedly more tempered tone. HBO, September 1.
The Hitchhiker's Guide to the Galaxy (2005), Showtime
From the moment Garth Jennings's take on Douglas Adams's book begins (with a full-on musical number sung by dolphins), it's clear that The Hitchhiker's Guide to the Galaxy is operating on a level of cheeky earnestness that makes it hard to begrudge the detours it takes from its source material. As everyman Arthur Dent (Martin Freeman) is whisked off into space to ponder the end of the world as well as the meaning of life, accompanied by Elvis would-be Zaphod Beeblebrox (Sam Rockwell) and alien everyman Ford Prefect (Yasiin Bey), the film becomes loopier and loopier, but without ever losing sight of the sweetness and zest for life that make it a worthy adaptation. Showtime, September 1.
For more coverage of the best movies and TV shows available on Netflix, HBO, Amazon Prime, Hulu, and Showtime check out Vulture's What to Stream Now hub, which is updated throughout the month.