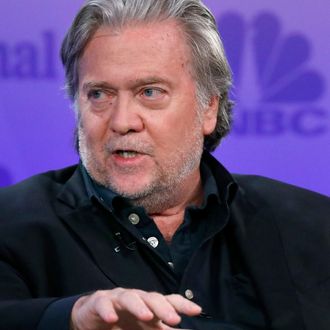 Bannon.
Photo: CNBC/NBCU Photo Bank via Getty Images
Update: Steve Bannon lambasted The New Yorker's David Remnick for his dismissal from The New Yorker festival Monday night. "The reason for my acceptance was simple: I would be facing one of the most fearless journalists of his generation," Bannon told the New York Times in a statement. "In what I would call a defining moment, David Remnick showed he was gutless when confronted by the howling online mob."
Update: In a statement made Monday evening, Remnick announced he had "changed his mind" following the backlash to his decision to interview Steve Bannon for The New Yorker Fest. "I don't want well-meaning readers and staff members to think that I've ignored their concerns. I've thought this through and talked to colleagues — and I've re-considered. I've changed my mind. There is a better way to do this." The announcement was made after a number of other headliners took to Twitter to back out of their own appearances at the festival, and after Remnick had reportedly received a lot of feedback from readers and his own staff.
Following the announcement that Steve Bannon would be headlining the New Yorker Festival this October, subscribers, celebrities, and even the magazine's own employees turned to Twitter to vent their frustrations. Director Judd Apatow, comedian John Mulaney, actor Jim Carrey, and musician Jack Antonoff all announced they had withdrawn from their participation in the festival over Bannon's inclusion. Mulaney expressed frustration with both Bannon's presence and the way the festival announced it, tweeting "[T]his isn't James Baldwin vs William F Buckley. This is PT Barnum level horseshit. And it was announced on a weekend just before tix went on sale."
Director Judd Apatow urged The New Yorker to cancel Bannon's appearance while announcing he would not appear at the same festival as him.
Jack Antonoff, Jim Carrey, and Patton Oswalt all announced they would also no longer be appearing at the festival on Twitter, though they were far more brief.
The New York Times reported that Bannon would appear for an interview with the magazine's editor and frequent Trump critic David Remnick, who told the Times he had no plans to coddle the former White House chief strategist. "I have every intention of asking him difficult questions and engaging in a serious and even combative conversation," Remnick said. "The audience itself, by its presence, puts a certain pressure on a conversation that an interview alone doesn't do. You can't jump on and off the record."
But many questioned whether Bannon, someone who no longer works in the White House and whose sole claim to relevancy is getting this kind of media attention, is worth attempting to corner. Director Ava DuVernay lamented that the magazine was selling tickets to see a man who had helped white nationalists reach the mainstream.
Author Roxane Gay wrote that an invitation to Bannon from a publication with the prestige of The New Yorker, even for a contentious debate, only legitimizes him.
Chelsea Clinton agreed with Gay's assessment and also added that The Economist had also included Bannon in their Open Future festival. (Bannon will be engaging in a fireside chat with editor-in-chief Zanny Minton Beddoes.)
Numerous others aired their disdain for Bannon's inclusion in the festival, including staff writers at The New Yorker and elsewhere.
This post has been updated throughout.