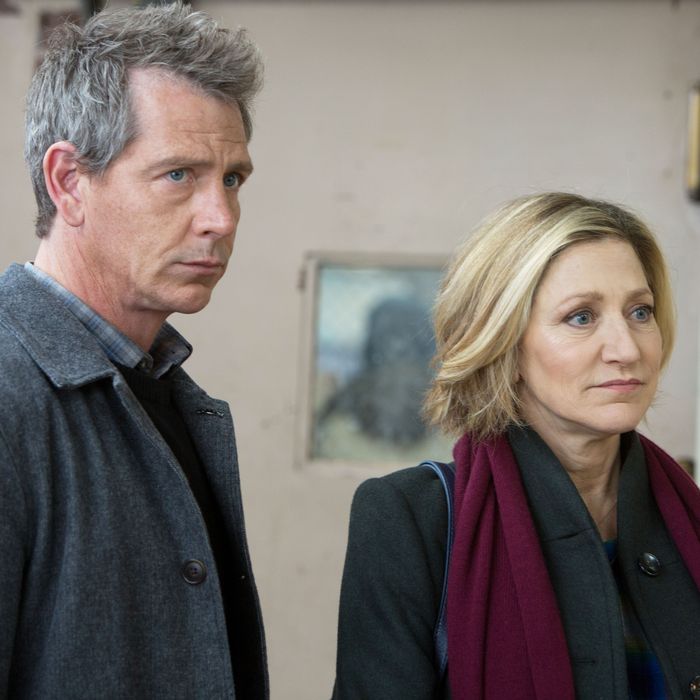 Ben Mendelsohn and Edie Falco in
The Land of Steady Habits
.
Photo: Alison Rosa/Netflix
For more than two decades, Nicole Holofcener has made wonderfully level-headed comedies that center on the loop-de-loops of the middle- and upper-middle-class female psyche — the contradictory impulses governing self-image, envy, guilt, and nervous accommodation to self-absorbed men. Now, in The Land of Steady Habits (in theaters and on Netflix), she's working from a novel by Ted Thompson that centers on the sort of self-absorbed man who'd drive her heroines to the brink. She doesn't let him off the hook, but his cluelessness becomes poignant.
His name is Anders Hill (Ben Mendelsohn); he left his wife, Helene (Edie Falco), after vague but insistent feelings of dissatisfaction; and he has decided to retire early from his high-powered investment job. Living in a condo, at loose ends, watching his sexual equipment fail after successfully seducing sundry middle-aged women, he has to face the unhappy fact that giving Helene their giant Westport, Connecticut, house in his desperation to escape was a dumb move. He'd been counting on his half of a sale to finance his retirement, plus there's a second mortgage he can't pay. So Anders is at once free and miserably trapped. A just reward!
Like most people whose lives have been upended — accidentally or on purpose — he suddenly has the time and space to register all the sadness around him. Two young misfits loom large in his world: his 27-year-old son, Preston (Thomas Mann), living at home following school, rehab, and more school; and Charlie (Charlie Tahan), the teenage druggie son of his least-favorite local rich couple. Anders bonds with the acid, nihilistic Charlie after wandering out of that couple's annual holiday party, to which he wasn't welcome but came anyway, and accepts a hit from a winter squash that serves as a makeshift bong. Then Charlie tells it's him it's PCP and breaks up.
The "steady habits" announced by the title include not just drugs, alcohol, gambling, and sex but also daily commuter rail trips to the city and regular excursions to Bed Bath and Beyond. The movie's central motif — rituals that dull pain and heighten unhappiness — doesn't clobber you. It seeps into you. Giant houses, lawns, luxury cars, tacky rows of stores selling stuff you don't need (Westport has a doozy), begin to look not so much bad as odd, beside the point of one's existence, whatever that point might be. It's a cold world, Connecticut's Gold Coast. Desperate to warm it up, Anders totters drunkenly into his old house, appalling Helene and her wealthy boyfriend (Bill Camp) and acting as if he, Anders, had been the one who was dumped. The shock is how easy it has been for the rest of the world to move on without him.
The Land of Steady Habits doesn't have Holofcener's usual polyphonic structure and indulgent vibe, perhaps because — despite its laughs — it's not a comedy, not all of it anyway. Working a bit out of her comfort zone, she takes half an hour to find her rhythm. The early scenes are nervously edited, for comedy. But the movie relaxes when Anders is offscreen, when Charlie's mom, Sophie (Elizabeth Marvel, whose stillness is incredibly expressive), and Helene find common ground in hating him, and in a peculiarly powerful scene in which Preston — now homeless, working as a delivery boy for a liquor store — delivers a case of wine to Sophie after her own son has disappeared. Marvel's posture is overly rigid — she's a yoga nut — but what's inside her pulsates, straining against its shell.
To be clear, the movie is still really good early on, but even richer when the two younger men (boys, really), Preston and Charlie, move to the center and Anders's inability to help either one makes him weaker and weaker in his own eyes. It's one thing to choose to act selfishly, another when you realize you just can't help it, that you're temperamentally unsuited to fatherhood. A great actor when his motor is running fast, Mendelsohn is surprisingly attractive at slower speeds and better when Holofcener makes him twist. An Aussie, his drawling American accent uncannily evokes Dennis Quaid (when I closed my eyes, I thought it was Quaid), but he's not "on" like Quaid. Sometimes it seems as if he's flailing around inside the role, trying to find a way to give Anders more stature. But that's what Anders doesn't have — not yet.
I miss Catherine Keener, a constant in Holofcener's films since Lovely and Amazing (I've called them the Scorsese–De Niro of female-centric comedy), but Falco's sharp tones are always good for cutting through male fuzziness, and there's a delightfully loopy turn by Connie Briton as a woman Anders meets in a men's room. Late-middle-aged and single, she suffers indignities but doesn't make her peace with them. When Anders makes light of a self-help book by her bedside (after having failed miserably to satisfy her), she calls him "mean," and the word stings more than any expletive.
Charlie Tahan (he played the Scarecrow in Gotham and is a regular in Ozark) is the actor who haunts you, partly because the role of Charlie is so haunting and partly because he doesn't act as if there's a camera on him. In Thompson's novel (which fills in a lot of backstory), Charlie is a casualty of mindless affluence, but Tahan doesn't worry about that. He's just a boy who can find no traction in this world, and who uses his parents' stuff as props in his self-destruction. He's always laughing — and he's tied to this world by a pet turtle, to whom he relates — but there's nothing in him that suggests he is equipped to survive, even with rehab or wilderness shock therapy or cognitive therapy or Freudian analysis. His self-destruction is a habit.