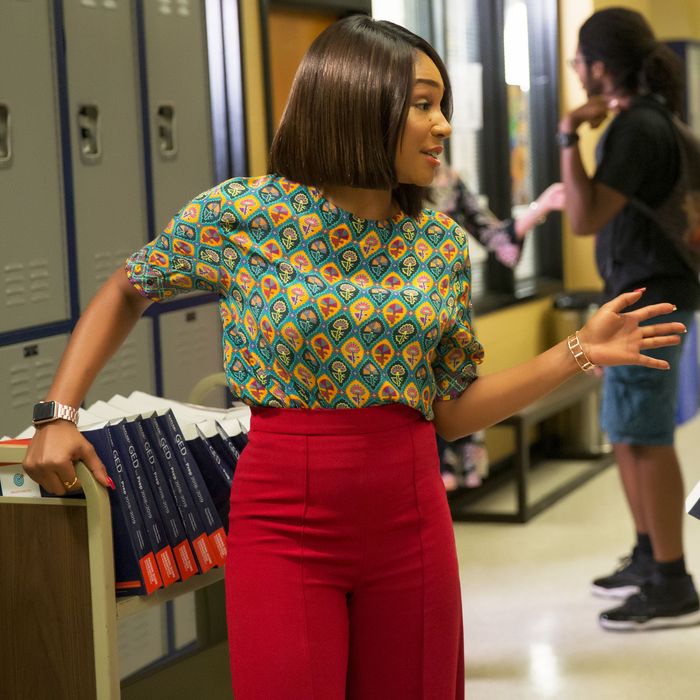 Photo: Eli Ade/Copyright: © 2018 Universal Studios. ALL RIGHTS RESERVED.
Studying for the GED is not a particularly cinematic endeavor, and so when it comes time for the students of Night School to put their nose to the grindstone, naturally, the film goes to a montage. The imagery isn't that far off from your average Phoenix University TV spot, with more chaos and misery — but I found myself unexpectedly moved. Here, in the middle of an otherwise middle-of-the-road comedy filled with grievous bodily harm and a thousand variations on the Kevin Hart Reaction Shot, was a beleaguered portrait of a group of working-class Americans optimistic enough to believe that a high-school diploma might be the key to turning their lives around, no matter how far into them they are.
It's that bit of grit and substance that redeems writer-star Hart and director Malcolm D. Lee's odd couple comedy. The story of a terminal underachiever and high-school dropout (Hart), who suddenly finds himself unable to coast on the paycheck of his high-powered girlfriend (Megalyn Echikunwoke), has an agenda, which it takes pretty seriously, in between gas explosions and vomitous explosions of fried chicken. Hart clearly hopes there will be people in the audience who see themselves in Teddy, and that perhaps he will spark their interest in rolling up their sleeves and finishing their high-school educations. It's hard to find fault with that.
Teddy enrolls in the titular GED course taught by Tiffany Haddish's Miss Carrie — a high-school teacher also struggling in the lower regions of the middle class, who has taken on evening courses to pay for "rent and antibiotics." It's a different look for Haddish, who became a star in Lee's riotous Girls Trip as the wild card of the central trio. Lee and Hart give her a few scenes that bring back that matter-of-fact physical abandon she made her name on, but Carrie mostly has to be the voice of reason trying to corral a motley crew of nontraditional students. Even when Haddish isn't rattling off punch line after punch line in her signature rasp (as she does in her first scene with Hart, observing his shattered windshield and commenting that "he must feel like a little bee inside a kaleidoscope"), there's something enjoyably, relatably just-shy-of-a-rampage about this more down-to-earth performance.
The rest of Teddy's classmates include, in descending order of hilarity, a toothpick-chewing conspiracy theorist (Romany Malco), a recently fired waiter with a very just vendetta against Teddy (Al Madrigal), a repressed grown-up teen mom (Mary Lynn Rajskub), a big, dumb physical laborer (Rob Riggle), a prison inmate joining the classes via Skype (Fat Joe), and a party girl dropout facing drug charges (Anne Winters). The introduction of the class will either feel hopelessly or comfortably rote, depending on how much you enjoy the "unlikely crew thrown together in a petri dish" comedy formula. I found myself, to my surprise, in the latter camp, and for the most part, the ensemble fulfills its comedic promise.
The group is best just trading barbs and reaction shots in the classroom; once Teddy initiates a heist to steal the GED test from the office of the baseball-bat-wielding principal (Taran Killam), who's had it in for him since high school, the hijinks feel more forced, and the pratfalls, anal sex jokes, and explosive vomit starts flowing. But it all winds up for an unexpectedly hard-earned (in a very literal sense) finale, which denies the cut-and-dry win to its protagonist that we're trained to expect from larks like this. Like Teddy, there's a lot of sophomoric silliness Night School feels obligated to perform. But there's a heap of good intentions behind it, and enough big laughs to make us want to forgive it in the end.