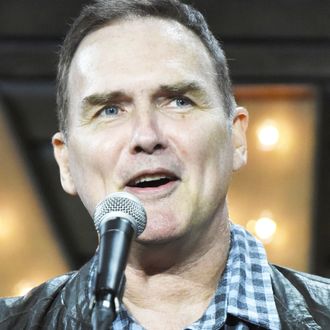 Norm Macdonald.
Photo: Tim Mosenfelder/Getty Images
Ahead of the premiere of his Netflix series Norm Macdonald Has a Show, Macdonald recently sat down for an interview with The Hollywood Reporter, and it's jam-packed with the comedian's thoughts on hot-button issues like Louis C.K., Roseanne Barr, Chris Hardwick, Hannah Gadsby and Nanette, Michael Che and Nanette, Jimmy Fallon's infamous Trump interview, and #MeToo. It's quite a doozy, but probably the biggest thing Macdonald reveals is that after ABC canceled Roseanne, Macdonald convinced C.K. to give Barr a call.
"She was just so broken and crying constantly," Macdonald said. "There are very few people that have gone through what they have, losing everything in a day. Of course, people will go, 'What about the victims?' But you know what? The victims didn't have to go through that." As for what C.K. and Barr talked about during their call, Macdonald said they "were just giving any advice you could give to each other. There would be no way for me to even understand that advice, because who has ever gone through such a thing?"
When asked about the #MeToo movement, Macdonald brought up Chris Hardwick: "It used to be, 'One hundred women can't be lying.' And then it became, 'One woman can't lie.' And that became, 'I believe all women.' And then you're like, 'What?' Like, that Chris Hardwick guy I really thought got the blunt end of the stick there," he said. "The model used to be admit wrongdoing, show complete contrition, and then we give you a second chance. Now it's admit wrongdoing and you're finished. And so the only way to survive is to deny, deny, deny. That's not healthy — that there is no forgiveness. I do think that at some point it will end with a completely innocent person of prominence sticking a gun in his head and ending it."
Macdonald also waded into the debate over Hannah Gadsby's Netflix special Nanette and Michael Che's argument that it has brought about a trend he called "standup tragedy," which isn't stand-up at all. "I have never seen the Nanette thing because I never wanted to comment on it. But from what I have read about it, [Gadsby] is saying that comedy is now not about laughter," Macdonald said. "And of course that's a slap in the face of a traditional stand-up comedian who thinks that comedy by dictionary definition is about laughter … Nanette doesn't sound like stand-up to me. That sounds like a one-woman show. And one-person shows are to me incredibly powerful. But it's not stand-up comedy and it's not the same thing."
Head over to THR to read the full interview.
Update: Macdonald has responded to the backlash the THR interview has received on Twitter, saying that while he considers Barr and C.K. "very good friends," he would "never defend their actions." He concluded the tweet by saying if his responses "sounded like I was minimizing the pain that their victims feel to this day, I am deeply sorry":