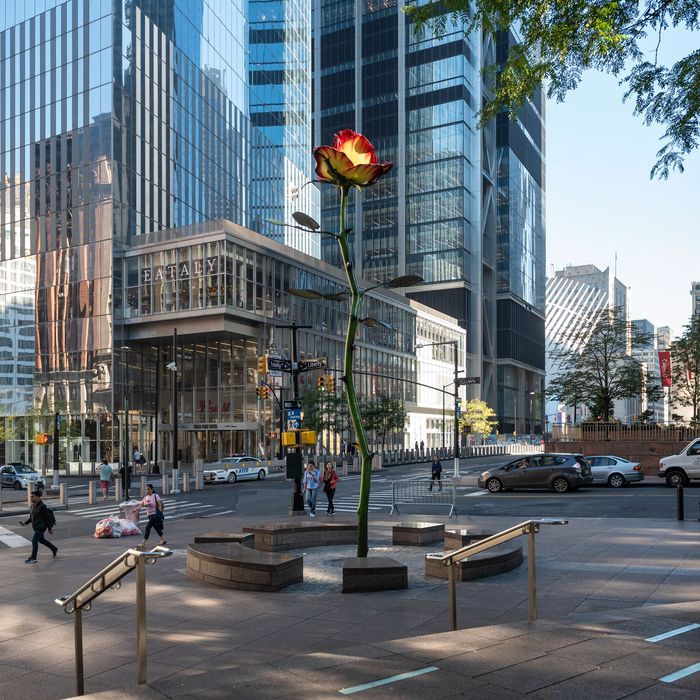 Isa Genzken's
Rose III
, in Zuccotti Park
Photo: Timothy Schenck/Courtesy Galerie Buchholz, Berlin/Cologne/New York
It was exactly seven years ago today that Occupy Wall Street took over Zuccotti Park, that "privately owned public space" run by the big landlord Brookfield Properties, which among many other things owns the adjacent office tower, One Liberty Plaza. That brief bongo-inflected moment in 2011 turned a pleasant enough late-1960s corporate plaza into hallowed ground for America's turn toward something like socialism. And, coincidentally, yesterday Brookfield erected Rose III (2016), a 26-foot-tall, half-ton megaflora there, forged from lacquered steel by German artist Isa Genzken, as a gift to the city and area office workers who use the plaza for coffee drinking, perhaps with the hope that the park would become famous for something else besides mostly unmet demands for economic change, and that ugly eviction of protesters. It's now worth noting that the (red) rose has always been a symbol of democratic socialism, the historic movement Occupy made mainstream again in this country.
"A rose has a certain banality and familiarity," acknowledges Laura Hoptman, the executive director of the Drawing Center who curated the Genzken show when she was at MoMA. But making it very large causes you, at least in theory, to reconsider its meaning, says Hoptman. "A rose is symbol of love and commemoration," among other things, including "different political parties. This work is entirely positive: of gifting and love and a happy memory, A public monument for the enjoyment of New York."
Strictly speaking, this big rose is not red, however: It's more of a yellow-red mix, and modeled after an actual rose, which the artist had 3-D scanned. Genzken, despite a widely praised MoMA retrospective in 2013, remains less famous in this country than in Europe, where her strange, complicated work is better known. But everybody loves her enormous roses, each of which are unique. (You might have seen her other (red) one, planted in MoMA's sculpture garden, where it moved after spending some time jutting up from a setback on the facade of the New Museum.)
Rose III is on long-term loan to the city of New York and Brookfield from Lonti Ebers, the art collector and patron (whose husband also happens to be Brookfield's CEO). "I bought the work and then thought about how it might go downtown," she says (she is Rose III's first owner; it comes in an edition of three, with an artist's proof). Zuccotti also borders the former U.S. Steel Building (which, back in 1968, had been allowed to be constructed taller than zoning would ordinarily allow in exchange for the plaza), and Genzken "was fascinated [with] that building and had done many photographs of it." She liked the flower's message of "hope and positivity." And these days, hope and positivity might be a radical political statement in and of itself.