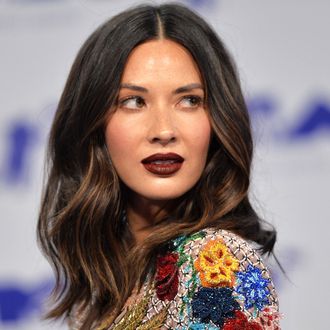 Olivia Munn.
Photo: Alberto E. Rodriguez/Getty Images
Last week, 20th Century Fox admitted that a scene from the upcoming Predator film was cut, owing to the scene featuring a registered sex offender who served a jail sentence for a sex crimes charge. The man, Steven Wilder Striegel, was a longtime friend of director Shane Black, and when Predator star Olivia Munn found out about Streigel's identity, she immediately reported it to the studio. However, despite Fox ultimately cutting the scene, Munn has spoken out about how her concerns were initially met with silence, and how that lack of communication was disheartening and frustrating. Now, though, Munn's male co-stars are providing a new source of frustration. Per THR, some male Predator actors have backed out of scheduled interviews during the Toronto International Film Festival, "presumably because of the subject matter of the deleted scene," with only the youngster Jacob Tremblay joining Munn in their previously arranged interviews. In a separate interview with Vanity Fair, Munn also said one male co-star originally proceeded with interviews as planned, but "walked out" when the issue was brought up.
"It's a very lonely feeling to be sitting here by myself when I should be sitting here with the rest of the cast," Munn told THR. "There are people who get very mad at you for not just helping them bury it … I do feel like I've been treated by some people that I'm the one who went to jail or I'm the one that put this guy on set." She added, to Vanity Fair: "If I didn't have that feedback, I'd kind of go a little crazy thinking, 'Why am I being treated like this?' That's not okay, to feel like the bad guy."
Sterling K. Brown, who plays a supporting Predator character, has tweeted a few messages in support of Munn, noting that he couldn't attend the film festival because of his work schedule. "I'm sorry you're feeling so isolated, my dear," he wrote. "I so appreciate that you 'didn't leave well enough alone,' and again, I'm sorry you feel isolated in taking action." Keegan-Michael Key, his publicist told Vulture, always planned to leave the festival early to spend the Jewish holiday with his wife, and "reached out to Olivia privately last week to let her know how proud he was of her and echoed that sentiment in many interviews since then." Fellow cast members Boyd Holbrook and Trevante Rhodes have remained silent on the issue.
Update Monday, September 10: Variety reports that Holbrook issued a statement on Monday afternoon offering his public support for Munn.
"I want to start by apologizing for this statement coming late in the current conversation. I do not take any of what has gone on lightly, and I want to speak from the most honest and genuine place possible. I have stated before, and I will state it again, I am proud of Olivia for the way that she handled a difficult and alarming situation, and I am grateful that Fox took the information seriously and took action swiftly.
It is true that I pulled out of a small amount of press on Saturday, as this type of social commentary is new to me and given the nature of the originating crime, I felt further discussion could cause unwanted trauma and pain, neither of which I wanted to incite to the anonymous young woman. I now realize that my understanding of the situation was not the full picture and the last thing I want is for Olivia to ever feel abandoned or alone. We are in the midst of a very crucial and important time, and it is imperative that we keep listening."