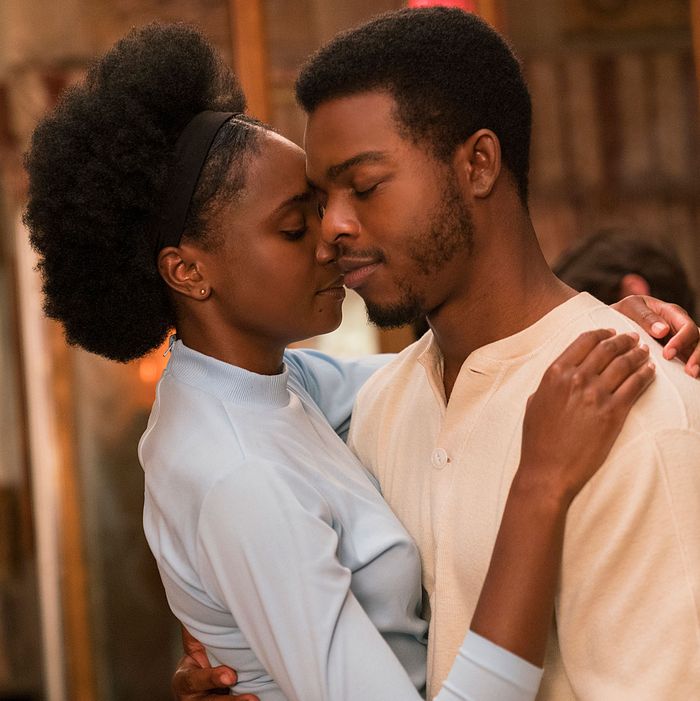 KiKi Layne and Stephan James in
If Beale Street Could Talk
.
Photo: Tatum Mangus / Annapurna Picture/Tatum Mangus/Annapurna Pictures
All autumn long, Vulture will be offering you primers on the biggest and buzziest titles of the 2019 awards season. My colleague Emily Yoshida got us started with A Star Is Born out of Venice, and this week, I'll guide you through the films that wowed crowds at Toronto. For your consideration, this is: Get to Know an Oscar Movie. (Previously: Widows.)
The movie: If Beale Street Could Talk
The elevator pitch: An adaptation of James Baldwin's 1974 novel about a young black couple, pregnant Tish and her boyfriend Fonny (KiKi Layne and Stephan James), whose love story is interrupted when Fonny's jailed on a false rape charge. It's a passion project from Moonlight's Barry Jenkins, who told the Toronto audience he started writing the script before he'd even obtained the rights.
The campaign message: Beale Street continues the director's celebration and consecration of black love — romantic love, parental love, even the love that bonds two strangers. As cast member Brian Tyree Henry, having just watched the film for the first time, told Jenkins onstage: "Black love is fucking beautiful … Barry, you have no idea how much we needed and yearned for this."
The case for Oscars: Rarely has a filmmaker's devotion to his material been more clear. Beale Street translates much of Baldwin's prose to voice-over, and it holds his characters in adoring close-up; there's not a filmmaker working today who's as good at shooting faces as Jenkins is. But where Baldwin went for kitchen-sink realism, this film turns Tish and Fonny's story into a romantic epic that seeks to capture all of Harlem in its lush, warm gaze. From the fantastic cinematography, to the impeccably re-created period details, to the nearly all-black cast, I don't think I've seen a movie that looked and felt quite like Beale Street.
Reasons for caution: Since it's told mostly in flashback, much of Beale Street glides along in a dreamlike haze, a tone that may take some getting used to. (One big exception is an early scene where Tish and Fonny's families toss insults back and forth, which had my audience cracking up.) The audience in Toronto was moved to tears by Jenkins's vision, but I have questions about how the film's deliberate pace will play outside of festivals.
Possible backlash angles: Jenkins takes care to soften the book's hostile view of Fonny's accuser: Everyone is sympathetic to her plight, and the movie gives her a scene where she's allowed stand up for herself. But this is still a story about a family banding together to get a traumatized rape victim to change her testimony.
Strongest category: James Laxton's cinematography is absolutely gorgeous, filled with deep reds, vibrant greens, and eye-popping yellows. He should challenge Roma's Alfonso Cuarón for this prize.
Other prospects: As Tish's mother, Regina King spends most of the film offering a quiet, understated support, but she gets a fantastic third-act showcase: Jenkins essentially turns the film completely over to her for ten minutes, and she kills it. King should be a major figure in this year's Supporting Actress race. I think Layne could have a real shot at a Best Actress nomination, too: There's little the Academy loves more than anointing a new young female star, and her slow loss of youthful optimism over the course of the film is heartbreaking. It doesn't hurt either that Jenkins's camera absolutely worships her. (Both Layne and James are expected to campaign with newcomers' zeal.)
Below-the-line categories like Production Design and Costume seem a solid bet as well. Screenplay might be a hard sell, as I could see some voters grumbling about how much is taken directly from the novel. I like its chances in Director and Best Picture, too; "festival fever" is real, but I don't think the euphoric reception should drop off too much once Beale Street plays to a wider audience. This is a movie that's filled with love, and it's easy to love in return.