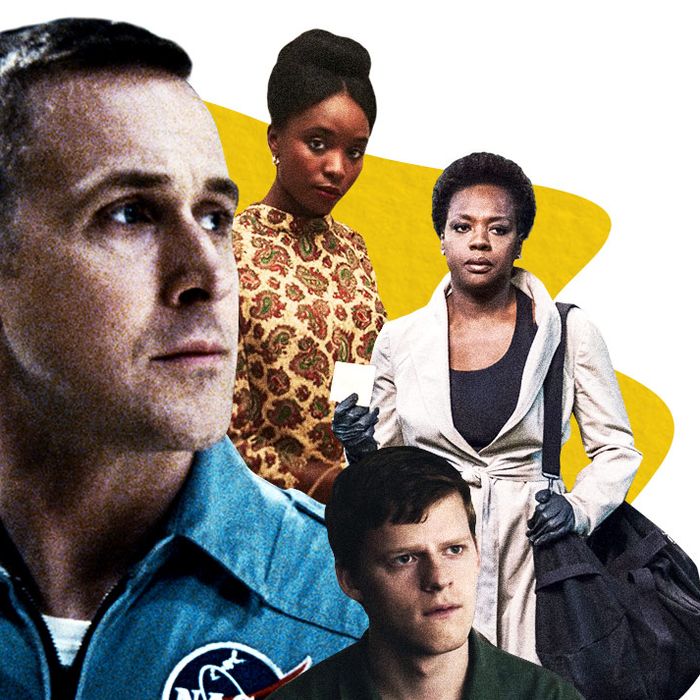 Clockwise from center:
First Man
,
If Beale Street Could Talk
,
Widows
,
Boy Erased
,
A Star Is Born
,
Beautiful Boy
.
Photo-Illustration: Maya Robinson/Vulture
In Steve McQueen's upcoming Widows, Viola Davis plays a woman mourning the loss of her bank-robber husband (Liam Neeson), until she decides she's just going to rob the banks herself. The film's mostly based on a British miniseries from the 1980s, but you may be surprised to know that it's also inspired by Vulture's Oscar coverage this year: With Kyle Buchanan having departed for grayer, more ladylike pastures, the responsibility for guiding you through the ups and downs of awards season has fallen to me. I may lack Viola Davis's commanding presence and no-bullshit glare, but just like her, I'm going to pull myself together and get the job done anyway, dammit.
But before we get to the predictions, I want you to turn back your memories 12 months. In 2017, the prestigious opening slot at the Venice Film Festival went to the latest project from a beloved auteur, who'd won two screenplay Oscars and been nominated thrice for directing. It had a colorful, original idea with heart, but also a lot of real-world resonance. The leading man already had three acting nods; the baddie was played by a two-time winner. Buzz had been building after clips brought down the house at CinemaCon, and reviews out of the festival were generally positive, with critics especially praising the performance of the previously unknown actress who came out of nowhere to steal the movie's second half. It seemed to all the world like a solid awards contender.
That film was Alexander Payne's Downsizing, which opened in December to a perfectly mediocre 50 percent Rotten Tomatoes score, on its way to a glum $24 million domestic total. It did not receive any Oscar nominations, and was the first Payne film to be shut out by the Academy since 1996's Citizen Ruth (though the actress, Hong Chau, did score SAG and Golden Globe noms). One year later, the movie has largely faded from memory.
The point is, this early in the season, it's often the case that nobody really knows anything. Indeed, that's what makes it fun. So enjoy it! We've got six months to pick these movies apart, but right now? Everything is good.
Best Picture
The trio of Venice, Telluride, and Toronto traditionally serves as the Oscar race's opening gun, and this year the contenders wasted no time making themselves known. Damien Chazelle's Neil Armstrong biopic First Man took off out of the gate as the opening film at Venice, where it landed to a rapturous reception. So did Bradley Cooper's A Star Is Born remake, which has inspired a competition among critics over who can write the most effusive praise. (This guy is still in the lead.) Alfonso Cuarón's Roma also earned raves at Venice, but its path to Oscar glory is slightly more treacherous: It's not just a foreign-language film, but also (gasp!) a Netflix one. Meanwhile, the mountain air of Telluride brought Joel Edgerton's conversion-therapy drama Boy Erased, Jason Reitman's Gary Hart biopic The Front Runner, and the Robert Redford swan song The Old Man and the Gun. Finally, TIFF will see premieres for Barry Jenkins's adaptation of James Baldwin's If Beale Street Could Talk, and of Steve McQueen's crime thriller Widows. As in years past, we've also got a potential spoiler opening in December: Adam McKay's Dick Cheney biopic Backseat, the subject of my strongest Oscar take: They really do need to change the name to something more Cheney-ish. And if you're sick of hearing about films you haven't seen, Marvel is planning a major Oscar push for Black Panther, and reportedly will not be content with anything less than a Best Picture nod.
Early favorites: Black Panther, The Favourite, First Man, If Beale Street Could Talk, A Star Is Born, Widows
Also in the running: At Eternity's Gate, Backseat, Beautiful Boy, BlacKkKlansman, Black Panther, Boy Erased, Colette, Destroyer, The Favourite, First Reformed, The Front Runner, Green Book, Leave No Trace, Mary Poppins Returns, Mary Queen of Scots, On the Basis of Sex, The Old Man and the Gun, Peterloo, Roma, Widows
Anything could happen: 22 July, The Ballad of Buster Scruggs, Bohemian Rhapsody, Eighth Grade, Hereditary, A Quiet Place, Suspiria
Best Popular Film
Update: On Thursday, the Academy withdrew its plans for the "Popular Oscar," saying the idea "merits further study."
In most Oscar categories, we have decades of historical knowledge about Oscar tastes and traditions. With the new Best Popular Film category, we have a single line in a letter to Academy members announcing "a new category for outstanding achievement in popular film," with all further details TBA. Still, a prediction isn't as hard as it might seem. The invention of the Popular Oscar has been widely interpreted as a way for the Academy to hand Black Panther a trophy even if voters turn up their nose at nominating it for Best Picture, so right now this prize is considered the Wakandans' to lose. But the notion of a "Popular Oscar" still brings with it a host of questions: What happens if a Best Picture contender like A Star Is Born makes enough money to compete here, too? Are you only going to be allowed to be nominated in one or the other? If so, who makes the call, and how? Will there be a box-office cutoff (potentially excluding smaller genre films like Hereditary)? And is "popular" an absolute quality, or a relative one? (Won't You Be My Neighbor is currently the 12th-highest grossing documentary of all time. Can it get in?)
Early favorite: Black Panther
Also in the running: Crazy Rich Asians, Deadpool 2, Incredibles 2, Mary Poppins Returns, Mission Impossible: Fallout, A Quiet Place
Anything could happen: Aquaman, Bumblebee, Fantastic Beasts: The Crimes of Grindelwald, Hereditary, Mamma Mia! Here We Go Again, The Nutcracker and the Four Realms, Ocean's 8
Best Director
With Chazelle, Cuarón, Jenkins, and McQueen, you could fill nearly the whole directing slate with filmmakers who have either won Best Director or directed Best Picture winners in the past five years. But there's still room for newcomers. Could Bradley Cooper follow the example set by Robert Redford, riding of a wave of, "Wow, he can direct, too!" to the podium? (Another actor turned director, Boy Erased's Joel Edgerton, is also hoping for his "welcome to the club" moment.) Does the positive Venice reception for Yorgos Lanthimos's punky period piece The Favourite portend the Academy finally warming to the chilly Greek auteur? Will Belgian up-and-comer Felix Van Groeningen have a chance to break through in a field full of established Hollywood vets? And can you believe that Spike Lee has never been nominated for Best Director before?
Early favorites: Damien Chazelle (First Man), Alfonso Cuarón (Roma), Barry Jenkins (If Beale Street Could Talk), Spike Lee (BlacKkKlansman), Steve McQueen (Widows)
Also in the running: Bradley Cooper (A Star Is Born), Joel Edgerton (Boy Erased), Paul Greengrass (22 July), Marielle Heller (Can You Ever Forgive Me?), Karyn Kusuma (Destroyer), Yorgos Lanthimos (The Favourite), Mike Leigh (Peterloo), Adam McKay (Backseat), Josie Rourke (Mary, Queen of Scots), Felix Van Groenigen (Beautiful Boy)
Anything could happen: Bo Burnham (Eighth Grade), Ryan Coogler (Black Panther), Debra Granik (Leave No Trace), Julian Schnabel (At Eternity's Gate), Orson Welles (The Other Side of the Wind)
Best Actor
Last year was more proof that Oscar still loves a transformation, particularly if it's into a widely recognizable historical figure. Accordingly, everyone's leaving space on their Best Actor predictions for Christian Bale, who once again drastically changed his body to become Dick Cheney. But if you're the type of voter who loves a great narrative, you might prefer Robert Redford, who has never won an acting Oscar and says The Old Man and the Gun will be his final film. The Academy may also smile on Bradley Cooper's tanned turn as an alcoholic country singer in A Star Is Born, a role with an Oscar pedigree; Fredric March and James Mason both scored noms for earlier versions of the story. While by all accounts Ryan Gosling doesn't show much we haven't seen from him before — he plays Neil Armstrong as a taciturn, tightly wound workaholic — his face reportedly carries First Man the same way Sandra Bullock's did Gravity. And if you want a dark horse, consider Ethan Hawke, who's been enthusiastically making the media rounds and feels ripe for an "underappreciated star makes good" nomination.
Early favorites: Christian Bale (Backseat), Bradley Cooper (A Star Is Born), Ryan Gosling (First Man), Ethan Hawke (First Reformed), Robert Redford (The Old Man and the Gun)
Also in the running: Mahershala Ali (Green Book), Steve Carell (Beautiful Boy), Willem Dafoe (At Eternity's Gate), Lucas Hedges (Boy Erased), Hugh Jackman (The Frontrunner), Rami Malek (Bohemian Rhapsody), John David Washington (BlacKkKlansman)
Anything could happen: Rupert Everett (The Happy Prince), Andrew Garfield (Under the Silver Lake), Michael B. Jordan (Creed II), Joaquin Phoenix (You Were Never Really Here or Don't Worry, He Won't Get Far on Foot), Lakeith Stanfield (Sorry to Bother You), Brad Pitt (Ad Astra – if it comes out before January)
Best Actress
Sony Pictures Classics got a jump on the competition by releasing The Wife in August, and is clearly hoping for a Still Alice–style campaign for Glenn Close, who has been nominated six times without a win. Not far behind her are Melissa McCarthy, who got tons of praise for her dark turn in Can You Ever Forgive Me?, and Widows' Viola Davis — though Widows' strong ensemble vibe plus her relatively recent win for Fences may work against Davis this year. And then there's Lady Gaga, who's already HAAAA AH AH AH AH AAAH'd her way into the internet's hearts in a role that earned Oscar noms for Janet Gaynor and Judy Garland. (Barbra Streisand didn't get an acting nod for the 1976 version, but she had a fine consolation prize — Best Original Song.) Reports out of Venice say Gaga doesn't quite have the kind of gigantic scene that usually powers actors to an Oscar, but as we were reminded two years ago, that might not matter when you can sing.
Early favorites: Glenn Close (The Wife), Viola Davis (Widows), Lady Gaga (A Star Is Born), Melissa McCarthy (Can You Ever Forgive Me?)
Also in the running: Yalitza Aparicio (Roma), Emily Blunt (Mary Poppins Returns), Maggie Gyllenhaal (The Kindergarten Teacher), Felicity Jones (On the Basis of Sex), Keira Knightley (Colette), KiKi Layne (If Beale Street Could Talk), Nicole Kidman (Destroyer), Carey Mulligan (Wildlife), Saoirse Ronan (Mary, Queen of Scots), Emma Stone (The Favourite), Emma Thompson (The Children Act)
Anything could happen: Toni Collette (Hereditary), Elsie Fisher (Eighth Grade), Mary Elizabeth Winstead (All About Nina), Natalie Portman (Vox Lux — if it gets a qualifying release)
Best Supporting Actor
By all accounts, Sam Elliott grizzles his heart out as Bradley Cooper's manager and older brother (!!!) in A Star Is Born, and I could see a lifetime-achievement narrative emerging for the never-nominated actor. Timothée Chalamet's meth-addict teen in Beautiful Boy seems a solid bet to show up here as well. (Though after a grueling press tour for Call Me By Your Name, I've heard the young actor may campaign less this time around to save some juice for next year's The King.) Otherwise, this category feels wide open. That's good news for Michael B. Jordan, who could ride the coattails of Black Panther's Oscar campaign to a much-deserved nomination, and his rhino-riding co-star, Widows' Daniel Kaluuya, who puts more menace in one wave than most actors can deliver in a whole monologue. I'm also curious which of the middle-aged Australians who face off against Lucas Hedges in Boy Erased — Russell Crowe as Hedges's minister father, or Joel Edgerton as the leader of a conversion-therapy camp — gets the supporting-actor push.
Early favorite: Sam Elliott (A Star Is Born)
Also in the running: Timothée Chalamet (Beautiful Boy), Russell Crowe (Boy Erased), Adam Driver (BlacKkKlansman), Joel Edgerton (Boy Erased), Paul Giamatti (Private Life), Richard E. Grant (Can You Ever Forgive Me?), Jake Gyllenhaal (Wildlife), Oscar Isaac (At Eternity's Gate), Stephan James (If Beale Street Could Talk), Michael B. Jordan (Black Panther), Daniel Kaluuya (Widows), Rory Kinnear (Peterloo), Sam Rockwell (Backseat), J.K. Simmons (The Front Runner)
Anything could happen: Armie Hammer (On the Basis of Sex), Matthew McConaughey (White Boy Rick), Lin-Manuel Miranda (Mary Poppins Returns), Tim Blake Nelson (The Ballad of Buster Scruggs)
Best Supporting Actress
The past four Supporting Actress trophies have gone to women who played either wives or mothers, and it's easy to see the pattern continuing this year. As Neil Armstrong's wife Janet in First Man, Claire Foy reportedly channels all the emotion her husband represses, with nearly every Venice reviewer spotlighting her big scene castigating the NASA brass. Regina King has quietly put together a string of well-regarded performances in under-the-radar projects, and if the trailer for Beale Street is any indication, she's poised to pop. And people seem to be saving a seat for Amy Adams, a perennial nominee who's playing Lynne Cheney in Backseat. Oscar also goes for English monarchs, and this year we've got two: Margot Robbie as Elizabeth I in Mary, Queen of Scots, and Olivia Colman, whose tragicomic turn as Queen Anne has been hailed as the best part of The Favourite.
Early favorites: Amy Adams (Backseat), Regina King (If Beale Street Could Talk), Claire Foy (First Man)
Also in the running: Olivia Colman (The Favourite), Blythe Danner (What They Had), Elizabeth Debicki (Widows), Cynthia Erivo (Widows), Vera Fermiga (The Front Runner), Nicole Kidman (Boy Erased), Margot Robbie (Mary, Queen of Scots), Amy Ryan (Beautiful Boy), Sissy Spacek (The Old Man and the Gun), Rachel Weisz (The Favourite)
Anything could happen: Meryl Streep (Mary Poppins Returns), Tilda Swinton (Suspiria), Michelle Yeoh (Crazy Rich Asians)
21 Narratives to Watch Out For
Oscar season isn't just about the winners and losers. It's also about the Tweets we send along the way. Below, a selection of discussion topics to anticipate over the next few months.
1. What does the Academy do about the response to the Popular Oscar? It's too late to turn back this year, but could this be the shortest-lived category since Best Dance Direction? (Update: It was!) Does anyone even want to win it? One potential disaster scenario: What if Black Panther is snubbed in Best Picture, and Marvel refuses to campaign for the Popular Oscar in protest?
2. Speaking of Black Panther, how likely is it to go home empty-handed? If that disaster scenario happens, what are the odds that the year's biggest critical and commercial hit is snubbed completely? As Kyle wrote back in February, the film has a strong chance in Best Costume, and it should also challenge for nominations in Best Supporting Actor and Best Hair & Makeup, at the very least. (One weird thing that may help Black Panther's chances in Makeup? Suspiria, one of that category's frontrunners, might not start campaigning until late in the season, if at all. More on that in a bit.)
3. Are Oscar voters still looking to send a message with Best Picture? Moonlight's win two years ago was generally attributed to voters choosing political resonance over escapism, and while the feeling was less acute with The Shape of Water, that movie was carefully positioned as not just a fish-man romance, but also a story of outsiders banding together in the face of intolerance. The movies 22 July, Backseat, Beale Street, BlacKkKlansman, Black Panther, Boy Erased, The Front Runner, Peterloo, and On the Basis of Sex should have no problems positioning themselves as the official films of the resistance, but a film like A Star Is Born can only hope that Hollywood melodrama hasn't gone completely out of style. (Then there's First Man, which has pointedly tried to avoid rah-rah flag-waving, and got the season's first controversy because of it.)
4. What impact will the new voters have? The Academy has been dramatically reshaping its membership over the past few years, and 2018's membership class was the largest yet. This new blood has made recent Best Picture races refreshingly unpredictable — will the trend continue?
5. The impact of #MeToo: As we saw last year, the gigantic spotlight of awards season can inspire old stories to come bubbling back up again. Who's next, and in our post-Moonves moment, will it matter?
6. Controversy watch: How will the false rape accusation in Beale Street play in a post-#MeToo atmosphere? Will Belgian foreign-language contender Girl face heat for casting a cis male to play a trans ballerina? (Critics at Cannes gave it a pass thanks to the demands of the role.) And was the First Man flag fracas a one-weekend wonder, or something more lasting?
7. What counts as an "Oscar movie"? Last year, Get Out and Lady Bird were hampered by the common sentiment, even among some new voters, that they were fine movies but maybe not quite Oscar material. Expect that debate to ramp up even more this year. Can Black Panther overcome the Academy's disdain for all things Marvel? Could Toni Collette contend in Best Actress even though she was in a horror movie? How about Suspiria? And while voters have rewarded Steve McQueen in the past, will any of them turn up their noses at a straightforward genre picture like Widows?
8. Will we have another all-male directing slate? The directing and acting fields feature plenty of nonwhite contenders — knock on wood — but gender parity in Best Director still lags far behind. Mary, Queen of Scots' Josie Rourke, Will You Ever Forgive Me's Marielle Heller, Destroyer's Karyn Kusama, and Leave No Trace's Debra Granik offer the best chances to break the glass ceiling.
9. Potential category confusion: In a two-hander like Beautiful Boy, who runs in lead and who runs in supporting? Emma Stone has slightly more screen time than Rachel Weisz and Olivia Colman in The Favourite, but gamesmanship could necessitate some switching around. A big one: If Supporting Actress looks weak, could A Star Is Born try to sneak Gaga in?
10. "They're overdue" narratives to watch out for: Oscar often loves nothing more than correcting past mistakes, and this year presents a host of veteran contenders looking for a late-career trophy, including Spike Lee in Best Director; Robert Redford, Willem Dafoe, and Ethan Hawke in Best Actor; Glenn Close in Best Actress; Sam Elliott in Best Supporting Actor; and Amy Adams and Blythe Danner in Best Supporting Actress.
11. "Movie stars uglying themselves up for Oscar" to watch out for: This year's Best Actress race sees two attempts at a Full Charlize — Nicole Kidman in Destroyer and Melissa McCarthy in Can You Ever Forgive Me?
12. EGOT watch: Mary Poppins's Lin-Manuel Miranda could get it with Best Supporting Actor or, slightly more likely, Best Song. (His co-star Dick van Dyke could as well.) Widows' Cynthia Erivo could get it with Best Supporting Actress. Lady Gaga would be halfway there with a win in Best Actress or Best Song.
13. Can Barry Jenkins and Alfonso Cuarón mint new stars? Beale Street stars newcomer KiKi Layne, whose only previous screen credit is an episode of Chicago Med. But she's practically a Barrymore compared to Yalitza Aparicio, the unknown at the center of Roma. Will voters embrace these new faces?
14. Is this Netflix's year to break through? Mudbound's four nominations last year proved that Oscar is not completely averse to Netflix movies. But Roma presents an intriguing test: Its reviews and its pedigree say it should be a top-tier contender, but will Cuarón's grand sense of scale play as well on a streaming screen as it did at Venice? And will films like Paul Greengrass's 22 July, Nicole Holofcener's Land of Steady Habits, and the Coen brothers' Ballad of Buster Scruggs be able to find their audiences, or will they be buried in an avalanche of home-screen options? (Netflix is giving each of these films a limited theatrical run, but it remains to be seen if this is the year that matters.)
15. What's going on with Suspiria? The filmmakers insist the crucial role of Dr. Jozef Klemperer is being played by an old man named Lutz Ebersdorf; it seems pretty clear he's actually Tilda Swinton in makeup. It seems like they're ready to take this joke a looong way — Swinton read a letter from "Ebersdorf" at Venice — possibly all the way into the heart of awards season. Will Lutz get a Best Supporting Actor campaign? Or will Swinton unmask herself for her own awards bid? Do they have to end the charade in order to qualify for Hair & Makeup, or is it more fun to just keep it going?
16. More Suspiria trivia: Thom Yorke wrote the score, so he could conceivably win an Oscar before Jonny Greenwood. How will this affect band chemistry going forward?
17. Can Meryl score a nomination for doing the least? She's barely in Mamma Mia! Here We Go Again, and her role in Mary Poppins Returns is still a mystery. Is she daring the Academy to nominate her?
18. Movies you will mix up: Beautiful Boy and Boy Erased, in which a guy from Lady Bird cries and hugs his parents while dealing with a timely social issue. (The existence of the Lucas Hedges addiction dramedy Ben Is Back also doesn't help.) There's also The Front Runner and The Favourite, which already have everyone in the Vulture office confused, and The Favourite and Mary Queen of Scots, both of which are about queens and star Joe Alwyn. And if Ad Astra gets an Oscar-qualifying date, it will vie with First Man to be the year's top astronaut movie featuring a star of The Big Short.
19. Who will host? No emcee has gone three-in-a-row since Billy Crystal 30 years ago, so Jimmy Kimmel is probably out. Is there anyone else out there Disney wants to plug? Tom Hanks, Donald Glover, Billy Eichner, John Oliver, and the Rock all appear on the studio's 2019 slate, but my vote goes to Lin-Manuel Miranda, who's also in the family.
20. Can Lady Gaga top her meat dress? Even if she doesn't, six months of Gaga on the red carpet should be a treat.
21. Finally, how much do you think the Academy is sweating a Best Picture race that comes down to First Man vs. Beale Street? Especially in a year when the telecast is trying to implement a hard 11 o'clock out for the first time, meaning the final award will likely be presented in an atmosphere of extreme haste. Reader, I do not envy the people opening that envelope.
Lee has an honorary Oscar, and nominations in screenplay and documentary, but has never been nominated in Best Director.
Redford also has an honorary Oscar, as well as a directing trophy, but he's only been nominated for acting once.