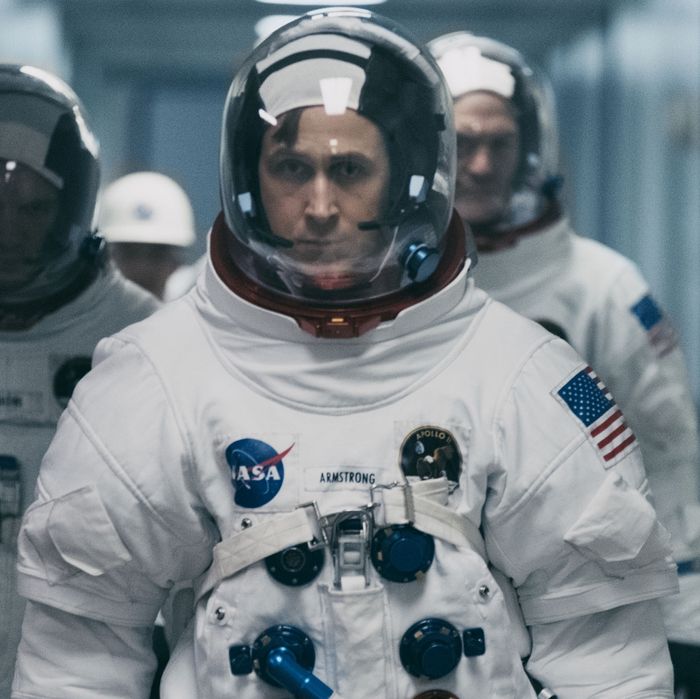 Ryan Gosling in
First Man
.
Photo: Daniel McFadden/(c) 2018 Universal Studios and Storyteller Distribution Co. LLC
All autumn long, Vulture will be offering you primers on the biggest and buzziest titles of the 2019 awards season. My colleague Emily Yoshida got us started with A Star Is Born out of Venice, and this week, I'll guide you through the films that wowed crowds at Toronto. For your consideration, this is: Get to Know an Oscar Movie. (Previously: Widows, If Beale Street Could Talk, Roma.)
The elevator pitch: Damien Chazelle reunites with Ryan Gosling for this Neil Armstrong biopic, which covers the arduous eight years of aeronautical advances and personal tragedies that led to his walk on the moon.
The campaign message: A spotlight on an undersung American hero that's both a tribute to and an example of old-school technical ingenuity — the filmmakers say they avoided green screens as much as possible.
The case for Oscars: The space program is hardly undiscovered country as far as Hollywood goes, but Chazelle's version goes light on the hagiography. First Man presents a gritty, claustrophobic view of the Gemini and Apollo missions, careful to mix the grace and transcendence of space flight with a clear-eyed accounting of the costs — both in government priorities and human lives. Strong performances from Gosling and Claire Foy as his wife Janet keep the film tethered to the ground.
Reasons for caution: Gosling plays Armstrong as a closed-off loner, and while that's apparently accurate to the historical record, it doesn't allow much opportunity for the kind of warmth Oscar often prefers in its biopics.
Possible backlash angles: The bad-faith right-wing controversy over how the movie depicts the American flag in the moon landing appears to have died down, after everyone realized that a biopic of Neil Armstrong was probably not going to be a work of Maoist propaganda. Any more backlash will probably come from the opposite end of the political spectrum, where a vocal contingent enjoys poking fun at movies about emotionally pained white men.
Strongest category: Best Supporting Actress. As David Edelstein writes, Claire Foy gives a "superb" performance with an underrated physicality: "Janet's fear … manifests itself as anger, and the anger manifests itself in the tightness of her neck and shoulders and the set of her big jaw. Her short hair grips to her head, while her blues eyes burn into Armstrong's." Foy's expected to hit the campaign trail hard, and the release of her Lisbeth Salander movie in November should let voters see her range.
Other contenders: Gosling could pick up his third Best Actor nomination, though I wonder if the role is showy enough for him to break through. (I could be wrong: Casey Affleck did win for a similar role in Manchester by the Sea.) Chazelle, the winner of Best Director two years ago, should compete in this year's crowded field as well. And the film is making a big push below-the-line: At my screening in Toronto (held at a 1970s IMAX theater, where the closing sequence had the audience completely rapt), Chazelle brought out what seemed like the entire production team to talk about the old-fashioned movie-making tricks that went into re-creating the moon landing. Fielding solid competitors in many Oscars categories, First Man could possibly end the season as the year's most-nominated film — just like La La Land did. If it does, Chazelle & Co. will surely be hoping for a happier ending.