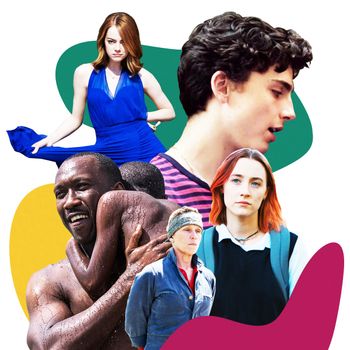 Photo-Illustration: Emily Denniston/Vulture and photos courtesy of the studios
One of the most pleasant aspects of awards season is the sense of repetition. Just as the fall holidays all flow inexorably from one to the next, so too does festival season lead to critics' awards, which lead to the Globes, which leads to the guild awards, which lead to the big climax of Oscar night. And just as the same faces pop up from year to year, so too do similar topics seem to recur in each season's awards conversations. You know that Oscar loves biopics and period pieces, but in recent years, a few freshly favored types have emerged, as well. Here are the new archetypes of Oscar season, and the people and projects who might fill them this year.
The People's Champion
"We've been seduced and bullied into thinking of the awards season as a process of politics … a kind of vote in which, while average people have no say, we're all invested in the symbolism and catharsis of the outcome," Wesley Morris wrote back in January. Accordingly, recent Oscar campaigns have taken on the tenor of a particularly contentious primary, with a progressive caucus that champions new and diverse perspectives forming one of the most prominent voting blocs. Moonlight's win two years ago was due in part to this group uniting around its banner, while last season's trio of Get Out, Lady Bird, and Call Me By Your Name demonstrated the strength of the tide — though the fact that there were three of them may have split the vote a bit. (Like any good compromise candidate, The Shape of Water offered enough to appeal to the reformers while also being careful not to turn off those happy with the Oscar status quo.) This year introduces the largest number of new voters ever, and though it's too simplistic to assume they'll all automatically vote for any movie that's not about a white guy, I can't wait to see which films they end up gravitating towards.
This year's candidates: Black Panther, If Beale Street Could Talk, and Widows are all possibilities, and it seems like On the Basis of Sex will be making a hard play for the progressive vote at the same time the midterms are seeing a wave of female candidates.
The Problematic Awards Fave
Of course, it's usually not enough to have something to root for; it's equally important to have something to root against. The archetype of the Problematic Movie That Oscar Loves goes back to the days when Crash triumphed over Brokeback Mountain, but its importance has increased in the past few years thanks to social media's constant need for new things to dunk on. La La Land in particular had everything a villain needs — a perfect foil in Moonlight, a Dyson-esque sweep of the preliminary awards, a run that took place in the fraught atmosphere of the 2016 election. We will probably never see its like again. Three Billboards wasn't quite at La La Land's level but it was a much weirder movie overall, which made it great fun to root against anyway. Not every year will have villains this memorable, as 2015 proved: American Sniper didn't win enough, The Revenant wasn't problematic enough, and their competition wasn't quite woke enough to make the backlash pop.
This year's candidates: I don't want to anoint an official villain of the season this early, but Jezebel has already announced it will be rooting against First Man, and there's a chance the interracial buddy dramedy Green Book could end up here if it starts racking up wins over Black Panther and Beale Street. Based on grumblings I heard in Toronto, Boy Erased and the Belgian film Girl could find themselves filling this role as well, though their profiles would have to raise a bit first.
The Male Ingenue
Oscar has always loved anointing beautiful young women as the stars of tomorrow, but young hunks are slowly getting in on the action, too. 20-year-old Lucas Hedges and 22-year-old Timothée Chalamet each scored nominations in the past two seasons, with Chalamet in particular receiving the kind of social-media fandom usually reserved for the Jennifer Lawrences of the world. 28-year-old Daniel Kaluuya also earned a nomination for his first big movie role, and if we extend our gaze to include dewy thirty-somethings like Andrew Garfield and Eddie Redmayne (each of whom has the fresh face and lithe frame of a man in his mid-twenties), it seems clear that, like many of its members' ex-wives, the Academy is now ready to experiment with younger men.
This year's candidates: Hedges and Chalamet return, and we've also got Beale Street's Stephan James, plus Black Panther's Michael B. Jordan in the Garfield/Redmayne slot.
The Viral Kid
From Tatum O'Neal to Haley Joel Osment, the Oscars have a long tradition of nominating child actors, but social media has only increased the promotional rigors placed upon an awards-hungry tot. Quvenzhané Wallis was the first test subject for viral cuteness, with Jacob Tremblay following close on her heels, and the model was perfected by the Stranger Things kids over in TV. Poor Sunny Pawar and Brooklynn Prince couldn't follow in their footsteps, both going home without a nom, but I'm guessing the whole thing was still better than school.
This year's candidates: It's an interesting year on the kid front, as the two most kid-heavy movies, Alfonso Cuarón's Roma and the Lebanese drama Capernaum, are both foreign-language. If you're an interpreter who's great with kids, consider flying out to Los Angeles, pronto.
The Twisted Awards Movie
Oscar bait, but different. Many of the more memorable contenders of recent vintage have taken a concept that could have earned nominations in the '80s and '90s, and made it just a little off-kilter. Last year's field saw The Shape of Water, a period piece about a forbidden romance, except this time it was between a woman and a fish-man; I, Tonya, a biopic with meta screwiness; and Dunkirk, a war movie told in three separate timelines. Or think of Mad Max: Fury Road, a technically impressive blockbuster from a legacy franchise, but surely the only Academy Award-winner that featured a gimp playing an electric guitar that was also a flamethrower.
This year's candidates: One that comes to mind is The Favourite, a historical drama about courtly intrigue from eccentric Greek filmmaker Yorgos Lanthimos. Mary, Queen of Scots may end up here, depending on how much director Josie Rourke's theater background comes into play, and warped Westerns like The Ballad of Buster Scruggs and The Sisters Brothers could also make a run from this spot. And then there's Roma, which has been getting so much praise on the festival circuit it's easy to forget it's a Spanish-language Netflix film starring a woman who's never acted before.
The Old-School Oscar Bait
Among all these new types of Oscar film, the old archetypes haven't died out entirely. There's still plenty of room for straight biopics like Darkest Hour, or classy period pieces like Bridge of Spies, or uplifting dramas like Lion, or crowd-pleasers like Hidden Figures. And thank goodness. Awards season wouldn't be the same without them.
This year's contenders: A Star Is Born is the third (or fourth) remake of a concept that's scored with Oscar every time it comes around, while First Man is both an astounding technical feat and a biopic of a major historical figure. Green Book seems to fit in the lineage of The Help and Hidden Figures, with shades (to go back even further) of Driving Miss Daisy. And when it comes to acting vehicles, it doesn't get much more Oscar-y than an old star making one last run, and wouldn't you know it, Robert Redford says The Old Man and the Gun will be his final film as an actor.