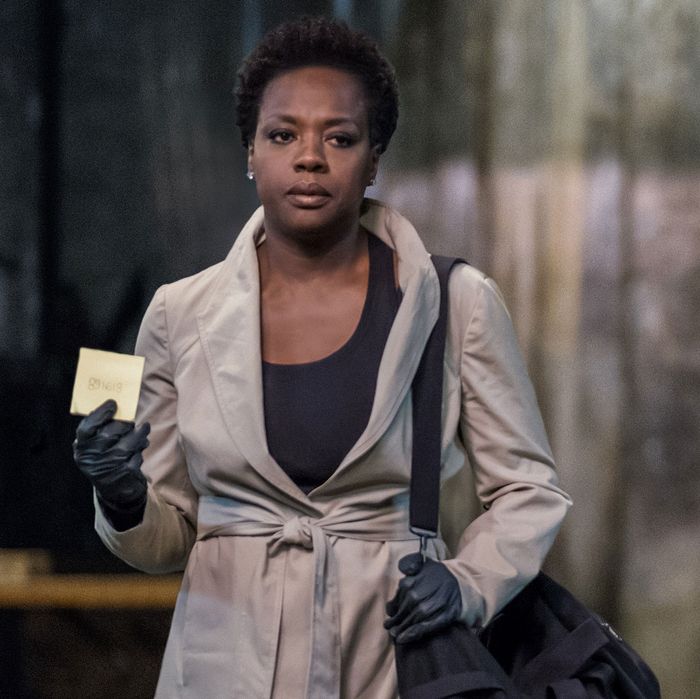 Viola Davis and Cynthia Erivo in
Widows
.
Photo: Merrick Morton/Twentieth Century Fox Film Corporation.
All autumn long, Vulture will be offering you primers on the biggest and buzziest titles of the 2019 awards season. My colleague Emily Yoshida got us started with A Star Is Born out of Venice, and this week, I'll guide you through the films that wowed crowds at Toronto. For your consideration, this is: Get to Know an Oscar Movie.
The movie: Widows
The elevator pitch: An arty thriller from 12 Years a Slave's Steve McQueen, based on a British miniseries from the '80s. After the death of her criminal-mastermind husband (Liam Neeson), Viola Davis has to settle his debts by pulling off a robbery of her own, with help from two other grieving wives (Elizabeth Debicki and Michelle Rodriguez) and a babysitter (Cynthia Erivo).
The campaign message: As McQueen told the crowd before Saturday night's premiere, this is the rare genre movie that's meant to reflect real people and real life. Not just in the sense that the action is relatively grounded (none of the women are superheroes, though they do have fantastic triceps), but also in its diverse, female-led cast, and in its commitment to exploring the intersection of race, gender, politics, and crime in contemporary Chicago. The cast has been reiterating the message that Widows is a "snapshot of modern society," and you can expect to hear that line a bunch over the next few months.
The case for Oscars: This isn't "just" a heist movie. McQueen stages scenes with such casual panache and gets such fantastic performances out of his large ensemble that the audience in Toronto may as well have been eating out of his hand. This is a movie that plays incredibly well in packed houses, and I could see a strong box office and great word-of-mouth powering its awards campaign. Speaking as a charter member of the Widows Fan Club, people who love this movie really love it.
Reasons for caution: Nearly everyone at Toronto agrees that Widows is good. But I've encountered a slight skepticism around the idea that it's going to be one of this year's top-tier contenders. The Academy doesn't necessarily avoid well-made genre work — Hell or High Water got a Best Picture nomination two years ago — but an action movie hasn't won the top prize since Argo, and Widows, to put it mildly, is not as friendly as that film. It's got a brain for sure, and a mouth too, but people I've spoken to suspect Oscar might want something with a little more heart.
Possible backlash angles: The police shooting of an unarmed black teen features prominently in one character's backstory, and some critics who weren't onboard found it a cheap attempt at adding contemporary resonance.
Strongest category: Viola Davis has made a career of playing hard-edged women who can only let their guard down when they're totally alone, and she's fantastic here, holding the plot — and the movie — together with iron force of will. Expect her to make a solid showing in the Best Actress race.
Other prospects: Elizabeth Debicki has the meatiest role of the other widows, as a pushover who gradually discovers her own agency. The supporting-actor race could get interesting, as the movie boasts three possible contenders: Colin Farrell as a player in the political machine, Brian Tyree Henry as his equally dirty opponent, and Daniel Kaluuya as Henry's attack dog. Kaluuya's dead-eyed intensity pops the most, but with only a handful of scenes, the role may be too slight for some voters, no matter how terrifying he is. (Very!)
The adapted-screenplay race is going to be incredibly tight this year — although we might say that every year — but I'd stick up for McQueen and Gillian Flynn's vigorous, witty script. Sean Bobbitt's cinematography will have a tougher road to a nomination, but my goodness, there are some beautifully cold whites in this movie. (And I'm not just talking about Robert Duvall!) And, while it's still early, I do think Widows will finish the year deserving of a Best Picture slot. The Academy's expanded membership has seen a similar expansion of what kind of work gets to be considered "an Oscar movie," and I'm not going to bury the film's chances until I'm sure it's really dead.