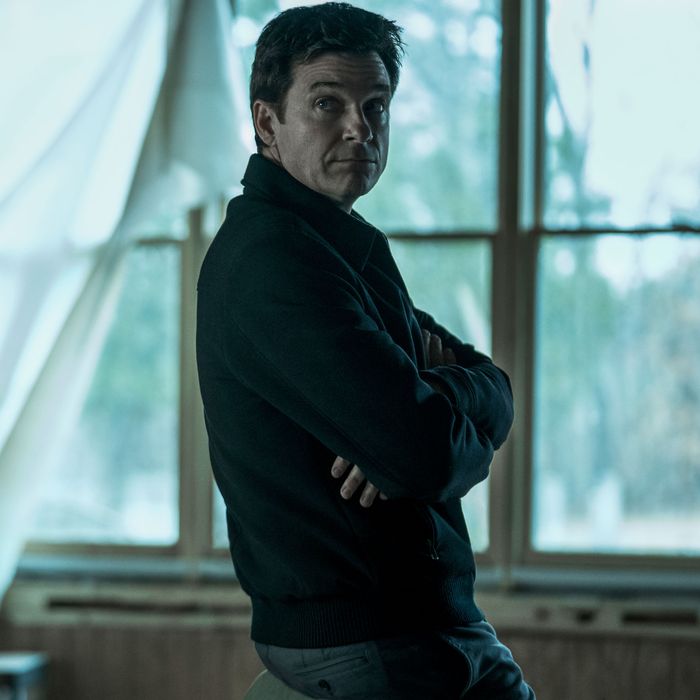 Photo: Jessica Miglio/Netflix/Jessica Miglio/Netflix
The centerpiece of this second season is a tense, scary episode of Ozark that centers on two hammer-wielding forces coming down on the Byrdes and Langmores in the form of the FBI and the Mexican drug cartel. The former is represented by the horrible human being that is FBI agent Roy Petty and the latter by the take-no-bullshit attitude of cartel attorney Helen Pearce. It's interesting that the writers of Ozark have very purposefully made the traditional "good guy" in Agent Petty into a loathsome creep, trying to offset the moral quandary at the center of the show: Should we be rooting for Marty Byrde and his family? Let's be honest, not only is he keeping multiple illegal operations afloat, but his actions have led to several deaths. And yet the writers make Petty such a horrendous human being that we find ourselves rooting for the criminals. Funny how that works.
Several key plot twists unfold this week but it's also an episode heavily reliant on the past, as the FBI investigation forces several skeletons to come tumbling out of the closet. Most importantly, Petty lets Marty Byrde know that his right-hand woman, Ruth Langmore, tried to kill him three months ago. The dock was wired in the same way it would be when she killed her uncles. It's only one of several attempts by Petty to get under Marty's skin and convince him to go into protective custody. Bateman is very good in this episode — we can see the wheels turning in Marty's head as he tries to decide his next move and who he can trust. Some of what Petty says, like the fact that the Byrde kids could be tried as adults, seems to get his under his skin, and when Pearce asks if he can really trust Ruth, he hesitates just long enough to make everyone nervous. While in the heat of stress, Marty also reminds Wendy that she cheated on him just loud enough for Charlotte to hear, and Charlotte passes the info on to Jonah. In their last scene, they talk about buying a van and running away. Let's hope that doesn't take up too much of the season. Runaway Kid subplots can often be manipulative, and it feels like that would distract from what this show does well.
Speaking of troublesome tykes, as we all surmised, Charlotte Byrde taking cash out of the wall at the Blue Cat Lodge turned into a problem. While searching the Byrde home, the FBI comes across Charlotte's half of the stolen money (minus a few hundred spent dollars, most of it on weed) and Petty uses it to try to convince Marty to flip. Like a legal superhero, Pearce swoops in just in time, not only to represent Marty against Petty but to serve as a reminder to Mr. Byrde that the cartel is watching. It's a lot harder to turn into a rat when there's an enforcer for the company you're thinking of ratting out sitting next to you. Again, Bateman is excellent, not saying a word as Petty lays out his case. This is Bateman's best episode of the second season to date.
It would be bad enough if Marty only had to worry about Pearce and Petty, but there are other concerns, most notably that the Feds are mere minutes from tying his entire operation to that of the heroin-dealing Snells. Pearce and the Byrdes go to Darlene and Jacob and basically order them to burn their poppy fields, something which fans know that they won't just bow down and do, especially when this episode opened with Darlene again waxing rhapsodic about their land that's about to be defiled by the casino. They're understandably pissed. They entered into a deal with Marty and the Mexicans. They didn't do anything wrong. Why do they have to destroy their profits? Jacob tells Pearce that he wants payment for his product even after it's destroyed, but Darlene has a stranger request: She wants Wendy to help her adopt a child. While Wendy plays along with this idea, Buddy sneaks into the fields and sets them ablaze. Considering he was on his deathbed an episode ago, it's a bit hard to believe he would light anything on fire, but Buddy has always been a man of drastic action.
The real tension this week came from a classic game that Petty played in which he made it look like Ruth Langmore could be a rat. In sight of the cartel's representatives, he intimidates Ruth in the parking lot of Lickety Splitz, laying down all the dirt he has on her and making it look like she might be ready to turn. Ruth has to figure out how to survive without turning in Marty. She makes it home, where Daddy vows to protect her with firepower, leading to a potentially deadly shootout between the Langmores and the Mexicans. Marty gets there in time to stop that bloodbath, but he needs to know the truth about Ruth. Did she try to kill Marty? Smartly, she confesses. If she had lied, Marty might have sold her out. But he protects her, telling Pearce and her men that Ruth can be trusted. Pearce finds out for herself after an intense waterboarding situation, which will almost certainly scar Ruth for life, but she's still alive. For now.
Dirty Laundry
• This show is really drawing elite TV directors this season, and this chapter was helmed by Phil Abraham, who has been behind the camera for The Sopranos, Breaking Bad, Sons of Anarchy, Mad Men, The Killing, Halt and Catch Fire, Orange Is the New Black, and dozens more.
• Anyone else getting a little tired of Buddy's Pep Talks? Harris Yulin is a great actor, but it's becoming something of an overused device. Having said that, Buddy's first scene with Wendy may have been the best of this episode, especially the line, "When you think you're gonna die yesterday, today is sweet."
• Small question: Would Rachel still be wired? How long does that last after a search warrant is issued and Petty reveals his cover? Maybe until Marty is arrested, I guess. But I wonder what happens to Rachel now? It feels like when Petty cuts her loose, she could come back to protect Ruth and Marty.
• Ozark doesn't too often go obscure with their music choices, but the tune that played when Ruth went from the parking lot into the office through Lickety Splitz was a deep cut, "Freak Like Me" by NoMBe. Check out the 360 video that may have inspired the producers to use it in a strip club scene.
• Janet McTeer might be this episode's MVP, anchoring the great scene in the car after the meeting with Petty, when she allows us to believe for a second that she may really try to kill Marty Byrde.
• Speaking of that, who do you think ends up dead this season? Just a guess, but I bet someone major — Buddy, Rachel, Cade, Wyatt — dies soon. We saw last year that Ozark was willing to kill seemingly major supporting characters mid-season. It's about time for that to happen this year.