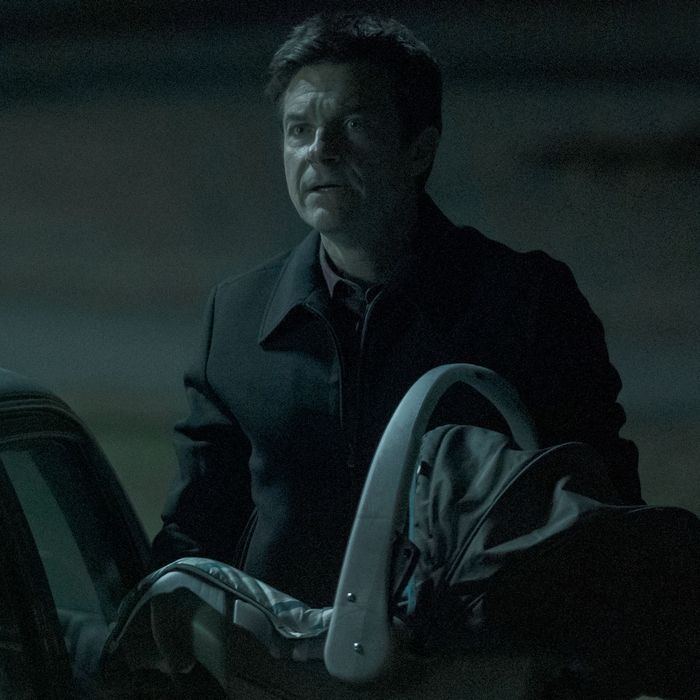 Photo: Jessica Miglio/Netflix/Jessica Miglio/Netflix
What first looks like it will be a straightforward follow-up to the twist at the end of the last episode — when Rachel Garrison revealed to Marty Byrde that she was a confidential informant, wired to Agent Roy Petty — goes somewhere else, turning into a showcase for Laura Linney and Michael Mosley. Mason Young thought he knew good from evil, right from wrong, but the Byrdes confronted him with a religious, family-oriented group of people who kept a world of sin afloat. As Wendy says in one of her monologues this episode, the world isn't as black and white as the story of Adam and Eve would have us believe. Wendy Byrde is obviously a more sinful person than Preacher Young, and yet he is the violent kidnapper here, unable to wrap his brain around the complexity of human sin. And this is really the aspect of existence that led to Mason's death — that gray area in which so many of the characters on Ozark live and breathe, and in which he could not survive.
It's hard to pin the blame on a religious man who lost his wife and ends up dead on his basement floor but think about all the times that Mason could have escaped — all the times he could have listened to Marty and Wendy Byrde, who warned him to play along with the Snells or risk their wrath. Even recently, even after losing his wife, Mason could have gotten his life together by accepting Wendy's "blood money," or heeded her warning not to prove that he's right about Grace's murder. Instead, he panicked, insistent on revealing that the Snells killed Grace, and therefore returned to the Lake of the Ozarks long enough to die. In a move that seemed to have no real logical endpoint, Mason kidnaps Wendy Byrde this episode. His demand? That Marty Byrde gets his son Zeke back for him. Then what was Mason going to do? Clearly, he didn't know, as he gets Zeke and then basically tries to kidnap Wendy again, almost as if he thinks Marty is the poison and Mason can cure Wendy. A bloody scene unfolds, and Marty Byrde kills Mason Young. For the second episode in a row, someone in the Byrde sphere ends up dead. They're the grim reapers of the Ozarks.
Before Mason's foolish kidnapping, we do get a bit of development into how Marty is going to deal with the revelation that Rachel is a rat. Much to Wendy's disappointment, Marty wants to continue working with Rachel, convinced he can feed Petty misinformation through her wire. Wendy doesn't trust Rachel enough to think that could possibly end well, and she's possibly right, but could there be more to Marty's need to save Rachel? Not only does he probably feel responsible for her precarious situation — in which a maniacal FBI agent or the Mexican drug cartel could race to see who can kill her first — but he might be attracted to Rachel as well. She surely is to him, somewhat playing a role for Petty on the other end of the wire when she flirts with and kisses Marty, but also very clearly enjoying the physical contact and possible tenderness. It does feel, however, that the drama in Mason's basement brings Wendy and Marty close again. Thank God because if Wendy catches Marty cheating with Rachel, she'll burn the entire state to the ground.
Understandably busy with Mason and Rachel, Marty Byrde has made a crucial error over the last few episodes — he has ignored Ruth Langmore. She was already on the edge of betraying him again and being left behind after the trauma of her torture at the hands of the cartel feels like it has been a final straw, pushing her into the arms of her father, Cade Langmore, an undeniable sociopath. This episode, she gets deeper into the Langmore criminal empire, trying to steal a boat part that will net them $10K. But she makes a crucial mistake, thinking that the boat owner won't be home when he actually is. The error almost costs Cade and Ruth their lives, but it feels more important to Ozark in the sense that it brings them closer together. Ruth tells her demented daddy that she thinks she knows where Marty keeps his money. There's no way this ends well.
Julia Garner and Jordana Spiro were good this episode, but it really belonged to Linney and Mosley, given long scenes of dialogue in Mason's basement and living room. It's rare for Ozark to slow down this much, and an interesting choice to make this late in the season, but it works. The end of Mason Young's life allows a mirror into what Ozark is really about — the gray area of good and evil. The Byrdes have convinced themselves that they are not bad people just because they help bad people. It's how they sleep at night. And Wendy Byrde reveals to Mason that she has known about sin for too long, getting involved with sex, drugs, and booze from a young age. Wendy would tell you that she took control of the evils in her world, and she's remarkably good at convincing herself and others that she's not a bad person. As we hear Wendy talking about family life, we watch her cleaning up Mason's blood and burning his body with her husband. On the other hand, Marty is quiet, looking hollow and lost in the final scene with a Kansas City reporter, especially when Charlotte brings out Zeke, the newest member of the Byrde family. What better PR could the Byrdes have than a new baby? But what will they do with it when the reporter leaves?
Dirty Laundry
• There's an orphaned baby in the Ozarks and the Snells desperately want a male heir. Anyone else think these subplots are about to intertwine? A preacher's offspring could end up the son of the biggest heroin empire in Missouri, probably never aware that his new parents killed his mother and drove his father insane.
• It's an interesting choice to leave Petty, Jacob, and Pearce entirely offscreen this week. Ozark can sometimes get a bit cluttered with characters and subplots, so it worked to this episode's benefit to focus. They'll probably be back next episode.
• I'll miss Michael Mosley, who did excellent work as Mason Young. He was also very good on Netflix's Seven Seconds and feels like he could be on the verge of a breakthrough after almost two decades of steady, solid character work.
• Let's talk about Ruth for a second. I was really hoping this would be the year that Ruth got her shit together and ascended to the top of an empire, either as a partner or equal foe to Marty Byrde, but she's been felled by the Langmore Curse. It's sad to see her chopping up boat parts with her loser father. Let's hope she breaks out of this rut. She will likely be forced to make a choice between Marty and Cade before the season ends. Let's hope she makes the right one.