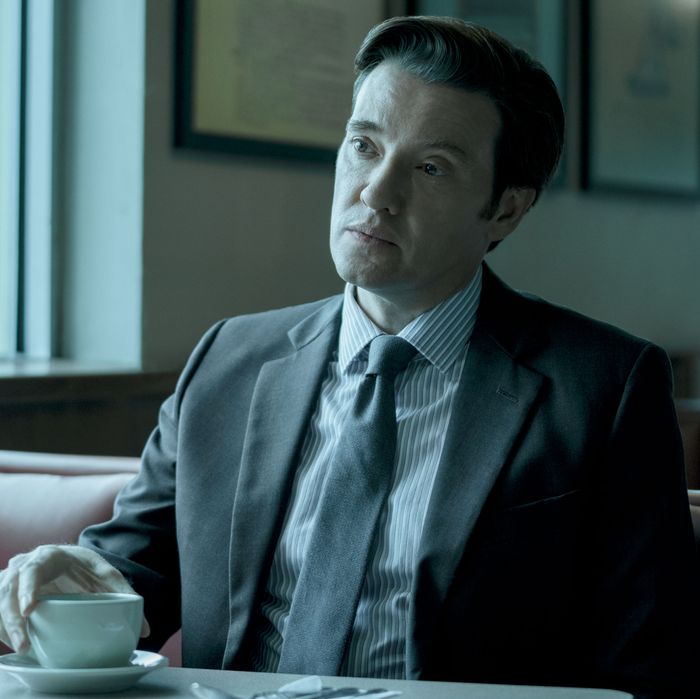 Photo: Jessica Miglio/Netflix/Jessica Miglio/Netflix
A frustrating episode of Ozark kills some of the momentum of the last three chapters, working best when it contrasts the rifts in the marriages of the Byrdes and the Snells. Both of these power couples disagree both on how they've handled recent behavior and how to move forward from here. Meanwhile, the women whom Marty feels a need to save — Rachel and Ruth — continue to create problems, while Charlie Wilkes learns that Wendy Byrde isn't just his political equal but his malevolent superior. There were some interesting developments, including what could be the death of the Snells in a hail of gunfire, but this episode felt surprisingly clunky, poorly put together and written. Let's hope they get it back together for the final two.
The episode opens with a bit of chronological trickery, moving back from an overdose by Rachel in the Blue Cat Lodge through the chain of control of the drug she snorted to reveal that, four nights earlier, Darlene Snell cut her heroin supply with Fentanyl. Does anyone buy this? Yes, we've seen that Darlene can be impetuous and put her operation and life in jeopardy, but Pearce and company made so much about guaranteeing quality product that she had to know this would end in her death. Predictably, when that quality is diminished to a point that there are deadly drugs on the street — both killing profits and bringing the interest of the feds — the Mexican drug cartel opens fire on the Snells, unloading hundreds of bullets on the way home from a chicken dinner. Ozark has been jettisoning supporting characters at a remarkable clip, losing Buddy, Mason, and, possibly, now the Snells three weeks in a row. They're running out of bodies to bury.
Speaking of bodies, let's start there, with the saga of Ruth and Cade Langmore in the funeral home. Feeling dismissed by Marty, Ruth recently turned to her lunatic father, telling him where she believes Byrde Enterprises have been hiding their cash. She correctly interprets the hearse trips as suspicious, figuring that the money must be in the only Byrde business not overrun by FBI agents. She breaks in one night with Cade, but the two can't find the money, failing to realize that Marty has put it in Buddy's mausoleum. Cade lashes out, punching Ruth and calling her names. Of course, this, combined with the fact that Marty got Wyatt's expulsion overturned, means that Ruth will go back to Byrde over Cade. It would have been nice if this decision had been written as more of a challenge and not an obvious one after Cade shows his true colors. There's a stronger version of this season in which Ruth has to choose between her father and Marty that doesn't make the choice as easy for her by having Cade call her the c-word.
Back to the Byrdes. Marty is kind of falling apart after the death of Mason Young, but Wendy keeps on trucking as if nothing has happened. The show has implied at times that Wendy is the cooler, more calculated Byrde, and it's nice to see them digging into that a bit this episode as she seems to have no problem bringing their son Jonah into the family business. She uses the account he opened with the $5K that Charlotte gave him to launder money and hide a donation to Charlie Wilkes. Once Wilkes accepts what is basically cartel money, she has that over him, using it as leverage to get him to take the final steps to make the casino a reality. Charlie really had no idea who he was partnering with when he met Wendy Byrde. He knew she was a political genius, but never imagined how far she'd go.
While Wendy is getting the actual work done to get the casino up and running, Marty is determined to save Rachel. Marty has always had something of a savior complex, and he feels guilty about the situation Rachel finds herself in. And so, like his wife, he uses personal connections and skeletons to get leverage. In this case, the target is Agent Petty, and the bones in the closet are the fact that Petty's mom is a drug addict. Showing Petty a video of his own mother getting shot up, especially with the bad product on the street, is harrowing stuff, even if Petty is vile enough to deserve it. In the episode's best beat, Petty asks Marty if he's proud of what he's done. He admits he's not. But at least Rachel is free now. The question is will she take Marty's money and go to rehab in Miami, or get into further trouble? Or does she perhaps have strong enough feelings for Marty that she'll stick around?
Imagine if Charlotte Byrde finds out that her father has been making out with Rachel. She hates her family enough already, pushed to the edge by a ridiculous dinner conversation in which the gang basically discusses all of their illegal activities of the day, including Jonah's money laundering and Charlotte's shoplifting. This is not a normal life. And the episode ends with Charlotte telling her parents that she wants to be emancipated and leave this chaos behind. It might actually be best for her and the show, which has never really known what to do with the Byrde children.
The fact that the episode ends with the Charlotte scene and not the one before is indicative of its clunky structure. We don't care as much about Charlotte as we do the overkill that befalls the Snells' car in the scene before. We don't actually see them get killed as the camera stays at a distance, but their vehicle is filled with hundreds of bullets from both sides, and it looks like their driver gets off a few shots from an open window. If the Snells are gone, who runs the heroin trade in the Ozarks? And who helps launder the money? And could the casino possibly get built on the land of two local legends just gunned down in the street? Every time Marty and Wendy think they've got a plan figured out, something screws it up.
Dirty Laundry
• I've never mentioned how much I love that Marty Byrde's ringtone is the crickets sound. Not only does it fit his bland sense of style but the rural world into which they have fallen from Chicago. There are probably crickets everywhere down there.
• Another thing that happens every episode that I have yet to praise this season — the stark black screen and boring font of the title. There's a beautiful simplicity to it. This show doesn't need a credits sequence or a flashy title card. And the mysterious image that follows, offering four clues to the plot points to come, is fun ,too.
• In terms of writing, I sensed something was off this week right from that opening structure, which feels more like a gimmick than an interesting storytelling device. Cut it out, Ozark.
• It's dawned on me a few times that Ozark is awfully thin on African-American characters (other than Petty's FBI counterpart and former lover) and so it's a little disappointing that one of the only ones to have lines this season has to be a drug dealer who ends up with a bag over his head. Let's fix this problem next season.