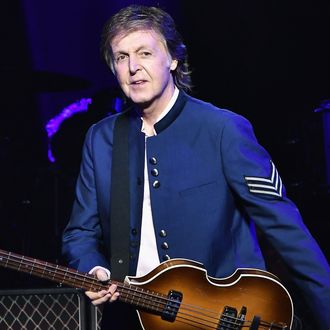 Paul McCartney.
Photo: Gustavo Caballero/Getty Images
Paul McCartney is the talk of the town this month, and his new album is getting a lot of buzz, too. McCartney's recently released Egypt Station — described as "loose, randy, and a little political" by Craig Jenkins in his Vulture review — premiered at No. 1 on the Billboard 200 album chart, making it the former Beatle's first chart-topping project since April 1982's Tug of War. Tug of War, his first post-Wings album, featured "Ebony and Ivory," his hit duet with Stevie Wonder.
According to Billboard, Egypt Station is McCartney's eighth No. 1 album overall, including his work with Wings, but his first to actually debut at the top of the chart. Overall, this is a huge career success for a lifelong artist, and definitely the second thing we would ask Paul McCartney about if we ever got to hang out with him.