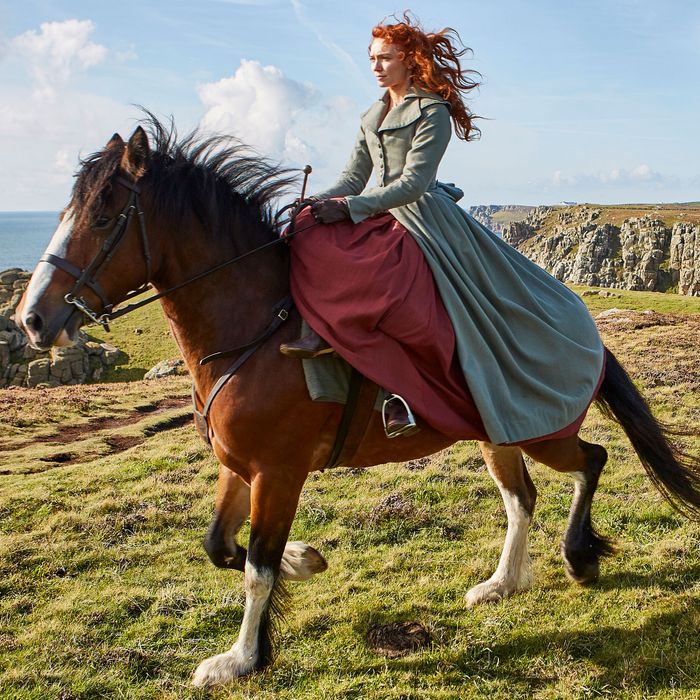 Photo: Courtesy of Mammoth Screen and Masterpiece
My friends, these long tiresome months without Ross and Demelza have weighed heavily on all of us, but are at last at an end! Surely they, like we, have become wiser and kinder since last we spoke.
Well, whatever Ross has or hasn't been up to in terms of his own personal spiritual formation, O can tell you this: He has not been slacking at the gym. Less than 11 seconds into the season premiere, our Lord of the Scythe is wet, shirtless, and just furry enough to be interesting (R.I.P. Male Chest Hair Icon, Burt Reynolds.)
Poldark is coming out of the gate strong this season! The shirtlessness, yes, but also in the newfound resolve of its characters to, well, get their shit together a little bit? Domestic felicity, in my opinion, is honestly all that matters in the question of human happiness and flourishing, and our characters have been just atrocious at it. And they know this!
You'll remember that at the end of our last encounter, Elizabeth tried (and landed) a "bitch George the heck OUT and tell him he cannot imply vile things about their son's parentage" maneuver. It was stunning success: he burst into tears! He practically kissed her feet! Men love bitches, etc! Well, in keeping with that, Elizabeth knows she has to dial in her wife game, hence an episode filled with a lot more "whatever you think is best, my beloved!" and "of course I shall accompany you to London, we should be parted less," and George is eating it up.
He's a shitstain of a man, but boy he does love Elizabeth and, more importantly, he needs desperately to believe he has her love in return. I still cannot believe that old crone tried to narc her out to him! Varsity move, dead lady!
Speaking of the late lamented Granny Poldark, the Warleggans have finally gotten around to putting up a headstone to her in the family churchyard. This results in Ross and Elizabeth exchanging about three sentences, under the dueling watchful eyes of Demelza and George.
A fun thing about Ross is that I honestly thought for a minute that he was going to "invent" polyamory? There was a LOT of shirtless musing about if a woman could love two men or a man two women, etc. Wait until he learns that three men can love each other! Cornwall is going places! This meditation, of course, brought on by his constant noodling about Demelza and Hugh Armitage, and their extremely sensual dunes-coupling of last season.
They DID bone, incidentally, the screenwriter has confirmed it. Which I really appreciate! I would have been extremely offended, as a woman, if Ross was trying to compare laying serious pipe with his ex to Demelza exchanging some notes and furtive glances with sweet Hugh Armitage. It's better to be on equal moral footing going in.
Armitage, bless his heart, is clearly marked for death as sure as if he were being followed around by a raven and a man wearing a plague hat. Look, if you're in a period drama and your eyesight is going and you get headaches? Don't sign any yearlong leases; you've got half a season, tops.
Devoted readers may remember that I have almost entirely zero interest in the (ugh) nonromantic plotlines of this show, which are usually about being at war with France or some kind of mining disaster or, in the case of season four, riots due to merchants selling grain abroad during times of famine. My lack of interest notwithstanding, this most recent public dust-up proves rather vital to the season premiere.
Demelza's very sweet, very religious brothers (okay, one is very religious, one is more of a religious enthusiast) have, in their typical well-meaning bumbling fashion, wound up getting popped for a violent crime they did not commit. They are joined in this by young Jago Martin, and yet again, we find the happiness and security of Ross' family in George's sweaty little hands.
To give George some (some!) credit, he did manage to get all the other rioters released with a warning, but that just made him look merciful while still getting to stick it to the three kids who matter most to his archenemy.
While all this is going on (including Ross's thousandth stirring attempt to invent socialism and defeat the carceral state), Demelza is mostly thinking about Hugh. Her visit to his home (doctor and Pug Lady in tow) is a rather weighted one: Hugh claims to be ready to stand for Parliament, though being clearly at death's door, and also (no pressure!) that he will die if he is not allowed to love Demelza.
That's a lot to put on one married redhead, my man!
What hasn't been placed on said redhead is the knowledge that her only brothers are about 20 seconds away from being hanged by the neck until they are dead. Ross, in his usual fashion, loves to make difficult choices for other people without their knowledge, and has elected not to trouble her until it's all over, for better or for worse.
Luckily for Ross, he (mostly) wins the day, failing to save young Jago but managing to keep the Carne brothers off the gallows. It's in that spirit of relief and victory he returns to Demelza to say, essentially: We really need to get it together, right?
Yeah, for sure, says Demelza. Maybe they will!
Oh, and Pug Lady is having a baby. There's a pug reaction shot, never fear.