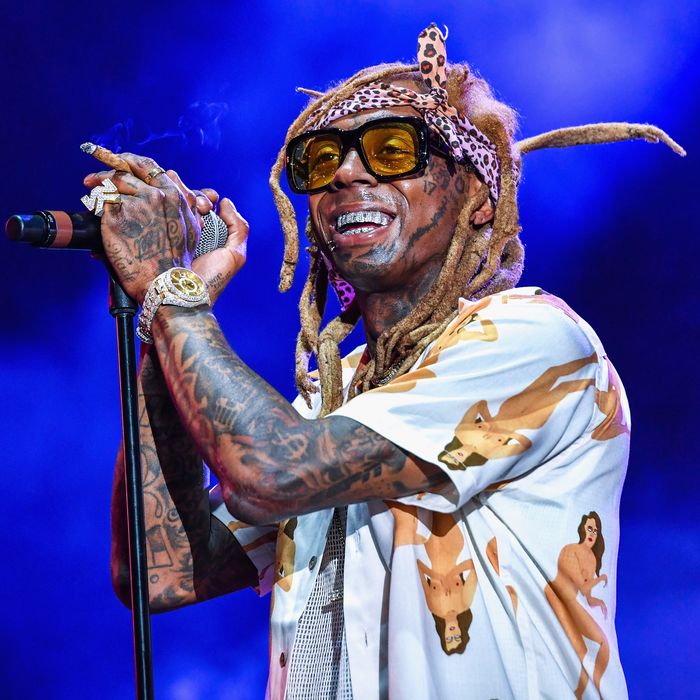 Photo: Erika Goldring/Getty Images
Lil Wayne is one of the most successful rappers of all time by any measure, a mercurial once-in-a-lifetime talent who found his calling before he hit puberty and has been a public figure since he was a teenager. The reign was never a cakewalk; it's possible to live your dreams and still be racked with adversity and doubt. Wayne's Tha Carter V, the latest installment in the Louisiana rapper's running series of epochal blockbuster studio albums, should be a celebration, and it often is. The lengthy legal proceedings that tied the album up for the last four years are over, and Wayne is rapping with the bullish bluster of someone who has rediscovered his purpose. But the diminutive rap dynamo born Dwayne Carter still seems haunted. Sadness doesn't care what your bona fides are. Detractors don't disappear when you're on the right path. Beneath the dizzying wordplay and the ghoulish gallows humor, Tha Carter V is an album about perseverance, about securing and defending prosperity no matter the cost.
The most anticipated rap album of this half of the decade opens and closes with a mother's tears. Twenty-two tracks after "I Love You Dwayne" kicks C5 off with a somber prayer from Wayne's mother Jacida Carter, the closer "Let It All Work Out" luridly recounts the story of the day a 12-year-old Dwayne got his hands on his mother's pistol and nearly ended it all. This isn't nearly the first telling — see: Solange's "Mad" — but this time, Wayne approaches it the way a preacher recites the gospel, teeming with the light of glory snatched from the darkest despair. British singer Sampha intones the title of the track in the background like wisdom gleaned from a timeworn sample. The message is simple: Stay. Fight. Live. But Ms. Carter's tears and Wayne's own verses about acquaintances turning on him and strangers thirsting for an end to his reign suggest that staying prolific and positive is a tough task. C5 examines Wayne's triumphs and tragedies with uncommon candor, lighting the way for anyone else who feels like hope is dimming.
The magic of Lil Wayne in shipshape is that Tha Carter V can be a document of hardships and also a laugh riot, sometimes in the stretch of the same verse. There's sex jokes and cartoon violence in the middle of the reverent, reflective "Took His Time" and snot gags in the solemn daddy-daughter duet "Famous." Wayne is one of the architects of modern hip-hop's manic sprawl. A decade ago, a flurry of insane, indomitable mixtapes and guest spots carried him from the arrogant young veteran prematurely proclaiming himself "Best Rapper Alive" on Tha Carter II to a technician stealing tracks out from under established rap heroes on projects like 2007's seminal Da Drought 3. Overkill is Wayne's sharpest weapon, and Carter V is one of few movie-length rap releases this year that justifies stretching beyond the 80-minute mark. The unspoken task of the Carter albums is to present Wayne not just as a jack-of-all-trades but a master of each one. C5 makes as strong of a play of it as could be expected. There are perhaps too many songs, but there's enough intrigue everywhere to make it tough to suggest where to cut.
C5 is most fun when Wayne is spitballing syllables at light speed. "Dedicate" is an early album gauntlet toss, a great rhymer reminding everyone why his name endures: "I started this shit, you just part of this shit / I'm the heart of this shit, and the heart doesn't skip / Take the heart of your bitch cause like Bart, you a simp / And your water don't drip, so your garden ain't shit." "Let It Fly" takes its title seriously in verse two: "Tunechi tune a lunatic / My goonie goons the gooniest / Run inside your room and kill you and who you rooming with / The Uzi with the booty clip, more than one, I'm too equipped / Talking 'bout some fake niggas, based on true events." "Uproar" kicks a flawless Diddy flow over Swizz Beatz ad-libs and a beat that interpolates the Bad Boy classic "Special Delivery." "Dope Niggas" revisits Dr. Dre's "Xxplosive" alongside Snoop Dogg, and "Open Safe" skates over a DJ Mustard production. Wayne breaks from warping words to croon about a love interest alongside Nicki Minaj, who sings her heart out on "Dark Side of the Moon," and offer his best emotional Drake impression on the tender breakup song "What About Me."
Tha Carter V is almost surgically all-inclusive. There are nods to every region of American rap music and nearly every era of Wayne. "Start This Shit Off Right" reunites him with Ashanti and Mannie Fresh. "Dope New Gospel" features a chorus from the singer Nivea, whom Wayne asked to marry twice in the aughts. The participation of old friends and old flames gives the album a warm This Is Your Life feel, but the vastness of the demographic these songs attempt to serve can become a hindrance and a wear on the flow of the project. "I Love You Dwayne" is followed by "Don't Cry," which features an eerie, unnerving vocal from XXXTentacion. After that, "Dedicate" sagely mixes reggae, screw music, and a shout-out from Barack Obama. The "Special Delivery" remake hits immediately afterward. The choppy sequencing of the first quarter of the album gives way to a series of drippy ballads. "Can't Be Broken," "Dark Side of the Moon," "What About Me," and "Famous" are all solid, sturdy tunes, but situating them in the same six-song stretch drags the pace of the album down to a degree that makes it tough to hear in one sitting. Stashing "Mona Lisa," a gripping story rap with a spirited, offbeat Kendrick Lamar guest appearance, in the middle of that section does it no favors. Stranding great lyrical workouts like "Demon" and "Hittas" in the back half of the album means less intrepid listeners will have tuned out by the time they appear.
As sharp as Wayne's performances are throughout the album, the pacing is a little jarring, and the beats don't all stand out. "Problems" takes the least interesting Zaytoven production in a year where the Atlanta beatmaker turned in some of his best work on Future's BEAST MODE 2. "Open Safe"'s Mustard snap is shockingly simplistic in a season where the same guy gave YG much spicier sounds, like Stay Dangerous's "Bomptown's Finest" and "Big Bank." "Start This Shit Off Right" is a solid two-step anthem, but the track feels like like a loosie someone discovered on a reel from 2004. With an album that's been gestating as long as Tha Carter V has — Wayne started talking about it six years ago — it's tempting to chalk the dated bits and the less than bright spots up to the sense that a good piece of this thing has been rotting in Birdman's vault for the last four years.
Tha Carter V being something of a nostalgia act plays weirdly in an era so purely defined by Lil Wayne's influence. Drake, modern hip-hop's biggest hitmaker, came to rap celebrity as a ward of Cash Money Records. Kendrick Lamar, perhaps our sharpest thinker, once rhymed over Carter 3 instrumentals and called the mixtape C4. Young Thug, our most delightful weirdo, pressed Wayne in 2015 by naming an excellent album Barter 6. It's hard to imagine Future and Lil Uzi Vert's music coming out the way it has without impish early Auto-Tune rap tracks like "Lollipop" and "I Can't Believe It." Barring the Kendrick spot, Tha Carter V presents a world where most of these developments never happened. Maybe Wayne doesn't need them. Travis Scott seems redundant in the presence of rap's master mumbler on "Let It Fly." (Really, the only rapper that really gets a piece of him here is Snoop Dogg. Kendrick comes close and then disappears into histrionics.) Maybe it was important to keep outside interference at a minimum. The stretches where Lil Wayne carries Tha Carter V brilliantly on his own go a long way in silencing years-old whispers that his best years were in his rear view. The result is his strongest work since 2009's No Ceilings. He has suggested that this would be his last album in the past. He'd be nuts to stop now.