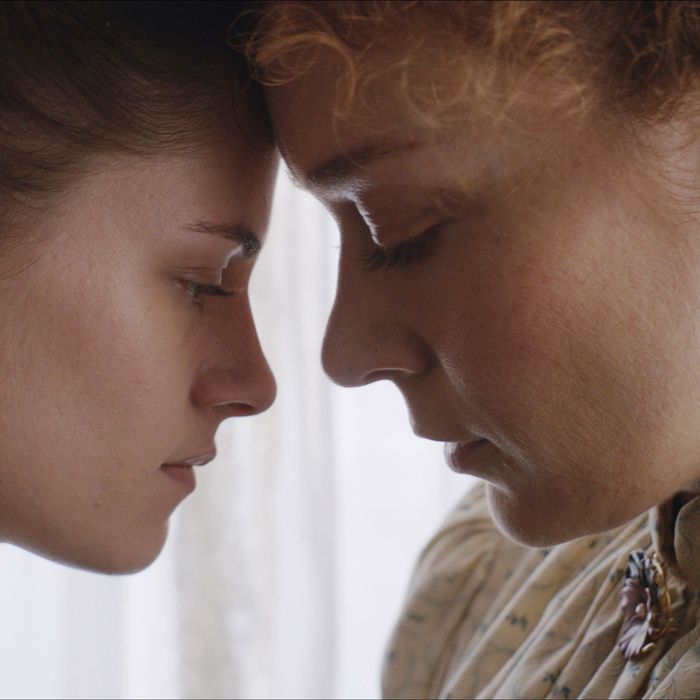 Photo: Courtesy of Sundance Institute.
This review originally ran during the Sundance Film Festival.
Lizzie Borden might have had her reasons for giving her mother 40 whacks and her father 41, but it's only now, in the austere arthouse treatment of her life premiering at the Sundance Film Festival, that we discover the story's hitherto-unknown vein of female empowerment and the Love That Dares Not Speak Its Name.
Craig William Macneill's Lizzie features two protagonists, the title character (Chloë Sevigny), daughter of Fall River, Massachusetts's wealthiest family, and the Irish maid, Bridget Sullivan (Kristen Stewart), the only person known to be at home (besides the victims, natch) at the time of the August 1892 murders. Bridget was always a key figure in the Borden saga. She almost certainly lied about Lizzie's comings and goings, and her hasty departure for points unknown (possibly Ireland) the day after the murders was odd, to say the least. (There was no indication that she was about to lose her cleaning job — I can think of at least two rooms in the house that needed a good scrubbing.) But Lizzie puts Bridget at the center of the action, where an ax-blow to the head signals a blow against sexual assault and patriarchal oppression.
Lizzie reportedly began life as a projected four-hour HBO mini-series (initiated by Sevigny), but Macneill's feature has barely enough incident to fill its 105 minutes. Taking their cues from the idea that Andrew Borden (Jamey Sheridan) was a repressive, parsimonious figure who married his drab second wife (Lizzie's stepmother) for money, Macneill and screenwriter Bryce Kass pare down the talk, and Macneill puts a slight reverberance around the dialogue to suggest a house of bare floors, spare furnishings, and awkward communication. Everything is drained of color. Although Lizzie is often headstrong (Sevigny's specialty is the insolent mouth and upraised chin), she's also given to seizures at moments of passion, as if the universe itself is fighting her self-expression. Stewart's Bridget, meanwhile, is an ostentatiously mousy thing whose eyes are so often fixed on the floorboards it's a wonder she doesn't collide with the furniture.
The women's ultimate tryst suggests a hunger for connection in a world in which, despite their social status, they're more alike in their subjugation than not — and there's nothing objectionable about that slant. (It's certainly timely.) The problem is the enervated pacing and ludicrous depiction — after much fancy skipping back and forth in time — of the murders themselves. And while the filmmakers have no obligation to get the facts right (it's a movie, not a historical reenactment), one change is telling. In life, Lizzie and her older sister (a barely seen Kim Dickens in the movie) were too lazily entitled to remember the names of the help and insisted on calling Bridget "Maggie." In the film, it's Borden Sr. and his wife (Fiona Shaw) who call Bridget "Maggie," while only Lizzie sees her as a real human being.
Sheridan is convincingly saturnine, and Denis O'Hare has a few good moments as the slimy brother-in-law who arrives to help Borden revise his will, leaving Lizzie and her sister with much less. The sound designers had a good time with the increasingly squishy ax blows. But I wanted more blood, in all senses.