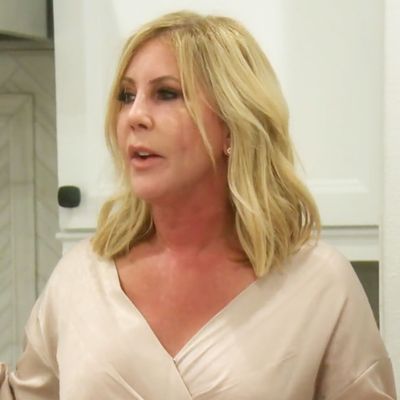 I think that Shannon's friend Dr. Moon is totally a fraud. It's not because he told Shannon that the reason she's gaining weight is from a "mouth problem" which was pretty funny in that mean way that people can be funny while reading you to filth right to your face. It's not because Shannon went to him for her "sprained ankle" and he treated it by giving her some acupuncture in her wrist. It's not even because he thinks that he can use magnets as a diagnostic tool.
The reason I think that Dr. Moon is a fraud is because he could figure out that something was wrong with Victoria Denise Gunvalson Jr.'s liver but then he attributed it to all of her anger. The fact that he asked Vicki about her anger in relation to her liver and less about her more recent trip to Andele's makes me question this entire enterprise.
Vicki did mention that she was angry at her ex Brooks, who faked cancer on national television, and that was only one of three times that she brought this ghost up from the past. (Just like Beetlejuice and Brandi Glanville if you say the name three times he shall appear.) The other was when she was in the car with Tamra and she joked that he looked old because, "he has cancer. He's very, very sick. Fucker."
The third time was at her birthday party that her current boyfriend Steve Lodge threw for her at Vamanos, an off-brand Andele's. She told all of the guests that she really wanted to marry Steve and then said, "But if you get sick, I want to see your medical records." Um, remember when Meghan King Edmonds PI found the medical records and Vicki still didn't believe them? So, maybe that wouldn't actually work. Also no one thinks that is funny.
We need to talk about that birthday party for a second though. Steve threw a surprise party for Vicki and the only thing Vicki loves more than people paying attention to her and celebrating her existence is … wait, there is nothing else in the world that she loves more. Throwing the party was nice and thoughtful, but the guest list seemed to include Vicki's son Michael, her brother Billy (who flew in from Chicago to deliver two tequila shots wearing a shirt he stole from Cam on Modern Family), and all of Steve's family. Yes, none of Vicki's friends, no one from Coto Insurance, not even Briana on FaceTime with the grandkids or nothing. Steve is trying to separate her from her loved ones and take over her entire life. Maybe he does only want her for her money?
So, in front of Steve's mother, aunt, and the rest of his clan, she's hard-pedaling about how she wants to be Mrs. Steve Lodge, something that totally makes him uncomfortable and probably makes him even more uncomfortable in front of his mother. Then she starts with the Brooks jokes, which, unless these women were watching her show, wouldn't even make sense. And if they were watching her show, there is no way they would even let their son/nephew even date VDG Jr. in the first place!
Anyway, enough on this sad party. We do have to talk a little bit more about Vicki and Steve and Kelly Dodd though because, and I hate to admit this, but Vicki is right about the "Page Six" article that got Kelly so upset. He didn't really take any swipes at her, just corrected who introduced her ex Michael to his current girlfriend. So, yeah, maybe she wasn't justified in talking to Steve at that big party. Even if she wasn't, it doesn't mean that Steve had to be so dismissive of her and pretend like he didn't know what she was talking about. He gave quite a lengthy statement and I'm sure he's not used to talking to reporters. He probably would have remembered.
Regardless, Kelly and Emily patched things up about Kelly freaking out at Emily's husband Ring Toe. It was so anticlimactic I kind of wanted to die. Just when you think this season is going to get a little bit of juice, the juice goes leaking out of the bottom like the container was as airtight as Brooks's medical records. In classic Kelly Dodd style, as soon as Emily explained just what Kelly did she was like, "Yeah, I was wrong." Tamra knows this is the pattern. She recognized that is what would happen even before Emily thought to have this meeting.
Emily wasn't wrong when confronting Kelly. She says she doesn't mind that Kelly was upset with her husband, it's just that she didn't want it to resort to name-calling. Kelly has a severe case of Brandi Glanville Disease (don't say her name one more time!) where even when she has a valid point she destroys it by overreacting and fighting too dirty. Kelly's defense to Emily was, "If I knew he was your husband I would have said that," to which Emily offered a very sane rejoinder which is, "You shouldn't have said those things to anyone!"
The rest of the episode was spent with the women alone. We see Shannon go out on her first date since David dumped her. She met up with a very nice, handsome, overly chatty gentleman named Tom who probably shouldn't have had a drink before Shannon got there but Shannon was probably at least 20 minutes late so can we really blame him? Tom does have a whole bunch of cats though and that is an immediate red flag for me. What sort of cis het man in his 50s has more cats than a Sailor Moon episode? The answer should be none, because that is weird.
Shannon wasn't so bad on her date, but she did show up wearing her highest heels and a sprained ankle. She hobbled into that date and Tom had to escort her over to the table. I'm sure she loved that positive attention because she only got that from David when she finally used the Peloton bike he got her for her birthday. I feel like wearing flats and not limping around like an extra in Oliver! would have been more attractive than high heels and a hobble, but one never wants to go into the thinking process behind any of Shannon Beador's decisions. There is only so much time in any given life and I don't want mine to be spent doing that. (Oh wait. Isn't it already?)
Finally we have Gina, who I love. Gina and her husband Matt, a hottie in his prime that we were robbed of ever seeing outside of two of Gina's Instagram photos, are getting divorced. I feel really bad for Gina about the whole thing. She seems genuinely sad about the decision but also like it's the best thing for her and her family. Getting divorced must be an odd mixture of concern and uncertainty for any parent, but here is Gina going through it on national television.
The big question I would have is whether or not Gina should even stay in the OC. Even if she were to get offered a second season on the show, maybe going back to Long Island where she can be around her family and have their assistance might make things a lot easier for her. Between Kelly and Shannon slurping up all the men, it's not like there is a huge dating pool left anyway. I hope Gina makes it back to Merrick or wherever the hell she's from. I hope that she picks the kids up from her mother's house after a long day at her new job and brings them all home for Annie's organic mac 'n' cheese and tucks them into bed and then settles into her overstuffed couch with a steaming mug of herbal tea and thinks about the funny life she left behind full of matte gray pedicures, cocktail party warriors, and the glinting on the ocean that is so bright it can blind you into immobility.