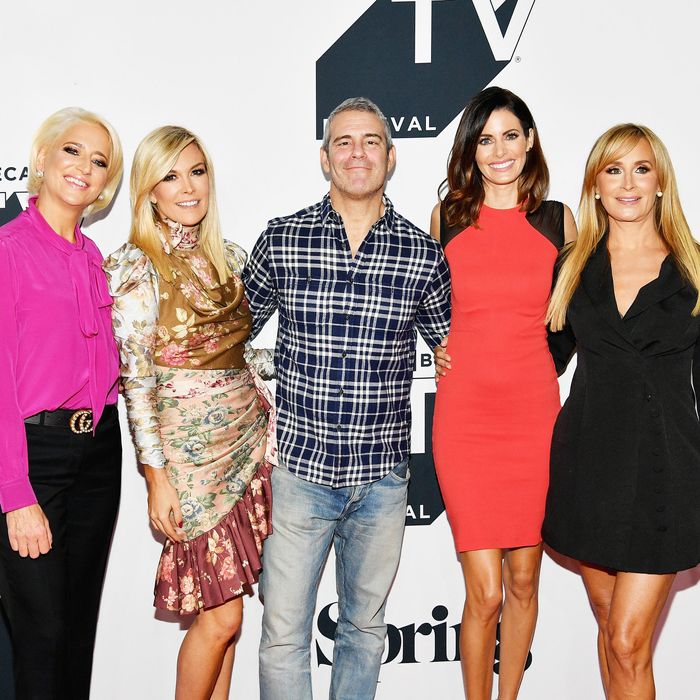 The cast of
The Real Housewives of New York
with Andy Cohen and Lisa Shannon.
Photo: Dia Dipasupil/Getty Images for Tribeca TV
The Tribeca TV Festival drew a legion of Real Housewives of New York fans Sunday to watch Andy Cohen grill Dorinda Medley, Tinsley Mortimer, and Sonja Tremont Morgan about ten years of Gotham's favorite reality show. The ladies squabbled and talked over each other much like they do on Bravo, but Cohen and his fellow executive producer Lisa Shannon, who's been with RHONY since its inception, offered a rare behind-the-scenes look at how all that drama actually happens.
For instance, Shannon revealed that they "usually float out several locations" before deciding on the cast's infamous trips each season. "The trips are usually an organic reason to go there, like tequila with Bethenny and then she will host a trip," she said. "Or they were talking about Cartagena and Tinsley had been there, so she hosted that." Ramona Singer has lobbied for a decade to do an Aspen trip, Cohen added, but they've never indulged her.
But who's footing the bill for those trips, exactly? When Cohen claimed, "It's a combination," the crowd assumed he was being less than frank and a few people booed. ("You're booing us? We came out on a Sunday and you're booing us?" he said.)
As the panel continued, Shannon explained how even the seating arrangements at the reunion episodes are a carefully planned affair. "Whomever has the bigger story that season gets to sit next to Andy, and we take into consideration who is not friendly at that moment and that is how the couches get divided," she said. "We also take into account who will be fighting or talking across the couches," she added, so that cameras won't have a hard time recording their faces.
But Dorinda said she's always afraid to sit too close to Andy. "The closer you are to management, the closer you are to the door," she joked, not needing to add that is exactly what happened to Carole Radziwill, who left the show after being on Andy's left side at the most recent reunion.
Shannon also explained the origins behind one of the most iconic moments in RHONY history, when Countess Luann de Lesseps got caught having a tryst with a "pirate" who looked exactly like Johnny Depp during a trip to St. Barts in season five. "This sound guy needs an Emmy," she said, crediting the crew member who overheard Luann discussing what happened on the phone to a friend. "We hired him for just that trip and he spoke French. We were on a break, but he was listening to what they were saying, which we often do. He ran over and said, Put on your headset. I told him, I don't speak French! He wrote down what she was saying and was translating it, so we ran a camera up and got it. It was like Christmas and happy birthday all at once."
Of course, no RHONY event would be complete without a fan asking the question that is on everyone's mind: Will Jill Zarin ever be invited back? "The Housewives is like the mob, you can never get out of the family. You will always be identified as one for the rest of you life," Cohen said. "Never say never. I think it would be cool."
"She has been asking me to play tennis a lot lately," Tinsley added, prompting the crowd to giggle.
But the real surprise came when Dorinda said that she had been in touch with Lady Gaga's mother, Cynthia Germanotta. "I'm trying to get Cynthia to join the show," she said with a smile. That's a bad romance that all the RHONY fans in the room seemed like they could get behind.